Monmouth University appoints Kylee Flynn as women's soccer head coach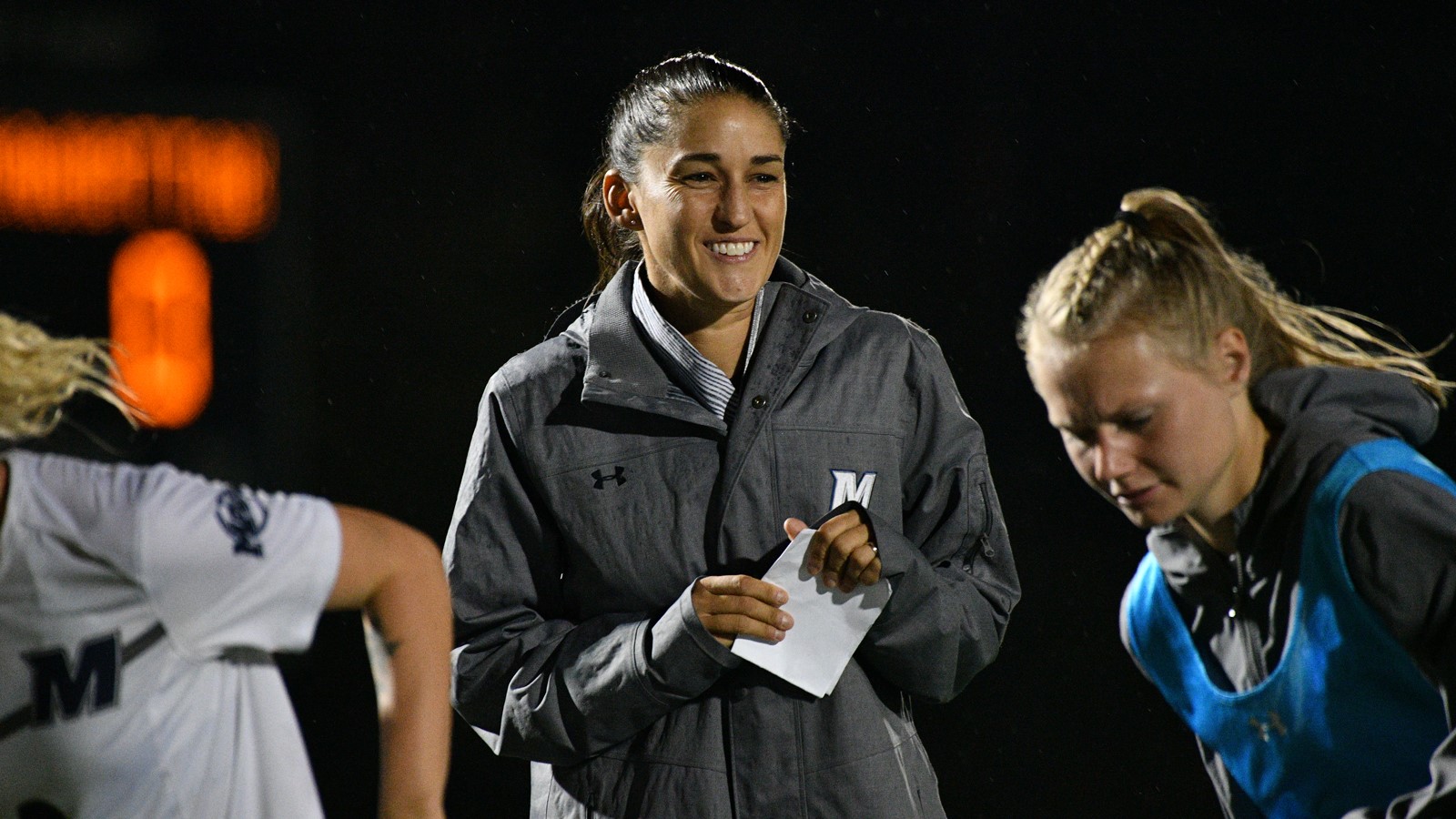 (Photo Credit: Karlee Sell / Monmouth University)
WEST LONG BRANCH, NJ – Monmouth University has named Kylee Flynn as the fourth head women's soccer coach in school history.
Flynn has overseen an impressive run of success as an assistant coach for 10 seasons at Monmouth, including the last six as associate head coach. She has been instrumental in Monmouth winning eight Metro Atlantic Athletic Conference regular season titles and qualifying for six NCAA Tournaments since 2013.
"I am excited to name Kylee Flynn as the fourth head women's soccer coach at Monmouth University," said Director of Athletics Jeff Stapleton. "She has been instrumental in the success of the program over the last 10 seasons and we look forward to continuing that tradition of excellence under her guidance. Her work with Monmouth women's soccer across the last decade has shown she is ready to be a head coach, and we're thrilled for her to lead us into a new era this fall in the CAA."
Flynn takes over a Monmouth program set to begin its first season as a member of the Colonial Athletic Association this fall.
Flynn has been a key part of Monmouth women's soccer's run of success across the last decade, with the Hawks posting a a 74-6-6 league record in the last nine seasons. MU won the regular season title in eight of its nine seasons in the MAAC, and converted six of those into NCAA Tournament berths with tournament titles. In that time, Monmouth has recorded a whopping 88 shutouts and piled up 123 total victories.
"I would like to thank our President, Dr. Patrick Leahy, for his continued support of Monmouth Athletics, as well as Athletic Director Jeff Stapleton, and Senior Women's Administrator Jennifer Sansevero, for having the confidence in me to be the next head coach for this established women's soccer program," said Flynn. "I also want to thank former Athletic Director Marilyn McNeil and former head coach Krissy Turner for bringing me to Monmouth 10 years ago and inspiring my growth as a coach on and off the field. I love this team, this program and where we are headed, and I am thrilled to be able to continue working with and coaching these amazing student-athletes."
In Flynn's tenure, she has coached 19 major award winners including six MAAC Offensive Players of the Year, six Defensive Players of the Year, four Rookies of the Year and three Goalkeepers of the Year. In addition, a whopping 84 players have earned All-MAAC postseason accolades, including 42 First Team selections.
Most recently, Flynn helped mentor a 2021 group that went 15-5-1 and 8-1-1 in league play, finishing 11-2 at home to convert both MAAC regular season and tournament championships. MU opened the season with three straight shutouts and four consecutive wins and didn't look back, winning its final five games prior to the NCAA Tournament including a 4-0 victory over Quinnipiac in the conference title game.
Under Flynn's coaching, Monmouth appeared in the title game in a shortened 2021 spring season after dominating the MAAC in 2019 en route to a fourth straight NCAA Tournament, going 10-0 in the league and winning the final nine games prior to the NCAA's by a combined 32-0 count. Monmouth did not allow a goal in the final 10 games of the season, only surrendering four goals all year. The Hawks also knocked off #25 Texas on the road, 4-0 for the program's first win over a ranked opponent in nine seasons.
MU won three straight titles from 2016-18, losing just two MAAC games in that span and winning 45 times to advance to three consecutive NCAA Tournaments. The Hawks captured regular season crowns in 2014 and 2015, going 18-2 in MAAC play across those two seasons.
Flynn's second year on campus saw the Hawks dominate in its first season in the MAAC, going 17-2-2 with a 9-0 mark at home that culminated in a tournament title for the first time since 2009, with MU outscoring opponents in the conference tournament 6-0.
Flynn joined the Hawks after two seasons as an assistant at The College of New Jersey. At TCNJ, Flynn helped guide the Lions to a combined 31-7-3 overall record and a pair of NCAA Tournament appearances. She has also assisted with the New Jersey Olympic Development Program U13 and U14 teams. A New Jersey Youth Soccer Association (NJYSA) licensed coach, Flynn also spent time as an Admissions Associate at her former prep school, The Pennington School.
A native of Pennington, NJ, Flynn started her coaching career as a student assistant coach at her alma mater, the University of Tennessee following her stellar playing career in 2009. A two-time All-American as a Lady Vol and four-time All-Southeastern Conference (SEC) performer, Flynn, graduated as UT's all-time leading scorer with 102 points on 43 goals and 16 assists. She was named the SEC Offensive Player of the Year in both 2006 and 2007, and a 2007 Third-Team Soccer Buzz All-America.
A two-time Hermann Trophy preseason watch list honoree, she was tabbed a Soccer America and Soccer Buzz Freshman All-American in 2005 and twice named a Top Drawer Soccer National Team of the Season selection (2006, 2007).
Flynn, who was a three-time first-team All-SEC player, was added to the SEC Academic Honor Roll in 2006, 2007 and 2008, and spent three years in the United States National Team player pool. In 2005, Flynn was part of the U-18 National Team Pool, advanced to the U-21 Pool in 2006, and competed in four matches for the U-21 National Team in England in 2007, registering two goals.
The Pennington School-product, who tops the Tennessee record books with 15 game-winning goals, sent the Lady Vols to the 2007 NCAA Sweet 16 behind her tally in the 104th minute.
The only Lady Vol to lead the team in scoring in each of her four seasons at Tennessee, Flynn was a preseason candidate for the Lowe's Senior CLASS Award in 2008.
Flynn will begin her head coaching tenure when the Hawks open the 2022 season on August 19 at Lehigh.