Michael Marchiano hired as Drexel men's soccer head coach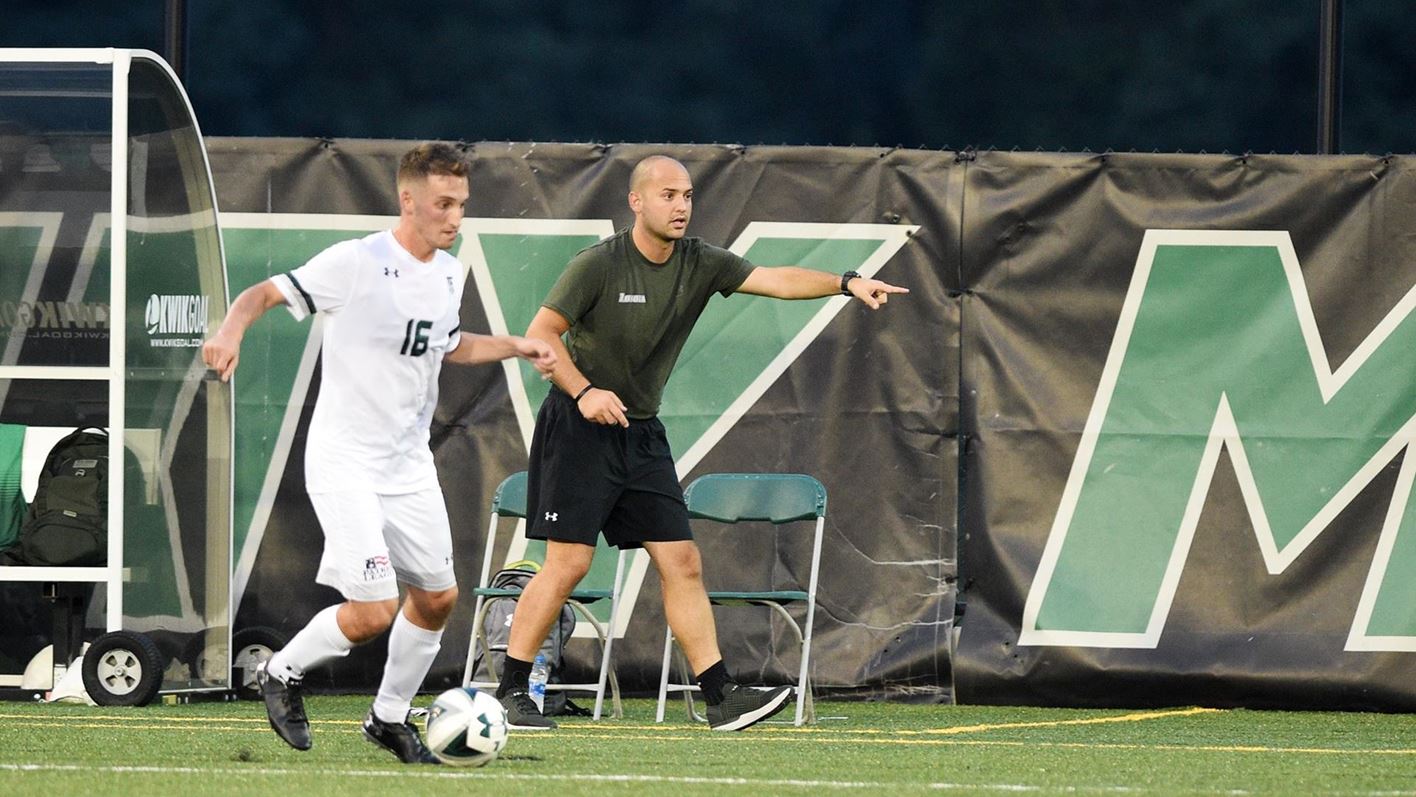 PHILADELPHIA – Drexel University Deputy Athletic Director Nick Gannon has announced the hiring of Michael Marchiano as the head men's soccer coach. Marchiano is just the sixth head coach in the history of the program.
"We are extremely excited to bring Mike onboard as the new leader of Drexel Men's Soccer," Gannon said. "Mike's clear vision to elevate the program was evident from the beginning of our process. He has a contagious competitive fire and demands excellence while staying true to his relationship-driven values. He is an educator that challenges the student-athletes to grow as people, using soccer as his vehicle. We are incredibly eager to work with Mike to collectively reach our goals as a program."
"It is a great honor to accept this opportunity to become the next Head Coach of Men's Soccer at Drexel University," Marchiano said. "Drexel Soccer has been home to many top players, coaches and teams over the past several decades, and I am grateful to Dr. Zillmer, Nick Gannon and the search committee for their belief in me to help move this program forward. I cannot wait to get started in leading a new generation of Drexel Soccer. Our success will be reliant on our mentality and the strength of our collective, therefore, I look forward to quickly getting together with the current student-athletes, my new teammates throughout the athletic department, our supportive alumni and investing in the Drexel University and Greater Philadelphia communities."
Marchiano recently completed his sixth season as an assistant coach at Loyola University Maryland under head coach Steve Nichols. Marchiano was responsible for the day-to-day operations of training, scouting and recruiting at Loyola. He was a big part of the Greyhounds' turnaround since arriving at the school in 2014. Over the last four seasons, Loyola had a 27-6-3 record in Patriot League matches. The Greyhounds had by far the best record in conference play over that span and were the only team with at least six league wins in each of those years. Loyola won or shared three straight regular-season titles from 2017-2019. During that historic stretch, the Greyhounds lost just five league matches over the course of three seasons. The previous season, the team posted the biggest turnaround in Patriot League history, going from last place in 2015 (0-8-1) to second place in 2016 (6-1-2).
The Greyhounds had a 41-23-7 record over Marchiano's last four seasons after compiling a 7-21-6 mark in his first two years. Loyola has won 10 or more matches in each of the last three seasons, the first time that has happened at the school since 2009, when the Greyhounds were a member of the Metro Atlantic Athletic Conference.
Prior to the 2018 season, Marchiano was named one of nine NCAA Division I assistant coaches to watch by TopDrawerSoccer. He was instrumental in helping Loyola become one of the up-and-coming programs in college soccer. Loyola saw its NCAA RPI jump more than 75 spots in two seasons. At the close of the 2017 soccer season, Loyola's RPI was No. 55 in the nation. During his time at Loyola, the Greyhounds were ranked in the United Soccer Coaches Top 25 poll or received votes nationally in each of the past three seasons.
Marchiano played an integral role in recruiting while at Loyola as well. College Soccer News ranked the Loyola Class of 2020 as the 13th-best recruiting class in 2016. It was the first time a Loyola recruiting class was ever ranked by the publication. Over the last four seasons, 32 players have earned All-Patriot League honors, including 15 first team selections and 12 second team picks. The Greyhounds have had the Patriot League Goalkeeper of the Year and the Midfielder of the Year on three occasions each and have had three of the last four Patriot League Rookies of the Year. He assisted in the development of multiple All-Americans, a Scholar All-American and had two players selected in the 2020 MLS SuperDraft.
Marchiano has served as head coach of the Baltimore Armour 18/19 Academy team. His team was ranked 11th-best in the U.S. Development Academy for the 2018 season (18-6-5) and qualified for the Academy Playoffs, where they went unbeaten in the group stage. He was also the club manager and head coach for the Baltimore Bohemians USL-PDL.
Before his arrival in Baltimore, Marchiano was an assistant coach for two seasons at Army West Point. In those seasons, Marchiano helped the Black Knights go from a 4-10-3 record in 2012 to a 12-3-3 mark and a second-place finish in 2013, their best season since 1996.
Marchiano spent two seasons as an assistant at Maryland before heading to Wisconsin-Milwaukee as an assistant coach. During those two seasons in College Park, the Terrapins compiled a 34-9-3 and made back-to-back appearances in the NCAA Quarterfinals.
Marchiano played in 59 games at Maryland from 2005-08 under head coach Sasho Cirovski. A midfielder, Marchiano's teams were 68-18-8 and won a pair of NCAA Championships in 2005 and 2008. A two-time team captain, he was awarded the team's Peter Lowry Award as a senior, an honor given to the team member who exemplifies academic excellence, leadership and distinguished citizenship on campus.
After graduation, Marchiano had a brief playing career with Real Maryland of the United Soccer League and spent a year working in the private sector of the Wasserman Media Group.
A USSF A licensed coach, Marchiano is a native of Bel Air, Md. He graduated from Maryland in 2009 with a bachelor of arts degree in economics. He and his wife, Kelley, have one daughter, Mila.