Loyola University Chicago women's soccer announces 8-player recruiting class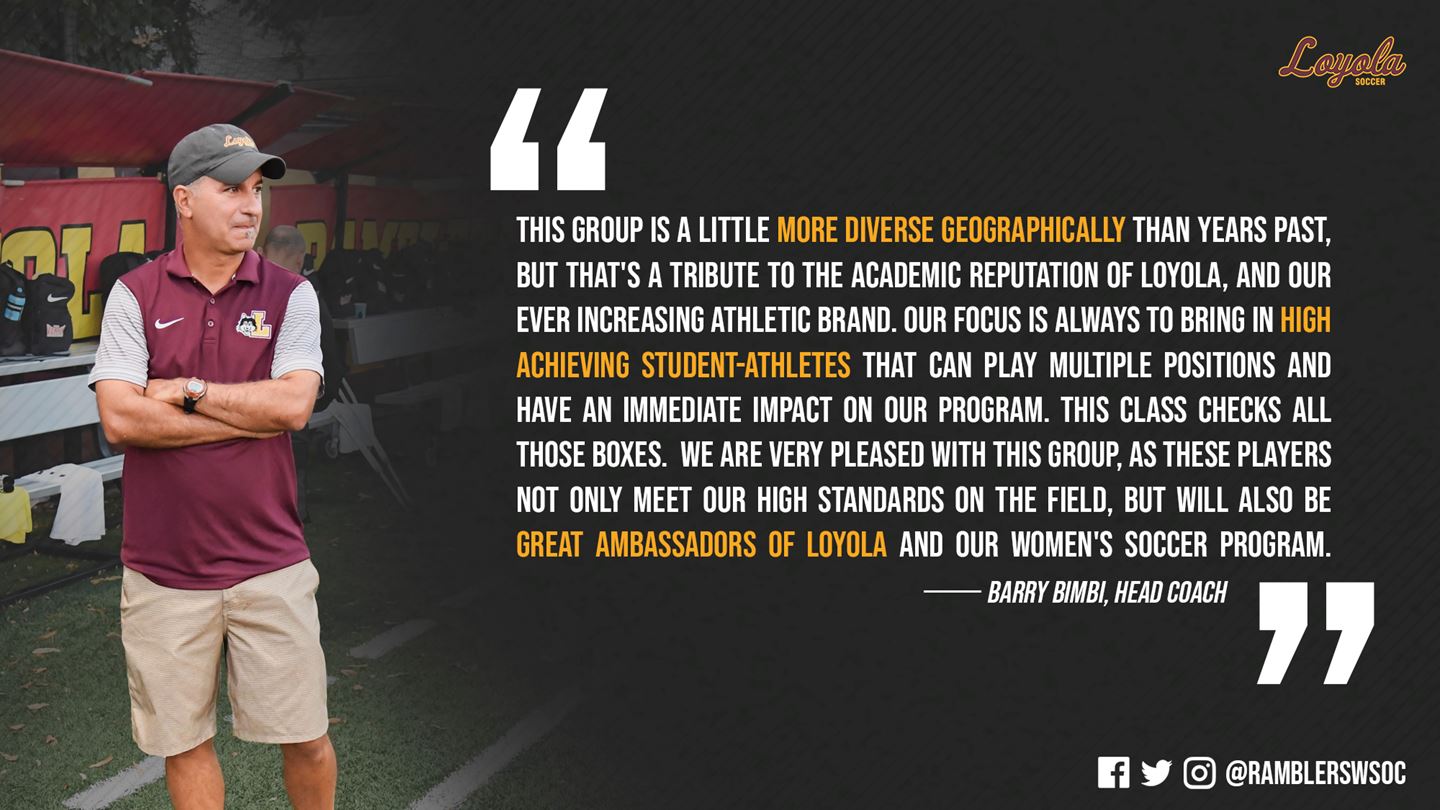 CHICAGO – Loyola University Chicago head women's soccer coach Barry Bimbi announced the singing of eight student-athletes to National Letters of Intent on Wednesday. The class features a forward, two midfielder/forwards, two midfielders, and three defenders.
"This group is a little more diverse geographically than years past, but that's a tribute to the academic reputation of Loyola, and our ever-increasing athletic brand," Bimbi commented.  "Our focus is always to bring in high achieving student-athletes that can play multiple positions and have an immediate impact on our program.  This class checks all those boxes.  We are very pleased with this group, as these players not only meet our high standards on the field, but will be great ambassadors of Loyola and our women's soccer program."
ALAINA ABEL
Defender | Green Bay, Wis. | Bay Port | United Hurricanes
Defender Alaina Abel makes her way to Rogers Park from Green Bay, Wis. where she starred at Bay Port High School for head coach Brooke Mraz.  Abel burst on the scene as a sophomore, earning First Team All-Fox River Classic Conference (FRCC) honors to go along with a Second Team All-State nod.  As a junior, the 5-foot-6 defender was named the FRCC Defensive Player of the Year in a season that culminated with her taking home Allstate All-American accolades after helping the Pirates to a state championship.  A two-sport athlete who also plays basketball, Abel featured on the club level for coach Chad Johnson's United Hurricanes.
Alaina on Loyola: "Loyola felt like home the minute I stepped on campus.  The breathtaking lakefront views and the city being so close were a bonus to an academically strong and religious University.  To be able to be part of an elite soccer program with a family based culture made my decision that much easier."
ASHLEY ATKINSON
Midfielder/Forward | Omaha, Neb. | Millard West | Elite Girls Academy
A native of Omaha, Neb., versatile midfielder/forward Ashley Atkinson has found the back of the net 10 times over the past two seasons for head coach Jaque Tevis-Butler at Millard West High School.  Atkinson was a vital member of a Wildcats side that took home a state title this past season.  She's also experienced success on the club level, winning a pair of state championships with the Elite Girls Academy under the direction of coach Marcus Kelcher.
Ashley on Loyola: "I chose to continue my athletic and academic career at Loyola because it's a great academic institution in a premier city, and because of the family feel from the coaches and players."
RILEY ATKINSON
Defender | Omaha, Neb. | Millard West | Elite Girls Academy
Joining her twin sister Ashley in Loyola's 2020 recruiting class is defender Riley Atkinson.  A 5-foot-5 defender, Atkinson starred on the Millard West backline as the Wildcats won their aforementioned state title in 2019.  Like her sister, Atkinson also featured for an Elite Girls Academy side that captured two state titles over the past three seasons.
Riley on Loyola: "I chose to further continue my athletic and academic career at Loyola because of the coaching staff, the campus setting, and the high academic standards."
MADELEINE BARONE
Midfielder/Forward | Tulsa, Okla. | Bishop Kelley | Tulsa Soccer Club Hurricane
Out of Tulsa, Okla., midfielder/forward Madeleine Barone has racked up honors during her time at Bishop Kelley High School.  Barone was named an Honorable Mention All-District selection as a sophomore before being tabbed a First Team All-District honoree this past season as she helped the Comets to consecutive runner-up finishes in the state tournament.  A four-year starter on the club level for the Tulsa Soccer Club Hurricane and coach Russell Ragland, Barone has competed in the national tournament of the Elite Clubs National League (ECNL) during each year of her stay with the club.
Madeleine on Loyola: "I chose Loyola because of the overall quality of the education I will receive, no matter what major I decide upon.  After meeting the coaches, I knew they were people that I wanted to learn from.  Every girl on the team loves the program and they are all close.  This group has a real sense of family.  I know this team will not only teach me to grow in soccer, but they will teach me how to be a better person and live in the world."
ZEHRA HALILIC
Defender | Chicago, Ill. | Lane Tech | Chicago City
The lone member of Loyola's 2020 class to call Illinois home, Zehra Halilic featured locally at Lane Tech College Prep on Chicago's North Side.  A hard-nosed 5-foot-10 defender, Halilic has collected All-City, All-Sectional and All-State honors with the Indians, helping guide the team to a trio of Chicago Public Schools (CPS) Tournament Championships.  Also a member of coach Omer Hadzic's Chicago City club, Halilic has scored three goals and dished out 15 assists over the past two seasons of her high school career.
Zehra on Loyola: "I chose Loyola because they have a great academic and athletic program.  I grew up in Chicago and have always loved the campus and everything else about the University!"
SARAH NOONAN
Forward | Northville, Mich. | Northville | Michigan Jaguars
Northville, Mich. native Sarah Noonan finds herself in the midst of a highly-decorated career at Northville High School, having been recognized with All-District and All-Kensington Lakes Activities Association (KLAA) honors in each of the past three seasons while starting in every game of her high school career.  Noonan, who has 32 goals and 23 assists to her name for her career, has received All-Region and Honorable Mention All-State recognition in each of the last two seasons.  On the club level, Noonan plays for the Michigan Jaguars and coach Dan Dalzochio, who she helped lead to a pair of National League Championships and a Michigan state title.
Sarah on Loyola: "I chose Loyola because it always felt like home.  It's the perfect mix of an amazing academic opportunity and a strong team dynamic."
OLIVIA RHODES
Midfielder | Portland, Ore. | St. Mary's Academy | FC Portland
Arriving to Loyola by way of Portland, Ore. and St. Mary's Academy, midfielder Olivia Rhodes was a four-time All-Three Rivers League honoree for head coach Rochelle Hearns.  Named the team's Most Valuable Player, Rhodes saw action on the club level for FC Portland, winning a Northwest Conference title and the 2018 ECNL Team Showcase Championship.
Olivia on Loyola: "When I visited over spring break last year, I fell in love with both Chicago and Loyola.  I quickly realized that it was where I wanted to be.  After learning more about the University and the soccer program, I knew it was absolutely the perfect fit for me."
MAYA TURNER
Midfielder | Maple Grove, Minn. | Wayzata | Minnesota Thunder
A product of Maple Grove, Minn., midfielder Maya Turner will bring an accomplished offensive pedigree with her to Rogers Park, having totaled 21 goals and 33 assists during her four-year career at Wayzata High School with head coach Tony Pesneker.  This past season, she took home All-Lake Conference and All-State accolades.  She was a member of two Trojan teams that earned top-three finishes in the state tournament, highlighted by a runner-up showing during her junior year.  Turner also plays for coach Danny Storlien's Minnesota Thunder, with whom she received a Midwest ECNL All-Conference nod in 2018.
Maya on Loyola: "I chose Loyola because it has everything I was looking for in a school: a great soccer program with a supportive environment, a beautiful campus in a great location, and academic programs that appeal to me."
The eight newcomers are set to join a group of 20 returning letterwinners, including four All-Missouri Valley Conference selections from a year ago.  Loyola finished the 2019 campaign at 14-5-1 (7-0-0 MVC) en route to sweeping The Valley's regular season and tournament titles for a second consecutive year.