Kansas State bolsters offense with signing of transfer from Wisconsin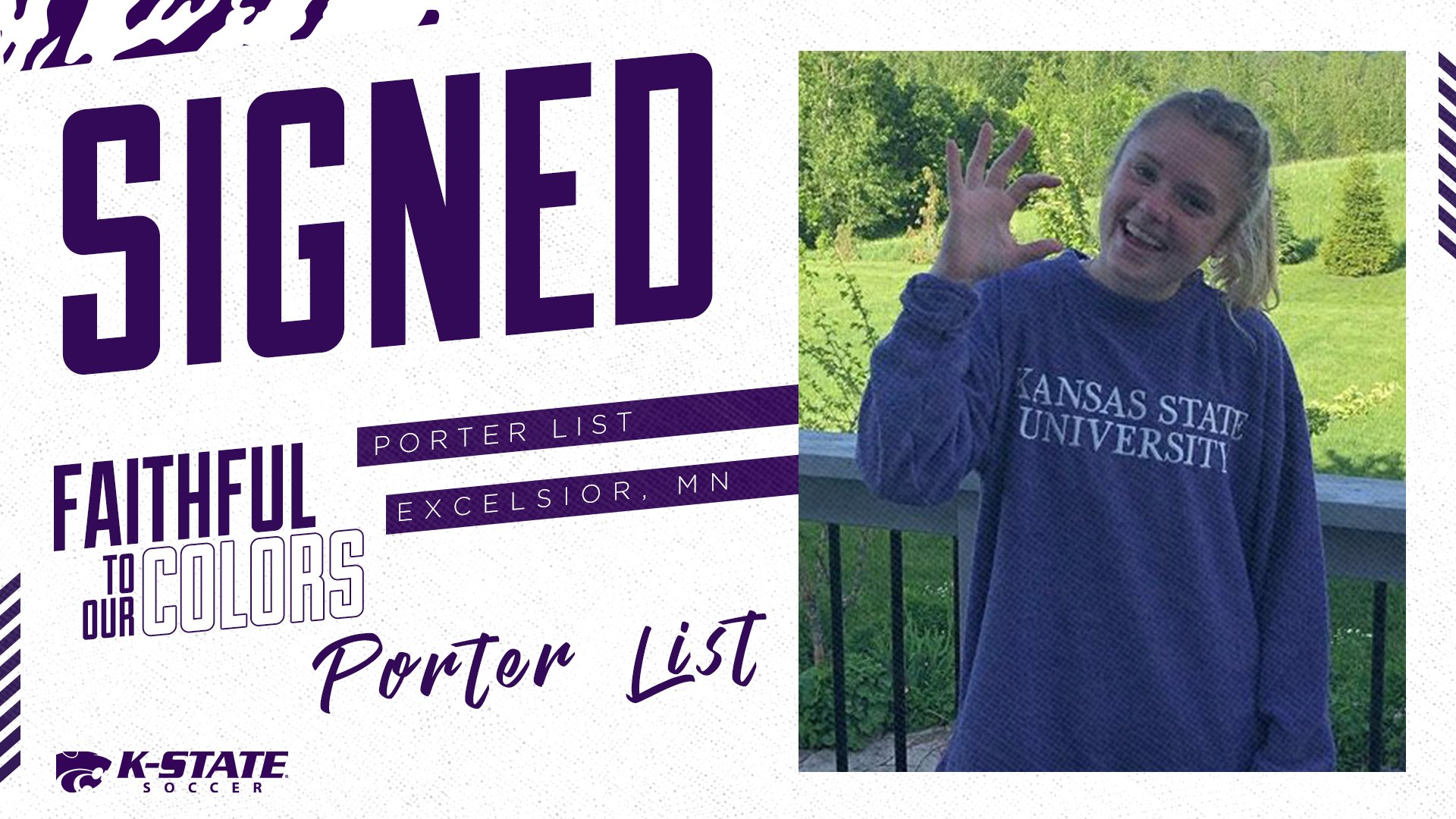 MANHATTAN, Kansas – Kansas State soccer head coach Mike Dibbini has added an attacking player to the roster, as Porter List will be the newest Wildcat for the 2021 season. List played her debut collegiate season at Wisconsin during the spring of 2021.
"Porter will be a very exciting attacking player for us," said Dibbini about the midfielder/forward. "She has the ability to take people one-on-one and create different attacking opportunities for herself and her teammates. She can play centrally or out wide as I think she will have the flexibility to play in multiple formations. She has some creativity and flair that will work well with and complement our attacking players up top. We are looking forward to having her join our program."
List saw action in 10 games for the Badgers, logging 134 minutes. She tallied three shots with two on goal.
Prior to her time at Wisconsin, List ranked number three in the Heartland Region by TopDrawerSoccer.com and appeared in the IMG Academy 150 national rankings. During her final three years of high school, List competed for the ECNL Elite Girls Academy and played one season with the ECNL Minnesota Thunder.
In 2016, she was a Minnesota State Cup Champion and followed that effort by being named to the ECNL all-conference team in 2017-18. She was selected to participate in the 2017-18 ECNL Player Development Program. In 2019, she helped her club to the ECNL Nationals North American Runner Up, the Nebraska State Cup Champion and made the Nebraska State Cup's Best XI.
Kansas State ended its fifth season of action with a 3-9-2 overall record. During the fall, the Wildcats recorded a 3-6-0 mark in Big 12 action. K-State finished a program-high seventh-place in the Big 12 standings and set the school record for goals in conference play.
K-State returns 18 letter winners and 85 percent of the goal scorers from 2020 including Brookelynn Entz, who was a 2020 MAC Hermann Trophy candidate and a 2020 All-Big 12 First Team selection. The Wildcats also welcome in 14 newcomers for the 2021 season.
Kansas State 2021 Signees
Name, Position, Hometown, School
Adah Anderson, M, Kansas City, Mo., Park Hill South HS
Riley Baker, F, Flower Mound, Texas, Flower Mound HS
Rebecca Bartosh, M/D, Hiawatha First Nation, Ontario, Canada, Pittsburgh/Thomas A. Stewart
Katy Coffin, M, Grand Junction, Colo., Grand Junction HS
Kenzi Gillispie, D, Newton, Kansas, Circle HS
Juliann Kidd, D, Houston, Texas, Memorial HS
Jael Larson, F, Durango, Colo., Arizona State/Durango HS
Porter List, M/F, Excelsior, Minn., Wisconsin/Minnetonka HS
Jesse Loren, M/D, Redondo Beach, Calif., Colorado/Redondo Union HS)
Joey Lujan, M, Gilbert, Arizona, Perry HS
Brooke Sullivan, F, Wichita, Kansas, Goddard HS
Kursten von Klahr, D, Kannapolis, N.C., North Carolina State/Northwest Cabrrus HS
Marisa Weichel, F, Papillion, Neb., Texas Tech/Papillion-LaVista South HS
Roo Yarnell-Williams, M/F, Sacramento, Calif., Colorado/SAEL