Jefferson Cup 2019 Girls Showcase Weekend: Day 2 Recap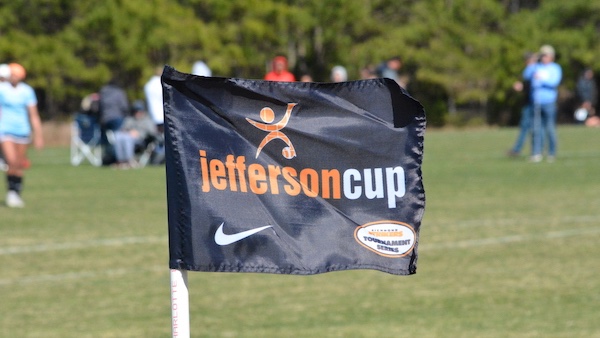 Follow the Jefferson Cup
Twitter | Instagram | Facebook
Schedule | Website | College Coaches
The 2019 Jefferson Cup Girls Showcase Weekend continued Saturday, with 409 teams across the U15-U19 age groups battling for position at the top of their division tables.
Continue reading for a rundown of how the Championship Divisions played out on the second day of competition.
U-15 Championship Division
In Group A of the Championship Division, Richmond United ECNL U-15 (2-0-0, 19 points) remain undefeated through two matches. On Saturday, United defeated Marin FC 04 Blue (0-1-1, 4 points) 3-0 to remain at the top of the table. Meanwhile, SUSA ECNL (1-1-0, 9 points) are in second having narrowly defeated Sunrise Sting 04 XI (0-1-1, 6 points) 3-2 at Glover Park. SUSA will face Marin in their Group A finale on Sunday while Richmond takes on Sunrise.
In Group B, Maryland United FC 2004 ECNL (2-0-0, 20 points) are still in the driver's seat having beaten Philadelphia SC Coppa Swarm (0-1-1, 4 points) 8-0. Through two matches, Maryland has scored ten goals which is the most among all sides in the U-15 age bracket. Sitting in second are South Shore Select 2004 AP (1-0-1, 13 points) who drew 1-1. Maryland will face South Shore on Sunday at 9am at Glover Park, with the winner going on to the U-15 Championship Division final.
U-16 Championship Division
After two days of action, the U-16 Championship Division still has three unbeaten sides: South Shore Select 2004 AP (2-0-0, 19 points), Maryland United FC 2003 ECNL (2-0-0, 18 points), and Match Fit Academy (2-0-0, 17 points), all within striking distance of the top spot. South Shore held off NC Fusion 03 ECNL (1-1-0, 10 points) by the score of 3-2, while Maryland blanked Delaware FC (0-2-0, 0 points) 2-0. Match Fit were also successful on Saturday, earning the 3-2 win over CSA Impact United 03 NL (0-2-0, 0 points).
South Shore will take on Carolina Elite SA ECNL (8am, West Creek Field #7) in their Jefferson Cup finale while Maryland takes on FC Copa Academy 2003G USYS NL (1pm, West Creek Field #2), and Match Fit faces Delaware (1pm, West Creek Field #5).
U-17 Championship Division
McLean ECNL Girls 02, NC Fusion 02 ECNL and World Class FC 2002 ECNL (2-0-0, 18 points) each won their first two games of the weekend, and will enter the final day of play bunched at the top of the table with perfect records.
McLean defeated New England FC 02 NS Elite 2-0 early Saturday. Meanwhile, NC Fusion shut out Beach FC Red 3-0, and World Class held off Savannah United 4-2.
BRYC Elite Academy ECNL used some great defensive work to defeat California side Marin FC 02 Blue 1-0 on Saturday afternoon.
After dropping their opening match on Friday, BRYC went back to basics Saturday, using their back four of Ella Wood, Katherine Conway, Danielle Shahin and Kylie Alvarez to control possession and create a high press. Both Wood and Alvarez forced Marin's attackers to go offsides on multiple possessions. Despite facing some considerable pressure early on, their defense maintained their cool, limiting the amount of work that goalkeeper Katherine Kinnier had to do between the posts.
Playing from a defensive posture is nothing new for BRYC. During ECNL play this season, the club allowed just 27 goals, tied for fifth lowest in the Mid-Atlantic Division.
With the back-line organized and ready, that in turn led the BRYC attack to break open midway through the first-half. Captain Virginia Delacruz used her speed to disrupt the passing patterns of the Marin defense. That level of pressure helped create the first goal of the match when a miscue by a Marin defender went into the back of their own net.
In the second half, Marin came out of the gates swinging, put an additional attacker on with the hope of finding the equalizer. But a well-organized effort by Kinnier and the BRYC back line kept Marin off the scoreboard the rest of the way, completing the clean sheet performance.
BRYC will hope to continue their winning ways on Sunday when they take on SJEB Rush 02 Girls Academy Blue (1pm , West Creek Field #5). As for Marin they will face SUSA ECNL G02 (8am, West Creek Field #2).
U-18 Championship Division
BC United SA (2-0-0, 18 points) are just ahead of South Shore Select 2001 AP in the U-18 Championship Division Standings with one match to play. BC United kept their perfect record on Saturday, after defeating FC Frederick '01, while South Shore held off 1776 United FC Xtreme, both by 1-0 scorelines. While the two sides records mirror one another, BC United hold a slender lead based on Goal Differential (+4 to +3). Both sides will play at 8am tomorrow with BC taking on Space Coast United 01 Girls Red and South Shore facing Cleveland FC 01 NL.
Defense was the theme of Saturday's U-18 Championship Division match between SJEB Rush 00/01 Girls Academy (1-0-1, 12 points) and Brentwood SC NPL Blaze 2001 (0-0-2, 8 points). Despite both sides putting in some enticing attacking chances, neither side could find the breakthrough, settling for a 0-0 draw.
Brentwood goalkeeper Carly Travers notched the clean sheet for her side, while Rush keepers Jordyn Stallard and Madeleine Ogden combined for the shutout on the other end.
Travers made a pair of key stops in the first half, while the Brentwood back line of Leah Giles, Lauren Bone and Juliana Capano turned in strong efforts as well.
In the second half, the two sides traded attacking chances, coming up short each time thanks to some superb goalkeeping by Travers and Ogden. The Brentwood attack tested Ogden late in the match, but she came up big for her side with back-to-back saves on a pair of point blank shots.
Brentwood face Coral Gables Storm Black 20 in the Jefferson Cup finale (11:20 AM, West Creek Field #1) while Rush will take on Premier SC Navy (1pm, West Creek Field #1).
U-19 Championship Division
After two days of Jefferson Cup action, Bethesda SC ECNL Union '01 (2-0-0, 18 points) are still in the hunt for some silverware. Led by a dominant performance in the midfield and superb saves late, BSC defeated Century '00 Gold 2-0 to remain unbeaten in the U-19 Championship flight.
Through the first two days of tournament action BSC have used their quick passing through the midfield to create space in the attack. As had been the case in their 5-1 win over Beach FC 01/00 Red, midfielders Jane Olcott and Abby Hanks were critical to breaking through the compact Century defense. Their work, coupled with Jameese Joseph and Lauren Maynor at times acting as holding forwards, forced Century out of position leading to goal-scoring opportunities.
Hanks nearly put BSC up 1-0 in the 13th minute after she whipped a cross into the box for Joseph. However, Century goalkeeper Kate Fezcko intercepted it, ending the chance. Century weren't so lucky in the 19th minute when Olcott ripped a shot from just inside the top of the box, into the net.
Century did have some attacking chances of their own in the first half with Arianna Caminos and Jess Wilhelm getting opportunities off of the counter-attack. Caminos appeared to have set up the equalizer in the 23rd minute when she hit a pass into open space for WIlhelm to chase. But Hanks made a darting run at the attacker and made a diving clearance.
In the second half, Bethesda's strength in the defensive midfield continued to prove valuable. Kalli Bell and Abigail Jeannault controlled the pace of the match, setting up strong runs for their teammates. In the 45th minute, Hanks broke past the Century attack after receiving a pass on the outside. The Clemson-bound defensive midfielder broke down the right flank and hit a pass into the box for Lauren Maynor, who found the net to make it 2-0.
Despite being down by two goals, Century continued to fight. Just three minutes after conceding their second, they earned a free kick just outside of the Bethesda penalty area. Midfielder Kiley Dugan hit a high curling effort over the Bethesda wall and towards the far post, but Bethesda goalkeeper Heather Hinz made a diving effort to keep the match at 2-0. Hinz would have to fly again in the 56th minute, when Krystyna Rytel's header off a corner appeared goal-bound. But the University of South Carolina commit was more than up for the challenge, making the save to preserve the clean sheet.
With the win, Bethesda find themselves in second place through two matches, just narrowly behind Richmond United ECNL (2-0-0, 18 points). Bethesda will face NJ Stallions 00-01 Stampede (11:20 AM West Creek Field #10), while Richmond will take on SAC Showcase Premier G00 (2:40PM, West Creek Field #6).
More Jefferson Cup Coverage: