Jefferson Cup 2019 Girls Showcase Weekend: Day 1 Recap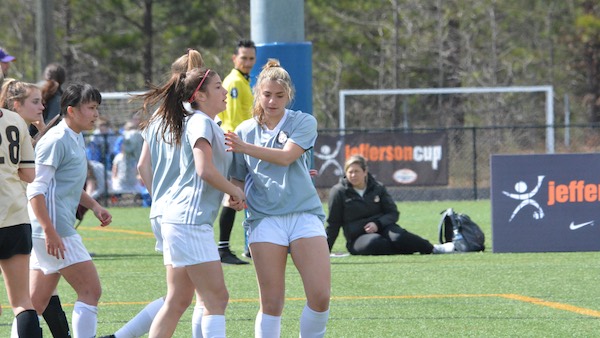 Follow the Jefferson Cup
Twitter | Instagram | Facebook
Schedule | Website | College Coaches
The 2019 Jefferson Cup Girls Showcase Weekend kicked off Friday, as 409 teams across the U15-U19 age groups aimed to capitalize on their opportunity to get off to a fast start.
Continue reading for a rundown of how the Championship Division competition played out on the opening day of competition.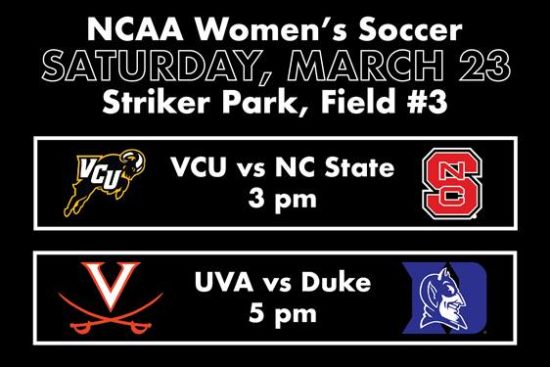 U-15 Championship Division
Hometown club Richmond United ECNL had a strong outing in Group A, shutting out Eastern New York squad SUSA 04 ECNL by a 2-0 margin.
Maryland United FC ECNL took control of Group B with a dominant effort, finding the net six times and allowing none in their opening match.
U-16 Championship Division
Six teams came away with opening day victories, four of which featured clean sheet efforts on the defensive side. Massachusetts side South Shore Select 03 AP and Northern Virginia team BRYC Elite Academy ECNL are tied for the top spot in the division, both earning the maximum goal differential of 5-0.
Carolina Elite SA (CESA) ECNL, ranks third following their 4-2 win over FC Copa Academy. Maryland United FC 03 ECNL and NC Fusion 03 ECNL each secured shutout wins in their opening matches as well.
Match Fit Academy FC ECNL came out on top of a hard fought 2-1 result against reigning US Youth Soccer Region I champion Keystone Premier 03.
U-17 Championship Division
McLean 02 ECNL's offense was in high-gear on Friday, as the Northern Virginia powerhouse side defeated reigning US Youth Soccer national champion SJEB Rush 02 Academy Blue by a 5-3 scoreline. The eight-goal affair was by far the highest scoring match of a day largely dominated by defense in the top U-17 bracket.
California side Marin FC 02 Blue recorded a strong 2-0 win over Maryland United FC 02 ECNL, taking an early hold on the No. 2 spot in the 12-team table.
World Class FC 02 ECNL edged Pipeline SC Pre-Academy in a fast-paced match, finishing 3-2.
NC Fusion 02 ECNL and New England FC 02 Elite captured 1-0 clean sheet victories on Friday, showcasing their defensive prowess.
U-18 Championship Division
Maryland's FC Frederick and Region I champion BC United 01 Premier took over the top spots in the U-18 Championship Division with comprehensive wins on opening day. Frederick netted four goals and BC United score three, as they both earned shutouts on the defensive side as well.
Eastern Pennsylvania State Cup champion 1776 United FC Xtreme and New Jersey state champ SJEB Rush 00/01 Academy also claimed shutout victories, as four of the five winning teams in the bracket held their opponents scoreless.
South Shore Select found their stride on the attacking end, claiming 3-1 win over Watchung Flames NJ Elite in their first action.
U-19 Championship Division
ECNL squads Bethesda SC 01 Union and Richmond United '00 jumped out of the gates with overpowering performances, taking over the top spots in the U-19 Championship Division. Bethesda notched a 5-1 win over Virginia State Cup champ Beach FC 01/00 Red, while Richmond United defeated US Youth Soccer Region I champion Century V Gold by a 4-1 margin.
South Carolina's CESA U-19 ECNL and Ohio Elite ECNL both claimed 2-1 victories in their opening group games. CESA came out on top of a hard-fought contest against Eastern Pennsylvania State Cup champion Lower Merion SC Storm, and Ohio Elite edged New Jersey state champ Princeton SA National.
McLean Youth Soccer 00/01 ECNL and Maryland State Cup champ SAC Showcase Premier '00 showcased their defensive abilities during 1-0 wins in their first group games at River City Sportsplex on Friday afternoon.
More Jefferson Cup Coverage: