Division championships decided as Jeff Cup Girls Showcase concludes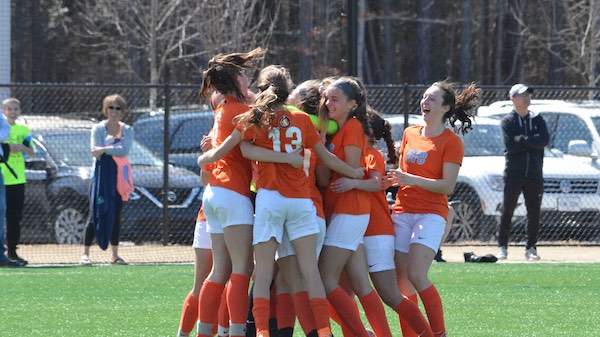 Follow the Jefferson Cup
Twitter | Instagram | Facebook
Standings | Website | College Coaches
The 2019 Jefferson Cup Girls Showcase Weekend concluded on Sunday, as division championships were decided across the U15-U19 age groups.
Continue reading for a rundown of how the Championship Divisions played out on the final day of competition, along with a full listing of division champions.
U-15 Championship Division
Hometown club Richmond United earned four straight clean sheets during their title run in the U-15 Championship Division, culminating with a 2-0 shutout of South Shore Select 04 AP in the final. United went 2-0-1 in Group A, scoring 5 goals and allowing none, to earn a spot in Sunday's title match. They earned 2-0 and 3-0 wins over New York side SUSA ECNL and Northern California's Marin FC 04 Blue, before finishing group play with a 0-0 draw against Florida State Cup champion Sunrise Sting 04 X1.
Massachusetts side South Shore Select 04 AP went unbeaten in Group B, posting a 2-0-1 record with wins over Maryland United ECNL and STA-MUSC 04 NPL, Philadelphia SC Coppa Swarm, and earning a 1-1 draw against reigning US Youth Soccer Region I champion Philadelphia SC Coppa Swarm.
Richmond United's defense came up big once again in Sunday's championship match against South Shore, as they finished the tournament without allowing a single goal all weekend long. Goalkeeper Keely Thomas combined with the back line anchored by U.S. Youth National Team roster pool member Layla Shell, leading the way in a team-wide defensive effort.
United's midfielders were active throughout the match as well in assisting the defense, controlling possession and creating scoring chances on the attacking side. USYNT midfield prospect Jill Flammia and forward Riley Goss provided the goals for Richmond in the title match.
"I think we did really well with breaking the lines on certain teams and we did well fighting through some tough games," said Richmond United forward Taylor Berry on their Jeff Cup championship run.
Richmond will now turn their attention back to ECNL play, where they are 16-1-3, holding onto 1st place in the Mid-Atlantic Conference. They will compete in the ECNL Arizona National Event in early April, before preparing for the playoffs.
U-16 Championship Division
South Shore Select 2003 AP (3-0-0, 29 points) just finished ahead of Maryland United in the U-16 Championship Division. On Sunday, the side wrapped up the top spot with a 5-0 win over Carolina Elite SA ECNL. Their 13 goals in this year's showcase was the most among all sides in the U-16 age bracket.
Five South Shore Select teams competed in the Jeff Cup Girls Showcase Weekend, and four of them posted perfect 3-0 records. The South Shore 00, 01, 02 and 03 AP sides all swept their three opponents, and the o4 AP team placed 2nd in the top U-15 bracket. The five South Shore teams combined for 49 goals scored and only 13 allowed in 16 games played. The 02 AP team did not concede a goal the entire weekend.
Maryland United FC 2003 ECNL (3-0-0, 27 points) had their hands full in their U-16 Championship finale against FC Copa Academy 2003G USYS NL (1-2-0, 12 points). But the ECNL side showed why they are at the top of their league table, finding their attacking mark and earning the 4-2 win.
Things didn't exactly start on the right foot for Maryland. At the start of the first half, FC Copa hit the ground running, using their speed on the outside to catch Maryland's defense off guard. It worked in the 1st minute of the match with Reagan Leavy hitting a high shot to give her side the early advantage.
Despite going down a goal, Maryland went to work with the play of midfielder Kelsey Smith providing the spark that the club needed. She had her work cut out for her with defender Abigail Bellew tracking her closely and making several key clearances early in the match. But in the 9th minute, Smith got the best of Copa's defense, hitting a cross into the box for Taylor Smith to capitalize on. Although Maryland continued to place an exorbitant amount of pressure on the Copa defense, the New Jersey-based side held firm thanks in part to goalkeeper Ariel Salamaan making four stellar saves.
In the second half, Copa once again came out of the gates swinging. Leavy and forward Peyton Gilmore worked in tandem to expose space along Maryland's back four, with the aim of finding the go-ahead goal. Gilmore seemed to find it in the 46th minute, but was pulled down inside the box earning a penalty in the process. She made the most of her chance. hitting a low shot to make it 2-1.
Maryland though were not finished. Having already scored one goal by pressing the Copa back line. they went for No. 2, once again using their speed and counter-attacking ability to create scoring opportunities. Aria Bilal burst past the Copa defense in the 63rd minute, hitting a low shot towards the right corner of the goal to make it 2-2.
After going level with Copa, they continued to press hoping to find the go-ahead goal. They found it in the 63rd minute with Kelsey Smith hitting a blistering rocket towards the upper right corner of the net. Although Copa made several attempts at drawing level, Maryland's Mori Sokoloff put the match away with her insurance goal in the 75th minute.
Working on overcoming deficits through organization and sticking to their guns is something that Maryland coach Henry Canellakis worked with his side and saw it put into practice on Sunday: "We preach to the kids all of the time: Can you fight through adversity? I thought we did that," he said after the match. "A lot of our goals came from organized pressing so it was great to see them show that resolve."
"Copa is a very good team," Canellakis said. "I thought we were resilient after allowing two set pieces goals. We had to fight back and I was very happy with the overall performance."
U-17 Championship Division
It wasn't easy but in the end for McLean ECNL 02 Girls (3-0-0, 27 points) the result was worth it. On Sunday, they narrowly edged Savannah United 02 Premier 4-3 to earn top honors in the U-17 Championship Division. McLean's attack was once again on point after having defeated SJEB Rush 02 Academy 5-3 and NEFC 2002 NS Elite Girls 2-0. Their 11 goals in three matches was the most goals in the U-17 top bracket.
Overall, McLean ECNL teams went a combined 12-0-1 at the Jeff Cup, as their 00/01, 02, 03 and 04 squads all went undefeated on the weekend.
U-18 Championship Division
BC United 2001 SA Premier (3-0-0, 28 points) finished off a perfect run through Championship play on Sunday shutting out Space Coast United 01 Girls 3-0. Sunday's clean sheet was their third of the tournament, having previously blanked Charlotte SA 01 Elite North 3-0 and FC Frederick '01 1-0. They were just one of two sides to make it through the Championship Division while not allowing a single goal. New York side Brentwood SC NPL Blaze 2001 did the same, earning a win and two scoreless draws.
Massachusetts club South Shore Select also had a perfect run in the U-18 Championship Division, sweeping their three opponents with nine goals scored, and only two allowed. South Shore earned a 3-1 win over Watchung Hills NJ Elite, a 1-0 shutout of Eastern Pennsylvania State Cup champ 1776 United Xtreme and a 5-1 rout of Cleveland FC 01 NL.
It is not how you start a match, but how you finish it. On Sunday, Premier SC Navy put that into play, scoring two second half goals to push past SJEB Rush 00/01 Academy 2-1 in their U-18 Championship finale, placing third in the Showcase.
Midfield possession was at a premium early on, with Leia Black of Premier and Sara Beidleman of SJEB stringing together passes for their respective sides. Black in particular worked with Nia Christopher to open up space in SJEB's defensive third. They nearly had the game's opening goal in the 8th minute, with Christopher having a clear shot at goal that went wide of the mark.
Midway through the first half, SJEB's attack began to find their chances in the attacking third. In the 16th minute, they earned a dangerous free kick opportunity deep inside Premier territory. Defender Grace Kenville hammered her shot at goal and forced goalkeeper Alyssa Minnick to knock it over the bar.
SJEB had another chance in the 26th minute when midfielder Phoebe Canoles' shot went toward the far right post, but Minnick came up with a crucial diving save. Their persistence though did indeed pay off as Leah Giles hit a shot past Minnick to make it 1-0 in the 35th minute.
Down a goal entering into the second half, Premier coach Val Teixeira made a tactical substitution, bringing on forward Madison Carr. Carr paid immediate dividends, earning a penalty in the 49th minute. She made the most of her chance at goal, knocking home the equalizer.
Carr wasn't done. Just three minutes later, she finished off a cross from Toni Fiocco-Mizer, giving her side the go-ahead goal. Although SJEB did push late for a second goal, Minnick was up for the challenge, making several key stops en route to earning the 2-1 win.
U-19 Championship Division
Pulling in just ahead of McLean for the top spot in the U-19 age bracket was Ohio Elite ECNL (3-0-0, 27 points), who earned a 4-0 Century 00 Gold on Sunday. Ohio scored 16 goals in this year's tournament which is the most among any side in the U-19 age bracket. They also earned two consecutive shutouts and allowed just two goals, which was the second-lowest among all sides in the Championship Division.
Congratulations to the 00/01G ECNL team on winning the top flight of the @jeffersoncup this weekend! 16 GF and only 2 GA.

— Ohio Elite SA (@ohioelite) March 25, 2019
McLean Youth Soccer ECNL 01 Girls finished off their Jefferson Cup weekend with a big win, knocking off Lower Merion SC Storm 3-1 in their Showcase finale on Sunday.
Facing off against a side in Lower Merion that is known for their tight, physical marking McLean used their speed on the counter-attack to create attacking chances. Midfielder/forward Faith Lee and midfielder Julia Leas in particular worked on the right side of the Merion defense. Their overlapping runs and diagonal passes to open up space and hit crosses into the box for one another. It paid off in the 26th minute when Lee hit a high ball into the box for Leas to bury into the back of the net.
McLean added a second just before halftime. After making a run deep into LMSC territory, Lee earned a corner for her side forcing the LMSC defender to make an emergency to clear to prevent further damage. She made the most of her chance on the ensuing kick, lacing a high swerving ball into the box for forward Danielle Soto. Soto knocked home the insurance goal in the 40th minute giving her side the 2-0 lead.
"Lower Merion is a fantastic side and presented some different challenges for us," said McLean coach Brent Leiba. "They are very physical and very good at reading the individual passing lanes along with some good individual defending. You can see that they are the type of team that will make you pay and are very good at the counter," But I think we adjusted pretty well. We played a couple of different formations to take advantage of some of their vulnerabilities and I think for the most part we did a great job."
Despite being down two goals, LMSC did not quit and came out in the second half determined to bring the fight to McLean. They cut their deficit to one just three minutes in after Teresa Hegarty header went past goalkeeper Ella Gantman.
LMSC nearly equalized in the 61st minute when they were awarded with a free opportunity just outside McLean's eighteen yard box. Midfielder Cella Page's direct kick found a friendly header but Gantman made the diving effort to prevent the second goal. A second goal from Leas in the 65th minute sealed the result for McLean.
Although they had a bit of a scare early, McLean weathered the storm. Led by defenders Isabella DeLew, Jordan Beverina and Margaux Ameer each cleared away a key attacking chance by LMSC during the match and were calm and consistent with their passing from the back.
"This group always has a mindset that they can perservere through anything and that's a skill that all great teams have," said Leiba. "Whether you are up or down it is about finding a consistent mindset. Although we did concede that goal you could sense that they didn't have a mindset of being content. There was a sense of 'Can we get that next one?' I think that's what makes this group so special."
For Leiba, McLean getting three big wins in the Jefferson Cup only helps bolster their ambitions for the rest of the season. The club has already qualified for the ECNL National Championship in June, having finished first in the Mid-Atlantic with a 17-2-1 record.
"Our focus now is on ECNL Nationals and trying to win a National title," he said. "This was great preparation for that especially because we don't have opportunity to play much on grass surfaces. So this was certainly a great experience for our side and is something that we can certainly build off of."
More Jefferson Cup Girls Coverage:
Ohio Valley @theECNL teams rocking their respective championship games next to each other @jeffersoncup. WNY Flash 04G winning 6-0 and @HoundsAcademy winning 3-2.
Well played all and Safe travels home. ?⚡️⚽️ pic.twitter.com/AAJl66EvHl

— WNY Flash Academy (@WNYFlashAcademy) March 24, 2019
Jeff Cup Girls Showcase – Division Champions
U-15
Championship Division | Richmond United U15 ECNL 2004
Elite Orange Division | Connecticut FC United 04 ECNL
Elite Black Division | FC Revolution Dynamo
Superior Orange Division | Pittsburgh Riverhounds ECNL 2004 Girls
Superior Black Division | WNY Flash Academy 04G ECNL
Platinum Orange Division | McLean ECNL 04 Girls
Platinum Black Division | Alleycats 2004G NPL
Platinum White Division | CS Monteuil
Titanium Division | Old Line FC 04 Black
Classic Orange Division | Fredericksburg FC 2004 Girls Black
Classic Black Division | Scorpions SC 2004 NPL
Premier Orange Division | Syracuse Development Academy Utica Blasters
Premier Black Division | Maryland Rush Montgomery Blue '04 Reign
U-16
Championship Division | South Shore Select 2003 AP
Elite Orange Division | WNY Flash Academy 03G ECNL
Elite Black Division | STA-MUSC 2003G USYS
Superior Orange Division | PSA Wildcats Elite Orange 03
Superior Black Division | FC Revolution Rowdies
Platinum Orange Division | VYS Phoenix 03
Platinum Black Division | Oakwood SC 03G NPL
Classic Division | FC Virginia 03
U-17
Championship Division | McLean ECNL 02 Girls
Elite Division | PDA 02 Ajax
Superior Division | Loudoun Soccer ECNL U17
Platinum Orange Division | South Shore Select 2004 AP
Platinum Black Division | Southeast SSC 2002 Girls
Classic Orange Division | NCFC Youth NCFC 02 Premier G
Classic Black Division | Harford FC United Thunder 02 NL EDP
Premier Division | Chester Springs United CSU F.C. '02 Integrity
U-18
Championship Division | BC United SA 2001 Premier
Elite Division | Cedar Stars Academy Bergen
Superior Division | PDA Shore Fusion
Platinum Division | Oakwood SC 01 NPL
U-19
Championship Division | Ohio Elite ECNL
Elite Division | Reading Rage '00-01 Morgan
Superior Division | Soccer Vision Academy 01/02
Platinum Division | FC Stars East Girls 2001/2000 Composite