Jacksonville FC hires Morgan Church as Girls Technical Director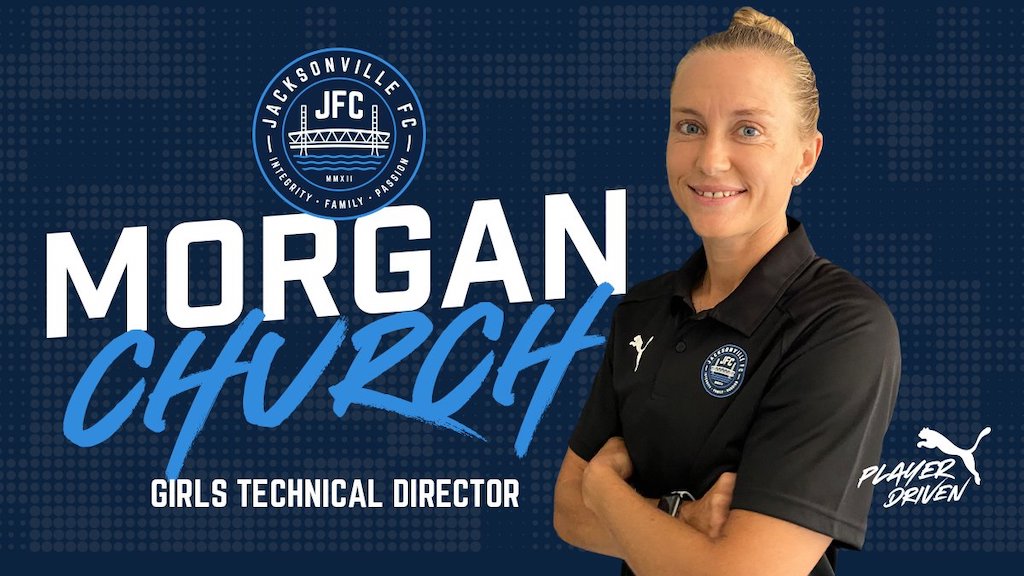 Jacksonville, Florida – Jacksonville FC has announced the hiring of Morgan Church as the club's Girls Technical Director.
Most recently, Church served as a Technical Advisor/Club Development Manager with the U.S. Soccer Federation, she worked to identify top talent within the Southeast for our Youth National Teams. She was also tasked with coaching and overseeing the development pathway in some of the top clubs in the country.
She also has the ability to provide detailed technical support and analysis to enhance the environment and aid in the creation, monitoring and application of individual development plans for players and staff. Her experience also granted her the opportunity to educate and instruct courses throughout the country for various licenses.
"I am excited to help Jacksonville FC transition into a new era with the JFC Girls Program," Church said. "I am grateful for the opportunity my role at U.S. Soccer provided me to work alongside some of the best clubs and players in the country. I've watched JFC grow and transform since I first moved to Jacksonville and I believe it has all of the right resources to set a high standard of development for players and coaches."
"My personal philosophy is rooted in a growth mindset leadership and I'm excited to continue to build on the previous foundation," Church continued. "I look forward to investing my energy and passion into every player and coach in this program to create the most optimal environment for maximizing potential."
Church's career prior to U.S. Soccer, spans more than a decade as a coach, technical director, instructor and administrator in the Southeast region. Church served as the Technical Director for the United Soccer Alliance, as well as the Community Programs Director for the Jacksonville Armada.
She also held the title as the Technical Director for Jacksonville FC from 2010-2014. Church also spent seven years as the Associate Head Coach at the University of North Florida, the First Assistant Soccer Coach at Gonzaga University, and Graduate Assistant Coach at Florida State University in 2016.
"I'm very pleased to add Morgan Church as our Girls Technical Director to lead and oversee our entire girl's program at JFC," said JFC Executive Director Pat Cannon. "Morgan's experience working for US Soccer will be incredibly beneficial to our entire club as we continue to grow and evolve. Her approach and overall skillset align with our JFC core values and she shares the same vision for growth and player development. Morgan will be a fantastic role model for our girls to look up to!"
MORGAN CHURCH COACHING BIO
U.S. Soccer Technical Advisor/Club Development Manager
University of North Florida – Associate Head Coach
Gonzaga University – Assistant Coach
Florida State University – Grad Assistant Coach
Jacksonville FC – Technical Director
Creeks Soccer Club – Director of Coaching Academy
United Soccer Alliance – Technical Director – DA
ODP – Region 1 and Region 3 Staff Coach
CERTIFICATIONS
USSF "A" License
USSF Academy Director License
USSF Director of Coaching License
USSF Instructor License
NSCAA Goalkeeper License