Internationals SC has 17 players finalize commitments on National Signing Day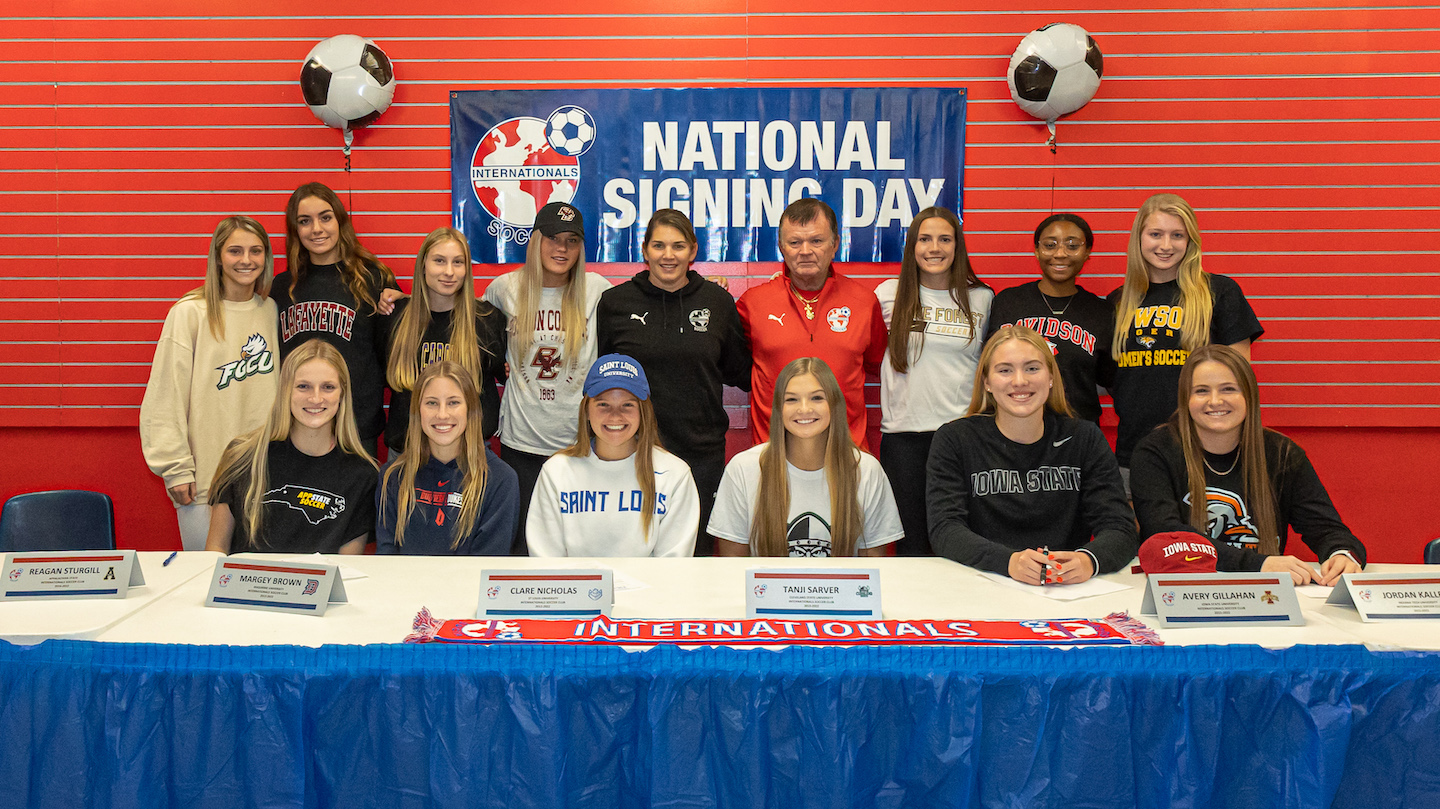 Internationals Soccer Club has announced class of 2022 college commitments for 17 female players.
Additional Internationals SC players are still uncommitted and are expected to announce their decisions in the coming weeks and months.
"We are so thrilled for the 17 players who have already committed to continue their academic and athletic careers at the collegiate level," Internationals SC Club and ECNL Director Keri Sarver said. "We strive to provide an environment that inspires players to achieve a high level of success in the classroom and on the field. The dedication, commitment, and discipline it takes to compete and excel day in and day out is extraordinary and our players are raising the bar and meeting higher standards each year. Congratulations to these 17 seniors on National Signing Day! We look forward to more commitments from our senior class in the coming weeks and months."
The 2022 class included a total of 25 players. This class will join over 395 ISC players that have competed at the collegiate level.
The following players are part of this year's Signing Day class:
Kennedy Alberty
North Royalton, OH
Miami University (OH)
Member of Internationals SC since 2017
Margey Brown
Medina, OH
Duquesne University
Member of Internationals SC since 2013
MacKenzie Dupre
Pittsburgh, PA
Towson University
Member of Internationals SC since 2020
Avery Gillahan
Strongsville, OH
Iowa State University
Member of Internationals SC since 2015
Kiera Kaesar
Ashland, OH
Ohio Northern University
Member of Internationals SC since 2017
Jordan Kallet
Medina, OH
Indiana Tech University
Member of Internationals SC since 2015
Riley Kerber
Medina, OH
Boston College
Member of Internationals SC since 2017
Ariana Mahoney
Medina, OH
University of Akron
Member of Internationals SC since 2016
Clare Nicholas
Wadsworth, OH
St. Louis University
Member of Internationals SC since 2012
Jordan Novak
Strongsville, OH
East Carolina University
Member of Internationals SC since 2016
Savannah Pruitt
Euclid, OH
Davidson College
Member of Internationals SC from 2016-2018 and 2021-2022
Ella Raimondi
Erie, PA
University of Dayton
Member of Internationals SC since 2020
Katrina Santelli
Shaker Heights, OH
Lafayette College
Members of Internationals SC since 2018
Tanji Sarver
North Canton, OH
Cleveland State University
Member of Internationals SC since 2010
Allie Schmidt
Chagrin Falls, OH
Wake Forest University
Member of Internationals SC since 2017
Reagan Sturgill
Cuyahoga Heights, OH
Appalachian State University
Member of Internationals SC since 2016
Erika Zschuppe
Kirtland, OH
Florida Gulf Coast University
Member of Internationals SC since 2020
Photo Credit: Brent Durken/ISNSoccer.com