Indiana women's soccer program signs 10 new Hoosiers for 2022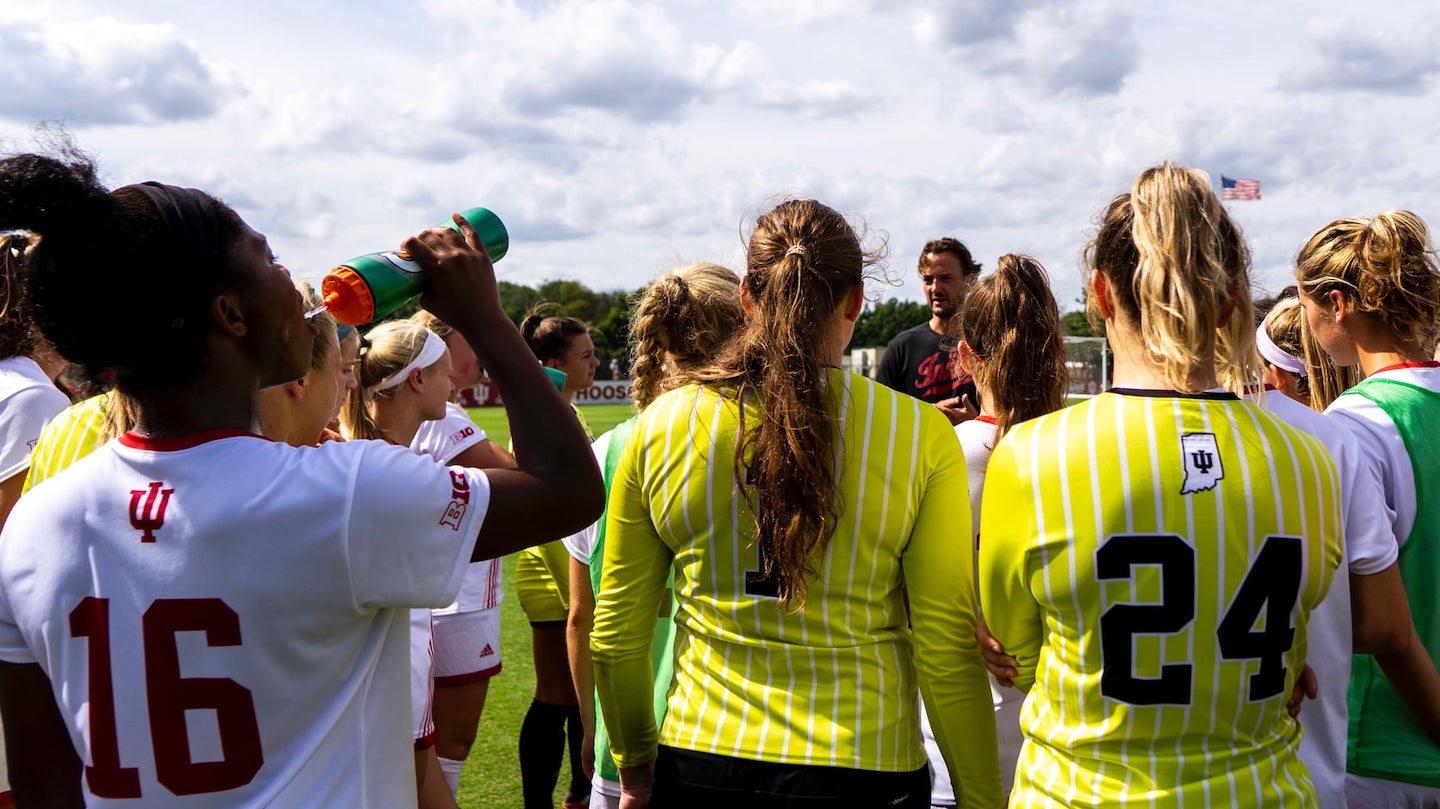 BLOOMINGTON, Ind. – Indiana University head coach Erwin van Bennekom has announced the Indiana Women's Soccer 2022 Signing Class.
The Hoosiers will add 10 to their 2022 roster with the season opener set for August 18 at West Virginia and the home opener on August 25 vs. Ball State.
Sarah Sirdah (Duluth, Ga.), Izzy Smith (Birmingham, Ala.), Marisa Grzesiak (Menomonee Falls, Wis.), Olivia Albert (East Lansing, Mich.), Jaelyn Pallas (Gilbert, Ariz.), Olivia Rush (Troy, Mich.), Olivia Smith (Fishers, Ind.), Abbey Iler (Zionsville, Ind.), Natasha Kim (Summit, N.J.) and Arianna Rose (Brampton, Ontario) will join the Hoosiers in the 2022 season.
"We are excited to welcome the 2022 class," van Bennekom said.  "This class will bring balance and versatility to our roster with players who fit the way we want to play and most importantly we feel that these student-athletes have personalities that fit the standards of our program. Despite the recruiting challenges of Covid-19 we feel we are bringing in some very talented student-athletes who can compete for starting positions right away, which is important with all the players we had graduate from our program this past year."
Sarah Sirdah | Forward | Duluth, Ga. | Tophat
Sirdah was recently called up to the U20 Mexican National Team and also played on the U17 team that came in third in the Girls Academy National Tournament. Sirdah was the 2022 region forward of the year during her high school season at Peachtree Ridge High School.
"I chose IU and IU Women's soccer because it felt like home to me," Sirdah said. "The coaching staff, the people, and the environment I was surrounded by were amazing and supportive. Not only that, but I love the amount of opportunities IU provides outside of soccer. It's just an amazing school with such a beautiful campus!"
Izzy Smith | Midfielder | Birmingham, Ala. | Tophat
Smith led her high school team with 24 goals in the 2020-21 season and currently has 23 goals and 10 assists in the 2021-22 season. Smith was in the USWNT U18 player pool and was team captain and MVP of her Mountain Brook High School team in 2020-21 and 2021-22. Smith was a First Team All-State honoree and First Team All-Metro.
"The idea of experiencing a very different part of the country than where I grew up was really appealing to me," Smith said.  "I am super excited to work with the incredible coaching staff at Indiana University. IU presents the opportunity to build a legacy in the women's soccer program and compete for a national title. From what I have seen so far, I love the culture at IU and the community and support around athletics. I can't wait to be a part of it."
Marisa Grzesiak | Forward | Menomonee Falls, Wis. | FC Wisconsin
In her junior season, which was cut short by COVID Grzesiak tallied 16 goals and 11 assists for Menomonee Falls High School. She was All-Conference Honorable Mention in 2019 and a First Team All-Conference honoree in 2021. Grzesiak graduated early and joined the Hoosiers for the 2022 spring season.
"I have heard great things about the head coach and coaching staff," Grzesiak said. "When I went on my visit I thought the campus was beautiful and I felt super comfortable and like I belonged. I also love the fan energy IU has from the surrounding area of Bloomington."
Olivia Albert | Defender | East Lansing, Mich. | Midwest United FC
Along with her age-group club duties, Albert also logged game time for MUFC in the United Women's Soccer league this past summer. She played in all three playoff games, including 67 minutes in the national semifinal against Connecticut Fusion. Albert has traveled all over the U.S. for United, and also went to France to play in the summer of 2018 as part of Generation Adidas. Albert was the Midwest United Team Captain for four years.
"I chose IU and IU women's soccer because it felt like home the minute I arrived on campus, and I fell in love with the people and the campus."
Jaelyn Pallas | Midfielder | Gilbert, Ariz. | Utah Royals FC-AZ ECNL
Pallas has recorded 19 goals and 12 assists in 33 games played at Perry High School. Helped team to 2022 State Runner-Up finish and 2021 State Semi-Finalist. Pallas was a two-time All Premier Region First Team honoree and All Premier Region Offensive Player of the Year. Pallas was selected First Team All-Conference and Team MVP.
"I fell in love with the school, the soccer culture, the staff and I felt like I would have endless opportunities to grow at IU," Pallas said.
Olivia Rush | Midfielder | Troy, Mich. | Michigan Hawks
Played one year of high school soccer before playing club on year-round. In her freshman year she was All-League, All-District, All-State honorable mention and Team MVP. She led her team to the Michigan State Semi-Final in her freshman season. Rush was a 2019 ECNL Player to Watch and a 2020-21 ECNL First Team Midwest Conference selection. Rush earned the Michigan State Cup Championship and ECNL Midwest Conference Champions from 2017-22.
"When I began my college search process, Indiana University checked all the boxes that I was looking for," Rush said.  "They had top ranked academics, beautiful campus, and a rich history. I chose the soccer team after quickly connecting personally with the coaching staff and believing in their style of play. I am really looking forward to continuing to build on the early successes that Coach Erwin and his staff have achieved."
Olivia Smith | Midfielder | Fishers, Ind. | Hoosier FC-Indy Fire
Smith earned First Team All-State in her senior year as well as Second Team All-State her junior season. Academic All-State honoree in junior and senior year. Smith was selected to the Central Region USA Team in her senior season.
"I chose IU because I felt an immediate connection and bond with the team and coaching staff," Smith said. Indiana is close to home and I feel I will have everything I need to be successful on and off the field."
Abbey Iler | Forward | Zionsville, Ind. | FC Pride    
Iler in her high school career at Zionsville Community registered 38 goals and 21 assists and was recognized as player of the game 22 times. Her 38 goals rank as a top-five scorer in program history. Iler is a three-time All-Conference honoree for the Hoosier Crossroad Conference. Iler earned First Team All-State honors twice and was recognized as a USCA All Region Player. Iler earned Academic All-State honors and was named to the 2022 Indiana All USA postseason Super Team. She earned three MVP honors.
"Since attending my first soccer camp at Indiana University I wanted to be part of their program," Iler said.  "As I considered other options, I appreciated the coaching staff, the outstanding academic standards, and the beautiful campus. It was really a dream becoming a reality when choosing IU."
Natasha Kim | Defender | Summit, N.J. | PDA
Kim was the 2021 ECNL North Atlantic Conference Player of the Year and a 2021 ECNL All-American. Kim earned placement on the 2021 New Jersey Third Team All-State and 2018-21 Union County First Team. Her club team was the 2019 National Champion Finalists and 2021 ECNL North Atlantic Conference Champions.
"I chose IU for the challenge of competing in the Big Ten conference. The coaching staff was incredible, and I loved their ambition and energy. I felt like the facilities and resources provided to student-athletes at the school would put me in a position to be successful, along with the gorgeous campus, school spirit and well-known business school."
Arianna Rose | Defender | Brampton, Ontario | National Development Center-Ontario
Rose competed for Team Canada starting at the age of 15 and she made her debut in the Canadian youth program in 2019.
"I chose IU because of how beautiful the campus is and the different cultures and ethnicities," Rose said. "The Circle of Excellence also drew my interest and how much support and guidance there are for the student athletes. While visiting IU Women's Soccer the connection with the coaching staff was amazing and just being able to meet with them and the team, I envision seeing myself fitting in. Also, the beautiful facilities that IU Women's soccer provides."