Illinois Soccer inks seven to National Letters of Intent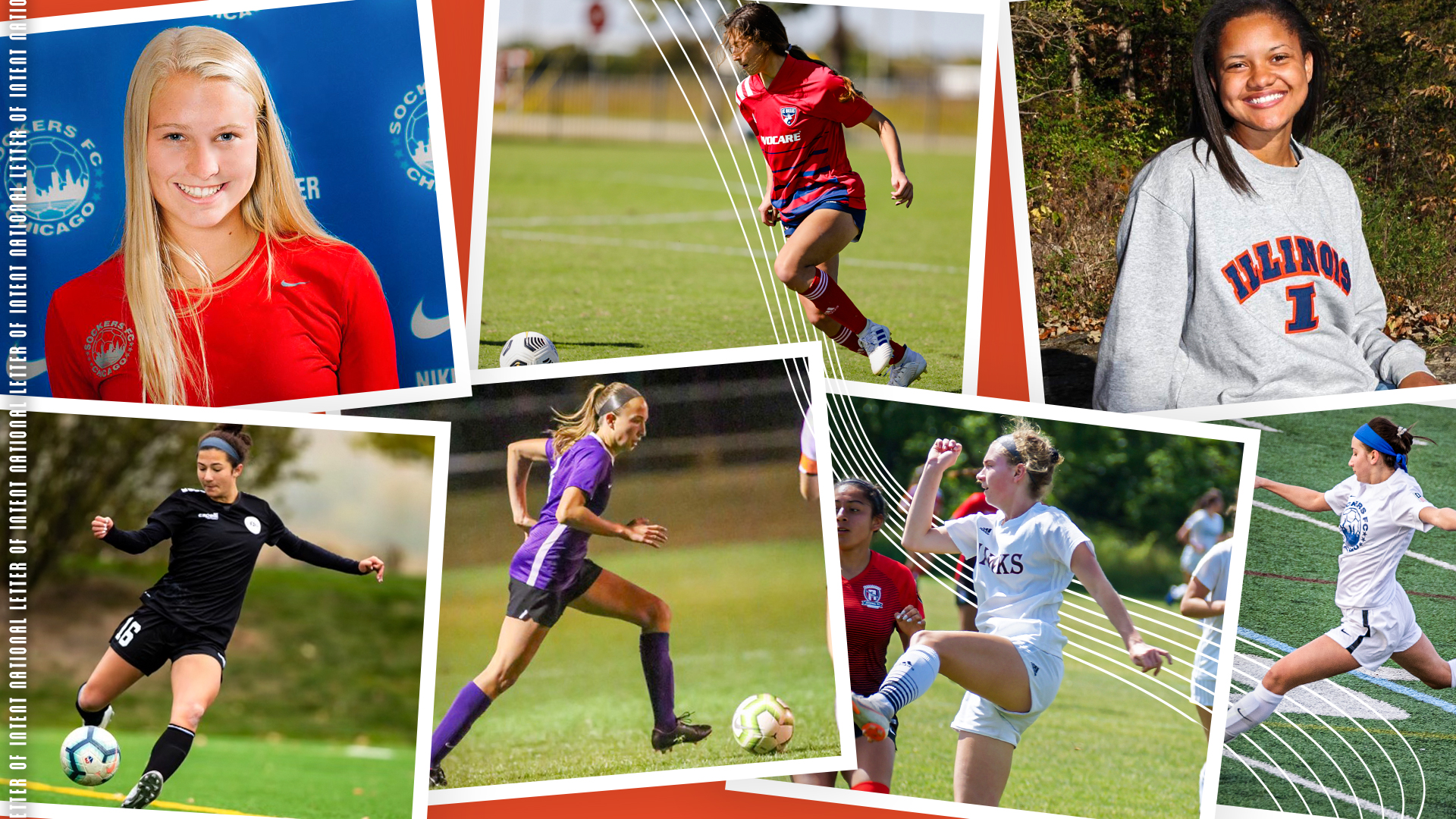 CHAMPAIGN, Illinois – Illinois Soccer head coach Janet Rayfield announced the addition of seven players to the Fighting Illini roster for next season.
The 2021 recruiting class includes Angie Galo (Sockers FC), Naomi Jackson (Rockford Raptors), Maeve Jones (FC Dallas Youth), Ella Karolak (Michigan Hawks), Abby Lynch (FC Pride), Maddie Mariani (Sockers FC) and Alyssa Weede (Eclipse Select SC).
"This class and the entire Illinois soccer program is excited to be able to call Demirjian Park their new home," Rayfield said. "These seven players share the family and competitive values that we hold dear, and I know that they will make a lasting and positive impact on our team, our program, and our university. With our brand new, state-of-the-art facility, returners hungry to fill those new walls with trophies, and new stands with jubilant fans, plus an incoming class with the sort of talent in this group, Illinois soccer is poised for a new era.
ANGIE GALO | DEFENDER | WHEATON, ILLINOIS | WHEATON NORTH HIGH SCHOOL | SOCKERS FC CHICAGO
ABOUT GALO
2019 U19 Central Conference Champs, US Soccer Development Academy
2019 U19 Semifinals, National Championship, US Soccer Development Academy
Varsity letterwinner in track & field at Wheaton North HS
Honor student and member of the National Honor Society
RAYFIELD'S TAKE: "Angie has those intangible qualities – responsibility, leadership, competitiveness, and toughness – that you look for in a defender. She does whatever it takes to keep the ball out of the net and she wills her team to win. But it's not just her mentality, those intangibles are complimented by her ability to connect out of the back with range and accuracy."
NAOMI JACKSON | GOALKEEPER | FREEPORT, ILLINOIS | FREEPORT HIGH SCHOOL | ROCKFORD RAPTORS
ABOUT JACKSON
Earned all-conference and all-section honors as a freshman (2018) and sophomore (2019)
Posted a record of 28-7-1 for Freeport HS in her first two seasons
Recorded eight shutouts as a freshman, and 11 clean sheets during her sophomore year
Allowed just 24 goals, an average of 0.67 per game
Honored as team MVP as a sophomore
Named 2019 All Star Preps Best of Rock River Valley
RAYFIELD'S TAKE: "Already a capable shot stopper, Naomi has all the tools to become a top collegiate goalkeeper, and to continue her career beyond college if she puts in the work. We have watched her substantial growth and improvement over the last few years and are excited about continuing the trajectory that she is on."
MAEVE JONES | FORWARD | FRISCO, TEXAS | REEDY HIGH SCHOOL | FC DALLAS
ABOUT JONES
2018 US Soccer Development Academy U15 National Champions
Rated as a four-star recruit by Top Drawer Soccer
No. 119 on the IMG Academy Girls Top 150 by Top Drawer Soccer
Ranked nationally as the No. 37 forward by Top Drawer Soccer
Three-year National Honors Society and two-year National Spanish Honors Society member
RAYFIELD'S TAKE: "Maeve is a dynamic attacker. Her attacking runs are deceptive; she can get behind defenses and she can also hold a ball and help us possess as we move the ball up the field. No matter what tournament, what game, or what the stakes were, Maeve always seem to find the back of the net. True goal scorers somehow develop an instinct that makes goal scoring look easy, and Maeve has that instinct."
ELLA KAROLAK | DEFENDER/MIDFIELD | GROSSE POINTE, MICHIGAN | UNIVERSITY LIGGETT SCHOOL | MICHIGAN HAWKS
ABOUT KAROLAK
2019 ECNL National Finalists
2017 US Youth National Finalists
Earned eight letter awards at University Liggett School: field hockey (4), lacrosse (4), and basketball (1)
Three-time All-Michigan Division II field hockey (2018, 2019 and 2020), helping ULS to state championships in 2018 and 2020.
Earned George Thanasas Award for maintaining 3.5 gpa while playing three varsity sports (2018-19).
Named the Williams College Book Award (2019-20) as the best scholar athlete with outstanding character
RAYFIELD'S TAKE: "Versatile and technically proficient with both feet, Ella can play in many positions but wherever she plays she'll connect players on the field in a way that helps to break teams down. Her consistency and intelligence help make players around her better, and that's a sign of a great player and a great teammate."
ABBY LYNCH | FORWARD | BROWNSBURG, INDIANA | BROWNSBURG HIGH SCHOOL | FC PRIDE
ABOUT LYNCH
Will also compete for the Fighting Illini track program.
Earned 10 letter awards at Brownsburg High: soccer (4), track (4), and cross country (2)
Tallied 72 points with 56 goals and 18 assists in 56 games over three seasons
Led BHS to the 2020 Sectional Championship
2018 and 2020 Hendricks County Player of the Year, all-conference, and first-team all-district
Named team MVP as a sophomore in 2018, also earning second-team all-state honors
2020 Academic All-State in both soccer and cross country
Member of National Honor Society (2020-2021) and Athletic Ambassadors (2020-2021)
Named 2018 All-Conference and helped FC Pride to the ECNL Nationals Elite 8 in 2019
Mother, Amy, competed for the Fighting Illini swimming & diving program
RAYFIELD'S TAKE: "Whether on the track, cross country course, or the soccer field, Abby Lynch is a competitor. A sectional champion in both soccer and cross country and the Hendricks County Player of the Year in soccer she is also a winner. Her stamina translates on the soccer field to an incredible work rate and ability to get up and down the flank with relentless attacking mentality. She will literally run opponents into the ground and create goal scoring chances in the process."
MADDIE MARIANI | MIDFIELD | WHEATON, ILLINOIS | WHEATON NORTH HIGH SCHOOL | SOCKERS FC CHICAGO
ABOUT MARIANI
2019 U19 Central Conference Champs, US Soccer Development Academy
2019 U19 Semifinals, National Championship, US Soccer Development Academy
Member of Glen Ellyn Bible Youth Group
RAYFIELD'S TAKE: "Midfielders are the toilers on a soccer team and Maddie fills that role. You immediately notice her work rate and ability to cover ground, and her constant impact on the game on both sides of the ball.  She's a great passer, can make dangerous attacking runs, and gets stuck in defensively, and all those quality will help her make an impact in our midfield."
ALYSSA WEEDE | MIDFIELD | ARLINGTON HEIGHTS, ILLINOIS | BUFFALO GROVE HIGH SCHOOL | ECLIPSE SELECT
ABOUT WEEDE
2017 ODP National Training Camp
US Soccer Training invitee
Team captain
2016 Illinois ODP State Team
RAYFIELD'S TAKE: "As a technically consistent and competitive midfielder, Alyssa is a ball-winner, an efficient passer, and a warrior on the field. On the attacking side, her strength is her vision and ability to find players and deliver passes to players in great spaces. On the defensive side, her ball-winning success is the result of her ability to read the game combined with a dueling mentality."