Hope Solo, Clint Dempsey highlight 2022 National Soccer Hall of Fame class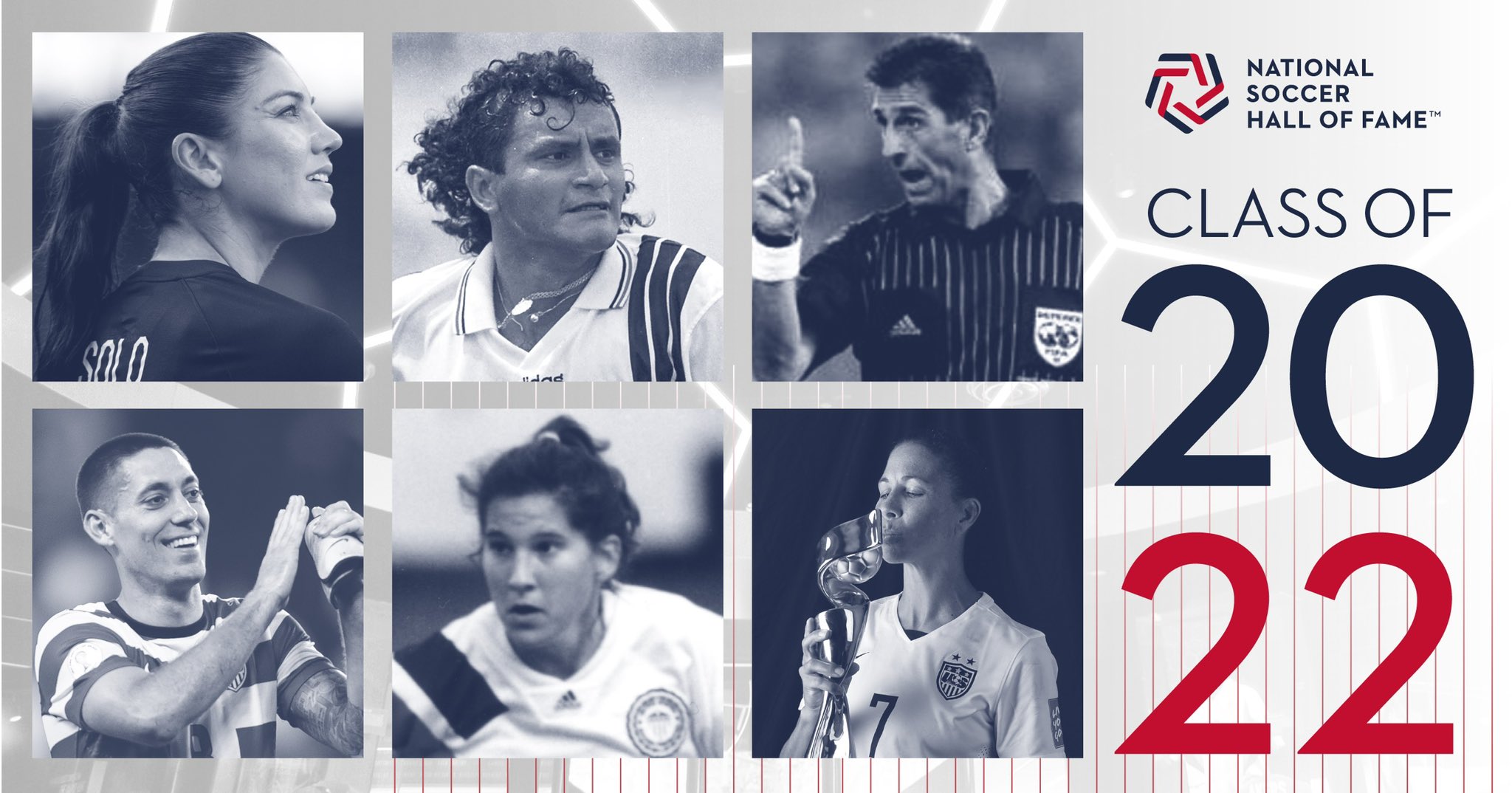 Frisco, TX — The National Soccer Hall of Fame announced the six members of its 2022 class: Shannon Boxx, Clint Dempsey, Hope Solo, Marco Etcheverry, Linda Hamilton and Esse Baharmast.
They will be inducted at a ceremony May 21 at Toyota Stadium in Frisco, Texas, along with former U.S. Women's National Team captain Christie Pearce Rampone, who deferred her induction after being chosen for the Hall of Fame's 2021 class. The ceremony will take place inside the National Soccer Hall of Fame, followed by a concert at Toyota Stadium featuring Zac Brown Band.
Kate Abdo announced the news to Dempsey during CBS Sports' pre-match coverage of the U.S. Men's National Team's World Cup qualifying match against Canada on Paramount+. Dempsey then informed Solo and Boxx during the broadcast. Anson Dorrance, Hamilton's former coach, informed her of her election during a USMNT watch party at Southwestern University, where she is head coach of the women's team. In teleconference calls later in the day, Joe Machnik informed Baharmast of his election, and Andrés Cantor and Tab Ramos delivered the news to Etcheverry.
BREAKING: A surprise for @hopesolo and @ShannonBoxx7! The @USWNT stars have been selected into this years @soccerhof 🇺🇸 #NSHOF22 players pic.twitter.com/PjwNEwr9bC

— CBS Sports Golazo ⚽️ (@CBSSportsGolazo) January 30, 2022
A forward who was one of the best goal scorers in U.S. national team history, Dempsey played 141 games for the USMNT and nine seasons in MLS, with two Best XI selections. When he retired, Dempsey was tied with Landon Donovan as the nation's all-time leading scorer with 57 international goals, including goals in three World Cups, a Confederations Cup, a Copa America and four CONCACAF Gold Cups. He was elected in his first year of eligibility.
Solo played 202 full internationals as goalkeeper for the U.S. Women's National Team between 2000 and 2016, winning two Olympic gold medals and a Women's World Cup championship. She won the Golden Glove, awarded by FIFA, as the outstanding goalkeeper at both the 2011 and 2015 Women's World Cups.
A midfielder who made 195 appearances for the U.S. Women's National Team between 2003 and 2015, Boxx won three Olympic championships and one World Cup. A two-time postseason Best XI selection, she is one of three women who played in all three seasons of the Women's United Soccer Association, all three seasons of Women's Professional Soccer and the first three seasons of the National Women's Soccer League.
Hamilton, one of two candidates elected from the Veteran ballot, played 71 full internationals for the U.S. between 1987 and 1995. She was a key defender on the U.S. team that won the first Women's World Cup in 1991 and played in the 1995 World Cup tournament.
Etcheverry, also chosen from the Veteran ballot, was born in Bolivia and played eight seasons in Major League Soccer between 1996 and 2003, all of them with D.C. United. He was a four-time Best XI selection, a three-time MLS champion and the league's most valuable player in 1998.
Baharmast, elected from the Builder ballot, was a FIFA international referee for six years. He officiated two games at the 1998 World Cup, three at the 1996 Olympic Games, one at the 1997 Copa America and five at the CONCACAF Gold Cup in 1996 and 1998. A former MLS and MISL referee, he served as the U.S. Soccer Federation's director of officials for 11 years.
The National Soccer Hall of Fame voting committee determined the 2022 class after changes to the election and eligibility process raised the maximum number of inductees from four to six. The update made it possible for a third candidate from the Player ballot and a second candidate from the Veteran ballot to be elected if they are named to at least 75% of the ballots.
The 48 Player Voting Committee members submitted ballots as follows: Dempsey (47, 97.9%), Boxx (44, 91.7%), Solo (39, 81.3%), Lauren Cheney Holiday (36, 75%), Josh McKinney (35, 72.9%), David Beckham (27, 56.3%), Aly Wagner (24, 50%), Heather Mitts (17, 35.4%), Pablo Mastroeni (16, 33.3%), Lori Chalupny (15, 31.3%), Cat Reddick Whitehill (13, 27.1%), Thierry Henry (13, 27.1%), Robbie Keane (12, 25%), Oguchi Onyewu (11, 22.9%), Josh Wolff (9, 18.8%), Shalrie Joseph (9, 18.8%), Maurice Edu (9, 18.8%), Carlos Ruiz (9, 18.8%), Eddie Johnson (2, 4.2%) and Brian Ching (2, 4.2%).
The 24 Veteran Voting Committee members submitted ballots as follows: Etcheverry (20, 83.3%), Hamilton (19, 79.2%), Kate Sobrero Markgraf (17, 70.8%), Chris Armas (14, 58.3%), Chico Borja (10, 41.7%), Tony Sanneh (10, 41.7%), Frankie Hejduk (8, 33.3%), Tisha Venturini-Hoch (8, 33.3%), Clint Mathis (4, 16.7%) and Mary Harvey (3, 12.5%).
The 24 Builder Voting Committee members submitted ballots as follows: Baharmast (22, 91.7%), Kari Seitz (12, 50%), Sandra Hunt (5, 20.8%) and Brian Hall (3, 12.5%).
Full 2022 voting results and complete information about election and eligibility procedures are available at NationalSoccerHOF.com. The election process is administered by National Soccer Hall of Fame staff under election and eligibility guidelines established by the Hall of Fame Board of Directors.