USMNT defeats Honduras 3-0 on frigid night in Minnesota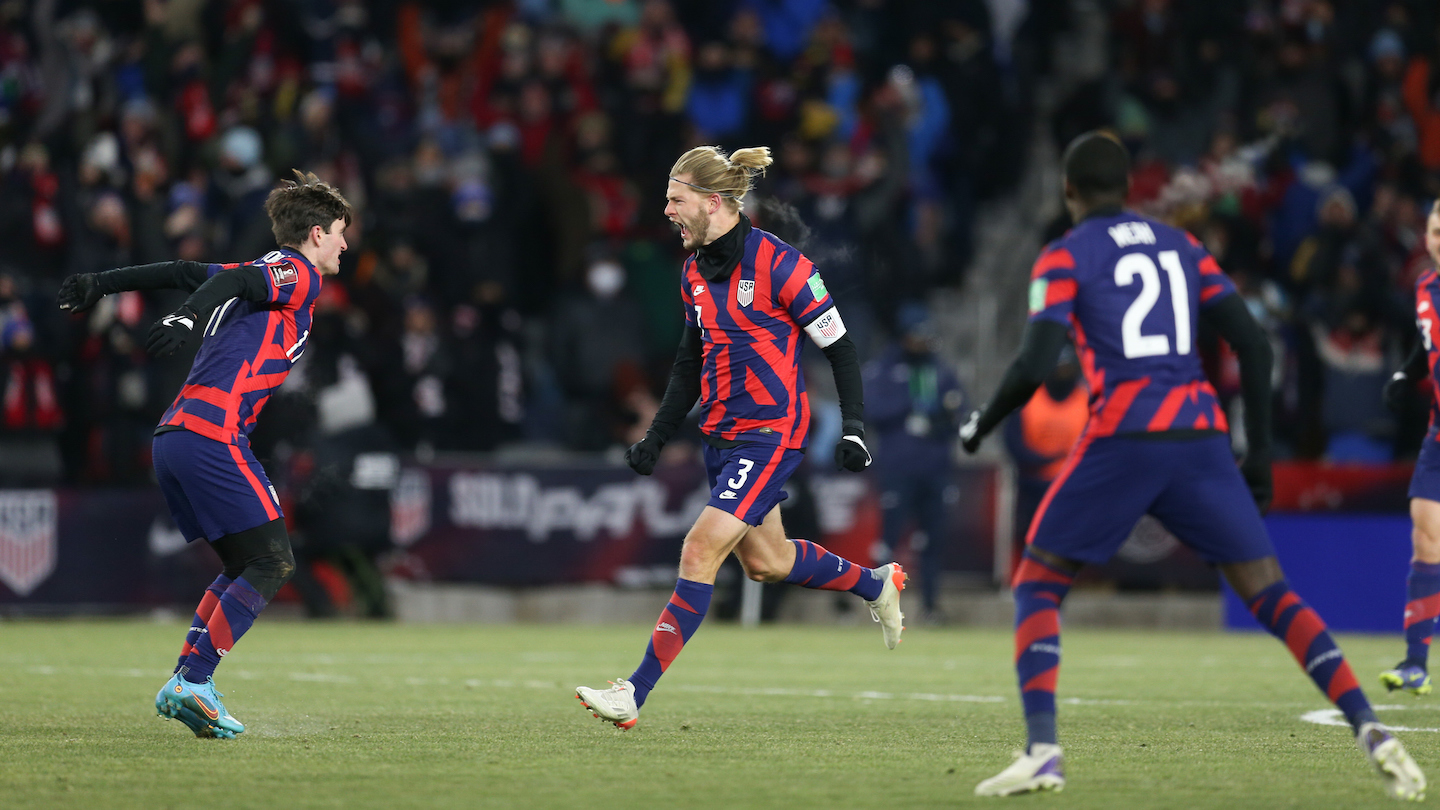 ST. PAUL, Minn. – On a frigid night in Minnesota, the U.S. Men's National Team took an important step towards qualifying for the 2022 FIFA World Cup in Qatar with a 3-0 shutout victory against Honduras.
The temperature at kickoff of five degrees was the coldest for any match in USMNT history, but the U.S. attack was hot as the Americans dominated throughout the night with midfielder Weston McKennie, defender Walker Zimmerman and forward Christian Pulisic scoring goals off set piece services from midfielder Kellyn Acosta.
Playing its third World Cup qualifying match in seven days, the USA remains in second place in the Octagonal standings and will finish the night no lower than third, pending other results. The U.S. will wrap up this World Cup qualifying cycle with three matches during the March international window, facing Mexico in Mexico City on March 24, taking on Panama in Orlando, Fla. on March 27 before closing the Final Round of World Cup qualifying at Costa Rica in San Jose on March 30.
Acosta's well-weighted services on set pieces were the common denominator for all three scores. In the eighth minute, Acosta's service from the right side found McKennie, who rose higher than his mark to head home the opening goal. In the 37th minute, Acosta sent another free kick bouncing past a cluster of Hondurans and Zimmerman shielded it, spun around his defender and struck the ball from close range past sliding Honduras goalkeeper Luis Lopez.
Two minutes after entering as a second-half substitute, Pulisic slotted home the exclamation point in the 67th minute. Acosta once again delivered the service and a flicked header from Ricardo Pepi sent the ball across goal mouth. The ball bounced off Zimmerman and fell to Pulisic, who rifled home a first-time strike for his 18th career international goal, good for ninth in USMNT history.
Head coach Gregg Berhalter made seven changes from the starting lineup that faced Canada on Sunday and the changes paid dividends as the U.S. attack looked dangerous from the get-go.
The USA midfield dominated on the night, catalyzing the attack and covering plenty of ground despite the freezing temperatures. McKennie bossed the middle of the park with a number of nifty dribbles and tackles won, Acosta stroked a number of excellent passes into the final third on set pieces and in open play, while Luca de la Torre, making his first World Cup qualifying start, was a maven, winning balls and showing serious burst of speed to drive the ball forward. Overall, the USA out-possessed Honduras 73-27 percent and outshot Los Catrachos 16-2 in a commanding performance. The USA had eight shots on goal while Honduras had zero.
After a strong performance against El Salvador in first game of this qualifying window, forward Tim Weah once again menaced the opponent on the right wing. He nearly added to the first-half scoring when he fired a hard-hit shot in the 20th that Lopez just got his fingertips on and in the 26th received a lovely ball from Acosta inside the box that he tried to backheel towards goal, but saw it stopped by the onrushing 'keeper.
The attack didn't slow down after the break and the U.S. nearly scored a third just minutes into the second half. Pepi had a header saved in the 49th, McKennie teed up Weah for a great chance saved by second half substitute goalkeeper Edrick Menjívar in the 50th and on the ensuing free kick, McKennie had another threatening header that was waved away for offside.
The U.S. attack made itself at home in the Honduran final third in the second half as goalkeeper Matt Turner ran sprints back and forth to stay warm during stoppages in play. He and the U.S. defense recorded their fifth shutout of the Octagonal as Turner has kept clean sheets in 11 of his 16 international caps.
Pulisic almost added another exclamation point in the 86th minute after as the USA burst down the right with the ball at the feet of forward Brenden Aaronson. Midfielder Cristian Roldan then fired a shot from the six-yard line which saved by a Honduran defender covering for his off-the-line goalkeeper. Pulisic was first to the rebound, firing home the bouncing ball on the slide, but Aaronson was eventually deemed to have been offside on the initial run through, negating the goal.
GOAL SCORING RUNDOWN
USA – Weston McKennie (Kellyn Acosta), 7th minute: Acosta teed up a looping service from 40 yards out on the right side of the field. McKennie was at the front of the pack in the box and rose above his defender to power home a towering header just inside the right post for the USA's first set play goal of the Octagonal and an important early lead. USA 1, HON 0
USA – Walker Zimmerman, 37th minute: Acosta lined up another free kick from about 45 yards out near the left sideline and struck another great service inside the penalty box. The ball flew past U.S. forward Jordan Morris, bounced of veteran Honduran defender Maynor Figueroa and fell to Zimmerman, who athletically shielded off Denil Maldonado, spun around him, and rolled the ball into the right side of the net from four yards out for his third international goal. USA 2, HON 0 
USA – Christian Pulisic (Walker Zimmerman), 67th minute: Just two minutes after entering the match, Pulisic added the USA's third of the night. Acosta once again provided the service, sending a corner kick from the right side to the near post, where Ricardo Pepi flicked it on with his head. The ball then bounced off Zimmerman and it fell right in front of Pulisic, who hit the ball first-time into the left corner from 10 yards on a crisp finish to clinch the three points. USA 3, HON 0
-U.S. MEN'S NATIONAL TEAM MATCH REPORT-
Match: United States Men's National Team vs. Honduras
Date: February 2, 2022
Competition: Concacaf 2022 FIFA World Cup Qualifying
Venue: Allianz Field; St. Paul, Minn.
Attendance: 19,202 (Sellout)
Kickoff: 6:30 p.m. local (7:30 p.m. ET)
Weather: 3 degrees, clear
Scoring Summary:     1             2              F         
USA                               2             1              3
HON                              0             0             0
USA – Weston McKennie (Kellyn Acosta)                 8th minute
USA – Walker Zimmerman                                        37
USA – Christian Pulisic (Walker Zimmerman)           67
Lineups:
USA: 1-Matt Turner; 4-Reggie Cannon, 3-Walker Zimmerman (Capt.), 12-Miles Robinson, 5-Antonee Robinson; 23-Kellyn Acosta, 17-Luca de la Torre, 8-Weston McKennie (14-Cristian Roldan, 84); 21-Tim Weah (11-Brenden Aaronson, 76), 18-Ricardo Pepi (20-Jesús Ferreira, 76), 13-Jordan Morris (10-Christian Pulisic, 64)
Substitutes Not Used:  19-Sean Johnson, 2-Sergiño Dest, 6-Yunus Musah, 7-Paul Arriola, 9-Gyasi Zardes, 15-Sebastian Lletget, 16-Mark McKenzie, 22-DeAndre Yedlin
Head coach: Gregg Berhalter
HON: 22-Luis López (1-Edrick Menjívar, 46); 16-Wisdom Quaye, 15-Denil Maldonado, 3-Maynor Figueroa, 19-Omar Elvír; 14-Kevin López (5-Devon García, 61), 8-Alfredo Mejía, 6-Juan Delgado, 23-Diego Rodriguez (11-Bryan Róchez, 46); 7-Alberth Elis (Capt.), 12-Rommel Quioto (9-Antony Lozano, 46)
Available Subs: 18-Alex Güity, 2-Allans Vargas, 4-Marcelo Santos, 10-Edwin Rodríguez, 17-Franklin Flores, 20-Jorge Álvarez, 21-Jonathan Rubio
Head Coach: Hernán Darío Gómez
Stats Summary: USA / HON
Shots: 16 /2
Shots on Goal: 8 / 0
Saves: 0 / 5
Corner Kicks: 8 / 1
Fouls: 15 / 13
Offside: 1 / 2
Misconduct Summary:
HON – Alfredo Mejía (Caution)          36th minute
HON – Wisdom Quaye (Caution)       36
USA – Tim Weah (Caution)                75
Officials:
Referee: Oshane Nation (JAM)
Assistant Referee 1: Ojay Duhaney (JAM)
Assistant Referee 2: Stephanie-Dale Yee Sing (JAM)
4th Official: Randy Encarnación (DOM)
VAR: Erick Miranda (MEX)
Assistant VAR: Ricardo Montero (CRC)
Man of the Match: Weston McKennie
ADDITIONAL NOTES

The USA improves to 19-4-5 all-time vs. Honduras.
The USMNT now holds an 8-2-2 advantage over Los Catrachos in World Cup qualifying and 4-1-0 at home. The U.S. won its two qualifiers this cycle vs. Honduras by a combined score of 7-1 and won its last two home qualifiers vs. Honduras by a combined score of 9-0.
Tonight marked the USA's second visit to Minnesota, improving to 2-0-0 with a plus-seven goal differential in the Land of 10,000 Lakes.
Midfielder Weston McKennie's opener in the eighth minute was his ninth career goal and second in World Cup qualifying.
Midfielder Kellyn Acosta registered his fourth career assist and first in World Cup qualifying on the opening goal.
Defender Walker Zimmerman's 37th-minute goal was his third overall in international play and first in World Cup qualifying.
Two minutes after entering the match, forward Christian Pulisic's 18th career goal pushed him into sole possession of ninth on the USMNT's all-time scoring list. It was also Pulisic's ninth in World Cup Qualifying, moving him into a tie with Earnie Stewart for sixth on the USMNT's qualifying goals list.
Goalkeeper Matt Turner's 11th career clean sheet ties him with Arnie Mausser for sixth on the USMNT's all-time shutouts list.
Gregg Berhalter made seven changes to the Starting XI that faced Canada on Sunday, inserting defenders Reggie Cannon and Zimmerman; midfielders Kellyn and Luca de la Torre; and forwards Jordan Morris, Ricardo Pepi and Tim Weah.
Tonight's starting lineup averaged 23 caps and 13 appearances in official competition.
Midfielder de la Torre started his first match for the USMNT tonight and earned his fifth cap.
Cannon earned his first World Cup Qualifying start tonight. The fullback became the 27th different U.S. player to earn their qualifying debut during the 2022 cycle when he came off the bench in the 76th minute of Sunday's match at Canada.
Morris earned his second start in World Cup Qualifying and first since Sept. 5, 2017 at Honduras.
Zimmerman captained the USMNT for the fifth time tonight. The team is 4-1-0 when Zimmerman wears the armband.
Substitute forward Brenden Aaronson came off the bench to become the lone USMNT player to appear in each of the team's 11 qualifiers thus far.
With teams limited to dressing 23 players, goalkeeper Gabriel Slonina was a healthy scratch from tonight's squad.
Due to injuries suffered on Sunday against Canada, midfielder Tyler Adams (right hamstring) and defender Chris Richards (right ankle) were unavailable for selection tonight.