U.S. Soccer Girls Development Academy East Conference Recap: Oct. 26-27, 2019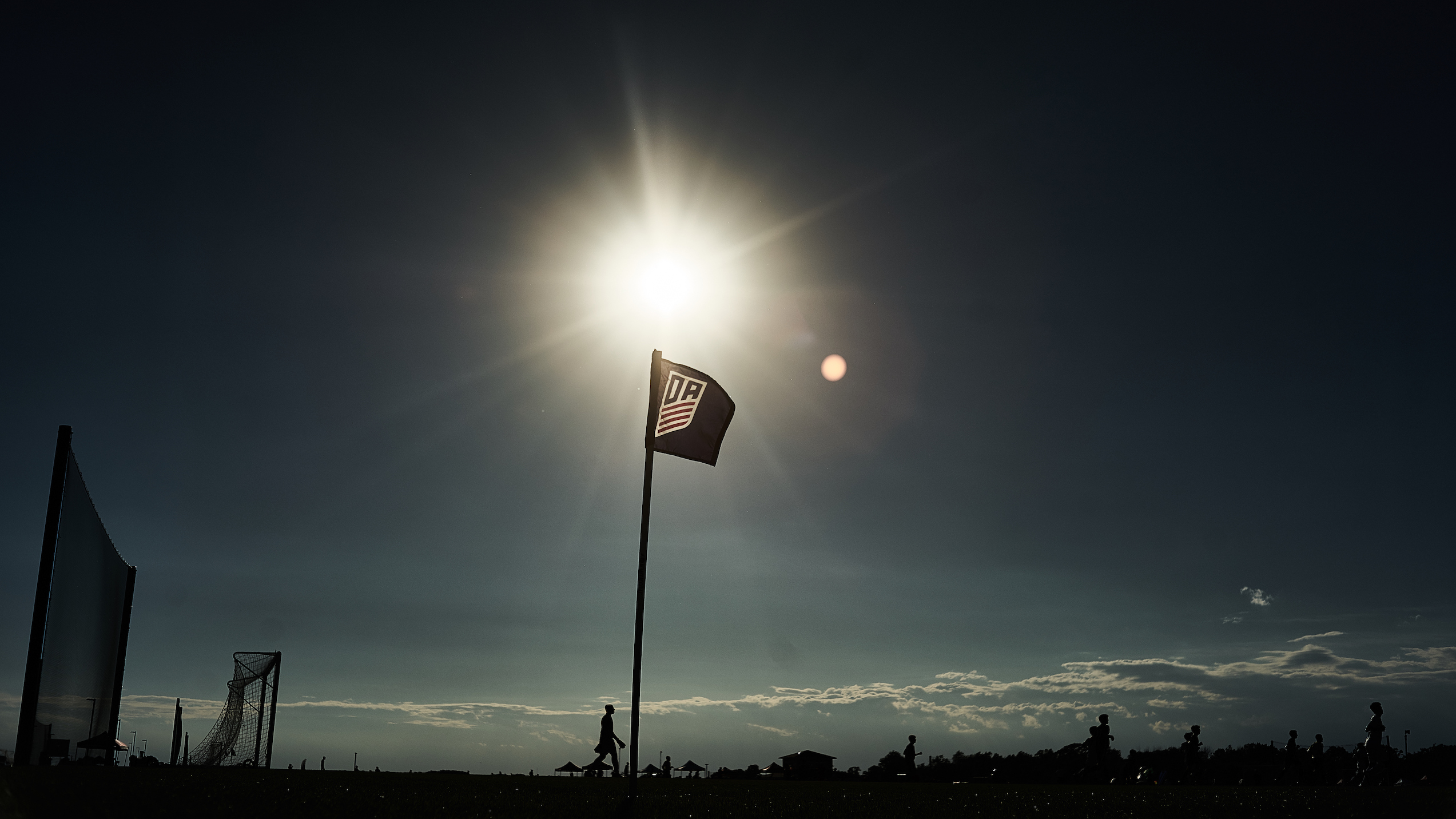 East Conference clubs took the field for more U.S. Soccer Girls Development Academy regular season competition this weekend.
Continue reading for a look back on a few of the top performances by Girls DA teams across the U-15, U-16, U-17 and U-18/19 age groups.
U-15
The St. James FC Virginia extended their perfect start to the regular season with a 6th straight win, downing Long Island SC 7-1. Viviana Pope found the net 4 times, while Ava Galligan recorded a brace and Reagan Ackermann scored once for FCV in the blowout. At 6-0-0, FCV now sits atop the Atlantic Division with 24 goals scored and only 5 allowed.
STA Development Academy is in control of the Northeast Division, as they remain unbeaten at 5-0-1 following a 4-1 victory over Sky Blue – NYSC. Chiara Cosenza (5') put STA on the scoreboard early, as they took a 1-0 lead into halftime. STA caught fire with 3 more goals in the second half, all from different players: Brooke Berger (41'), Jill Rosenfeld (72') and Olivia Russomanno (77').
South Shore Select is making a strong push in the Northeast Division as well, after improving to 4-1-1 with their 6-0 rout of FC Fury NY. Claire Murray led the offense with 4 goals, including a hat trick in the first half. Goalkeeper Adriana Ruiz notched the clean sheet, behind her back line of Ciara Callanan, Catrina Herman, Shea MacDougall and Smilla Spasic, who all played the full 80 minutes.
Tophat continued their dominance in the Southeast Division, overpowering Charlotte Soccer Academy 4-0. Four different players scored as Tophat advanced to 4-0-0 in regular season action. Goalkeeper Siani Jones tallied the clean sheet as defenders Hannah Faklaris, Landry Olson and Sophia Roma played the entire match.
North Carolina Courage remain perfect through 3 games of Southeast Division competition, after a 3-1 victory over United Futbol Academy. Aleigha Arndt (4') put the Courage on top early, and the teams eventually went into halftime level at 1-1. In the final 10 minutes of the second half, Chloe Howard (73') and Laney Newnam (76') both scored to break the game open for the Courage.
U-16
In the Atlantic Division, The St. James FC Virginia (5-0-1) and Baltimore Armour (3-0-1) both earned wins to remain unbeaten and occupy the top two spots. FCV defeated Long Island SC by a 3-1 margin, with three different players – Ella Carter (28'), Alexandria Dalakis (49') and Avery Chapel (79') – providing the goals. Baltimore Armour blanked SJEB Rush 3-0, behind goals from Shari Atkins (9'), Meghan Piazza (48') and Hannah Jibril (53').
South Shore Select earned their 6th straight win to open Northeast Division play, downing FC Fury NY 3-0. It was South Shore's 4th clean sheet through their first 6 games, as they have now outscored opponents by a whopping 27-2 margin.
STA Development Academy has early position on 2nd place in the Northeast, following a 7-0 statement win over Sky Blue – NYSC. The game was highlighted by a hat trick from Sophia Bradley, who scored all 3 goals in an 11-minutes span during the second half.
Tophat is not slowing down at the U-16 level either, where they are now 4-0-0 in Southeast Division action after their 2-0 win against Charlotte Soccer Academy. Defenders Erin Houston, Antonette Lopez, Kiera Staude and Ella Zimmerman played the full 90 in the clean sheet, in front of goalkeeper Denver Tolson.
United Futbol Academy handed NC Courage their first loss of the regular season, with a spirited 4-1 victory on Sunday morning. Victoria Bahr (5'), Avery Berryman (31') and Cuyler Zulauf (38') each scored to put UFA ahead 3-0 at halftime, and Celeste Nader (48') finished the scoring early in the second half.
U-17
SJEB Rush vaulted into 2nd place during early season action in the Atlantic Division, coming out on top 2-1 against Arlington. Alexis Murphy (15') spotted SJEB Rush an early lead, and Arlington's Megan Munson (53') responded to tie the game in the second half. SJEB's Mackenzie Clement (76') scored the game-winner with less than 15 minutes remaining.
NEFC maintained their perfect start to the regular season with their 5th win in a row, cruising to a 3-1 result against Northeast Division foe Oakwood SC. Elizabeth Rappole led the NEFC attack with a brace, scoring a goal in each half.
Northeast Division 2nd place side STA Development Academy secured a hard fought 3-2 victory over Sky Blue – NYSC, rallying for a pair of second half goals in the comeback. STA's Ava De La Torre (2') began the first half with a quick strike, but Sky Blue – NYSC responded to take a 2-1 lead into halftime. In the second half, Rebecca Lancaster (55') notched the equalizer and Emerson Elgin (70') netted the game-winner for STA.
North Carolina Courage picked up their opening win of the regular season, shutting out United Futbol Academy 1-0. Macey Bader scored the game-winning goal in the 56th minute, as the Carolina defense tallied their second clean sheet in a row.
U-18/19
Cedar Stars Academy – Monmouth went on the road and came away with back-to-back 3-1 victories over Baltimore Armour and Arlington Soccer Association. Wendie Fisher scored 4 of her team's 6 goals on the weekend, including a first half hat trick against Baltimore on Saturday. The New Jersey side is now 4-1-1 in the regular season, as they continue their strong push in the Atlantic Division.
Baltimore Armour bounced back on Sunday with a 2-0 shutout of SJEB Rush, behind second half goals from Kamryn Pryce (49') and Eileen Doherty (83').
PA Classics became the latest Atlantic Division team to earn their 3rd win of the regular season, as they piled up 4 goals in the second half against Metro United on Saturday evening. Abigail Doyle led the way with a brace during PA Classics' 4-1 victory on the road.
Connecticut side Oakwood SC kept their perfect start to the regular season alive, claiming their 4th straight win, 3-1 against NEFC. After falling behind early in the first half, Oakwood responded with a trio of unanswered goals from Imani Jenkins (36'), Allie Raynor (41') and Maddie Kiely (56').
STA Development Academy got into the win column against Northeast Division opponent Sky Blue – NYSC, 3-0 on Saturday evening. Jessica Koka stole the show with a hat trick, scoring all 3 of her goals before halftime.
Charlotte Soccer Academy (3-0-0) made a strong statement in the Southeast Division, handing Tophat their first loss of the regular season to take sole possession of 1st place. Asha Means (46') and Margaret Miller (72') provided the scoring, while goalkeepers Kaylin Slattery and Paige Nurkin split time between the posts during their team's clean sheet effort.
The NC Courage defense recorded their 3rd clean sheet in their past 4 games, overpowering United Futbol Academy by a 4-0 margin. Goalkeeper Emily Allen tallied the shutout behind the tough Courage back line, as 4 different players scored for their balanced offense.