First set of Jefferson Cup berths clinched at Capital Fall Classic Girls Weekend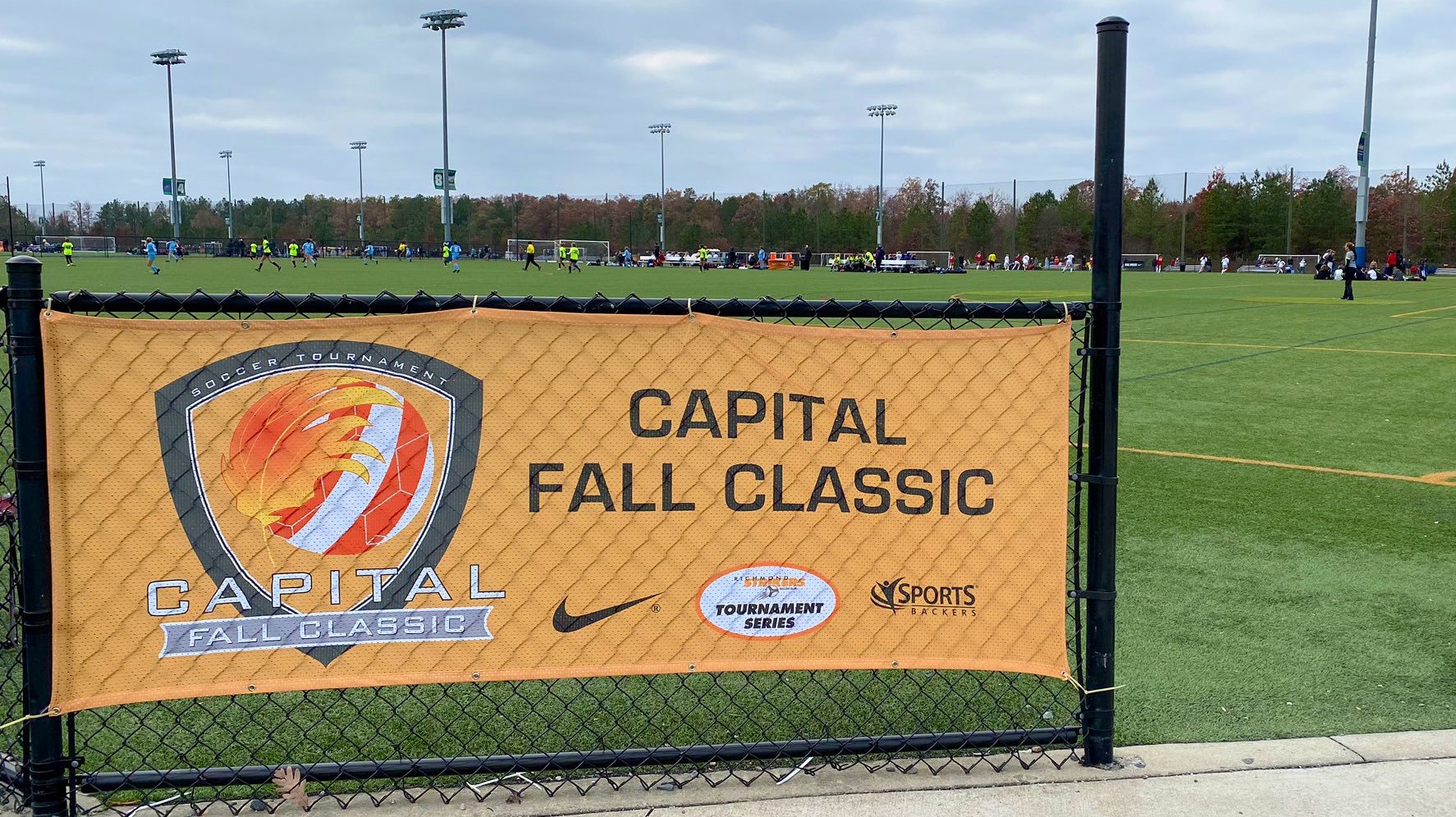 Girls Weekend (Nov. 16-17)
Brackets | Full Results | College Coaches
Official Website | Follow @RSKTournaments
The first wave of 2020 Jefferson Cup qualifiers were decided on Sunday as the Capital Fall Classic Girls Weekend concluded in Richmond, Va.
Played from November 16-17, the Capital Fall Classic Girls Weekend marked the second of three weekends for the end-of-season tournament, which set a new attendance record this year with over 650 total teams.
A total of 250 teams competed in the Girls Weekend across the U9-U19 age groups, with Premier Division winners receiving automatic bids in the prestigious Jefferson Cup this spring. As the marquee fall event of the Richmond Strikers Tournament Series, the Capital Fall Classic serves as the only qualifying event for the nationally top-ranked Jefferson Cup.
See below for a full listing of champions and finalists from the Capital Fall Classic 2019 Girls Weekend:
*Premier Division Champions Qualify for 2020 Jefferson Cup
U9
Orange
Champion: Alexandria 2011 Red (VA)
Finalist: Richmond Strikers 11 Elite (VA)
Black
Champion: Virginia Rush 11 White (VA)
Runner-Up: Richmond Strikers 11 Premier White (VA)
U10
Premier
Champion: Richmond Strikers 10 Elite (VA)
Finalist: FC Richmond 10 Navy (VA)
Superior
Champion: Beach FC 10 Red (VA)
Finalist: Tidewater Sharks 2010 United (VA)
Classic
Champion: SYA Cardinals 10 White (VA)
Finalist: Gunston Spirit Red (VA)
U11
Premier
Champion: Richmond Kickers Elite 09 (VA)
Finalist: Beach FC 09 Red (VA)
Superior
Champion: Valley AFC Xpress 09 Green (VA)
Finalist: Virginia Rush 09 (VA)
Classic Orange
Champion: Loudoun Soccer 09 White (VA)
Finalist: Richmond Strikers 09 Premier (VA)
Classic Black
Champion: Richmond Kickers Collegiate Reign 09 (VA)
Finalist: Burke Athletic Cobras (VA)
U12
Premier
Champion: Baltimore Celtic SC Shamrocks (MD)
Finalist: Wake FC 08 Blue (NC)
Superior Orange
Champion: Arlington 08 Blue (VA)
Finalist: Alexandria 08 Red (VA)
Superior Black
Champion: Gunston Spirit Premier 08 (VA)
Finalist: Arlington 08 Black (VA)
Classic Orange
Champion: Richmond Strikers 08 Premier Black (VA)
Finalist: Golden Ball 08 Gold (VA)
Classic Black
Champion: Richmond Strikers 08 Premier White (VA)
Finalist: FC Richmond Metro 08 (VA)
U13
Premier
Champion: Beach FC 07 Red (VA)
Finalist: Richmond Strikers 07 Elite (VA)
Superior Orange
Champion: Beach FC 07 Black (VA)
Finalist: Tidewater Sharks 07 (VA)
Superior Black
Champion: Loudoun Soccer 07 Black (VA)
Finalist: Richmond Kickers South 07 (VA)
Classic
Champion: Gunston Spirit Premier 07 (VA)
Finalist: FC Richmond Metro 07 (VA)
U14
Premier
Champion: Virginia Rush 06 (VA)
Finalist: Richmond Kickers Elite 06 (VA)
Superior
Champion: Beach FC 06 Black (VA)
Finalist: Richmond Strikers 06 Elite Black (VA)
Classic Orange
Champion: Virginia Rush 06 Nero (VA)
Finalist: RSK Chesterfield 06 Elite Blue (VA)
Classic Black
Champion: Beach FC 06 Rockets (VA)
Finalist: SYA Cardinals 06 White (VA)
U15
Premier
Champion: Richmond Strikers (VA)
Finalist: Stafford Revolution 05 Blue (VA)
Superior Orange
Champion: Blue Ridge United 05 Orange (VA)
Finalist: Dynamo SC 05 Elite (VA)
Superior Black
Champion: Leesburg FC Legends (VA)
Finalist: FC Richmond Metro 05 (VA)
Classic
Champion: Shenandoah FC Elite 05 Red (VA)
Runner-Up: Virginia Rush 05 Nero (VA)
U16
Premier Orange
Champion: Richmond Strikers 04 Elite (VA)
Finalist: FC Virginia United 04 (VA)
Premier Black
Champion: CYA 04 Purple (VA)
Finalist: FC Richmond Mystx 04 (VA)
Superior Orange
Champion: FC Pittsburgh 04 Black (PA)
Finalist: Richmond Kickers South 04 (VA)
Superior Black
Champion: VSA 04 Premier Red (VA)
Finalist: Blue Ridge United 04 Orange (VA)
Classic
Champion: Shenandoah Valley United 04 Blue (VA)
Finalist: Old Dominion SC Storm (VA)
U17
Premier
Champion: North Carolina FC 03 Gold South (NC)
Finalist: FC Richmond Mystx 03 (VA)
Superior
Champion: Beach FC 03 Black (VA)
Finalist: Richmond Strikers 03 Elite Black (VA)
U18
Premier
Champion: SCAA Elite 02/03 (VA)
Finalist: Chester Springs United FC 02 Integrity (PA)
U19
Premier
Champion: Richmond Strikers 01/02 Elite (VA)
Finalist: Burke Athletic Blitz (VA)
Superior Orange
Champion: Old Dominion SC Riptide (VA)
Finalist: FSCI Renegades (VA)
Superior Black
Champion: PWSI Courage 01/02 (VA)
Runner-Up: SYC Pride 01 Blue (VA)
Classic
Champion: VSA 02/01 Premier Red (VA)
Finalist: Blue Ridge United 01 Orange (VA)