First-ever LaLiga Formation Methodology Level 1 course elevates 48 coaches to expert curriculum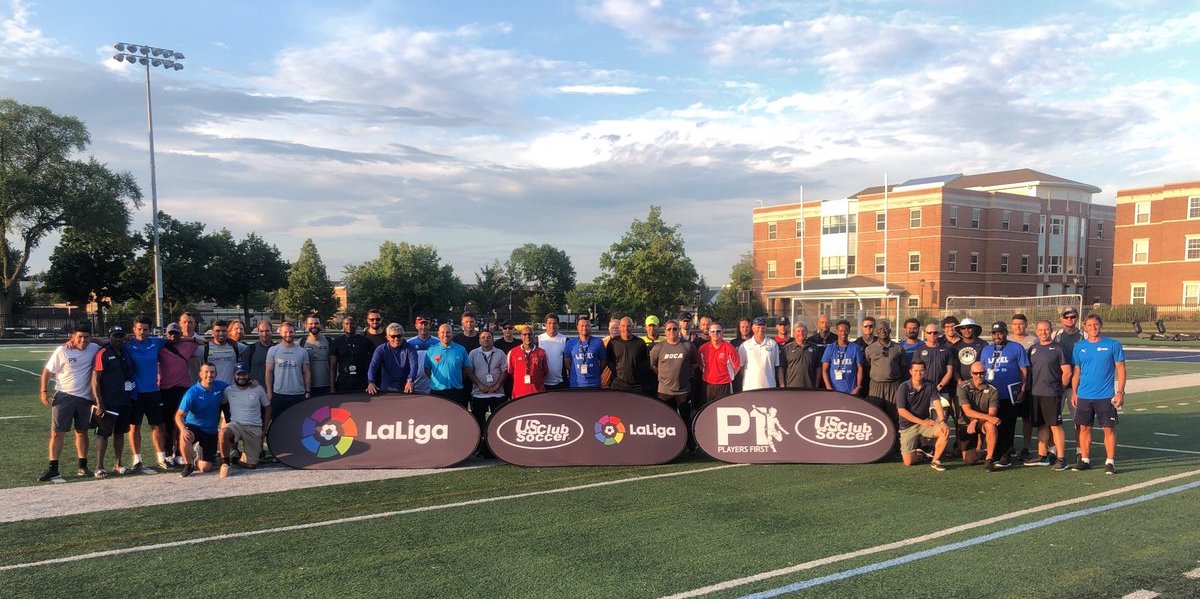 Course web page | List of attending coaches
ELMHURST, Ill. | After 12 Level 3 and three Level 2 courses, US Club Soccer and LaLiga conducted the first-ever LaLiga Formation Methodology Level 1-U.S. course for 48 passionate coaches from 27 clubs who had previously completed the courses required to advance in the coaching education series.
Held at Elmhurst College in Illinois, August 2-4, the Level 1 course spanned 2.5 days and nearly 24 hours of coursework, as it progressed the attending coaches from advanced level, to expert.
Hosted by Sockers FC, the first Level 1-U.S. course brings the finish line of the LaLiga Formation Methodology program within sight for these individuals who are dedicated to improving their knowledge and abilities as a coach of youth athletes The 48 coaches who attended this course will now have the opportunity to conclude the cycle with a full immersion in the Level 1-Spain course, tentatively scheduled for February 2020. More details regarding the international component of the course will be announced soon.
The expert course consists of eight theory sessions in the classroom, five practice sessions on the field, as well as two interactive group workshops to help coaches observe, absorb and put into action the principles they're learning from LaLiga clinicians. The theory session subjects ranged from fundamentals to the psychological components of coaching, as well as analyzing real team systems and game models of LaLiga clubs. Hugo Blanco oversees the US Club Soccer/LaLiga partnership and was on-site to implement the course curriculum, alongside talented clinicians Carlos Casal and Felipe Vega-Arango. Full bios of the UEFA-PRO coaches are available on the course web page.
The coaching workshops are a particularly engaging component of the courses as it brings these coaches from various backgrounds together and allows the participants to apply the material from the theory sessions to a real practice. The first workshop saw the coaches choose a player from a recent Barcelona vs. Atletico Madrid LaLiga match, determine a weakness of their player from that match, and craft a comprehensive training session to address and improve this weakness.
As the fourth course hosted by Sockers FC, the Chicago based club led the mark of attending coaches with 15, while four clubs had two coaches on-site, including Belmont United, Keystone FC, Liberty FC, and Roadrunners SC. The Ethiopian Football Federation also had multiple participating coaches.
"It really gives us good insight on how other clubs, how the other federations, really apply the micro and macro cycles of training, how they prepare their players and the psychology behind it, to their pro teams." commented Morris Elite SC Technical Director Anthony Flores. "It is exciting to know that we will have the opportunity to go in their environment in Spain and really get to see it first-hand at the Level 1-Spain course, next year…we look forward to further learning about how their methodology is applied in their environment, to get a first-hand look at how we can apply it back to our own environments."
LaLiga Formation Methodology is a staple of US Club Soccer's Players First initiative, which is a branded, holistic club soccer experience for parents and players, emphasizing the development of each individual to his or her full potential, and helping parents make better choices about where their children should play.