Finals matchups set at US Youth Soccer Far West Presidents Cup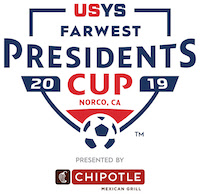 Facebook | Twitter | Instagram | #USYSPCUP
NORCO, Calif. – The remaining teams are just one game away from glory, as the semifinal round wrapped up Saturday at the 2019 US Youth Soccer Far West Presidents Cup in Norco, Calif.
Winners of Sunday's Far West Presidents Cup final matches at the Silverlakes Sports Complex will earn a berth to the 2019 US Youth Soccer National Presidents Cup, which will be played July 11-15 in Murfreesboro, Tenn.
Of the 28 teams remaining, 14 come from Cal South, 6 from Nevada, 4 from Colorado and 1 each from Idaho, Utah, Arizona and Washington.
See how the teams advanced to the Far West Presidents Cup finals…
13U Girls
So Cal Blues Sarabia (CA-S) has gone perfect through the tournament up to this point. With some tough defense, So Cal has only allowed two goals all tournament. So Cal will face Real Colorado Girls Olympico (CO). Real Colorado is a giant killer and beat an undefeated LVSA (NV) team in the quarterfinals and then beat group A winners Indie Chicas in the Semi-Finals. They will look to continue their underdog run with an upset of So Cal.
14U Girls
An all CA-S final has been set with Simi Valley Eclipse (CA-S) taking on AVSC Storm Academy (CA-S). Simi Valley has been a force defensively only allowing 1 goal all tournament while also having the leading goal scorer in the age bracket in, Marisa Holert. AVSC suffered a loss in group play but rebounded nicely winning their quarterfinal and then beating an undefeated Heat FC (NV) in the Semi-Finals 2-0.
+READ: Semifinalists decided at US Youth Soccer Far West Presidents Cup
15U Girls
Beach FC (CA-S) has been a juggernaut in the group outscoring their opposition 15-2. Including wins in the knockout rounds of 3-1, and 4-1 respectively. Beach FC will take on Pride SC Copa 04 Girls (CO) in the final. Pride SC should not be overlooked however as it has only lost 1 game all tournament and beat a good Utah Storm (UT) team in the Semi-Finals. A key for Pride SC will be shutting down Beach's prolific offense and top goalscorer Tessa Simmons.
16U Girls
Idaho Rush 03 Premier(ID) has steamrolled the competition only allowing 1 goal all tournament and scoring 15 of their own. Its opponent in the Final, Westminster Soccer 03 Orange (CO), finished second in group C behind Idaho Rush but the teams have not played yet setting the stage for a fantastic final. Westminster needed overtime and then kicks from the mark to win its Semi-Final.
17U Girls
Two teams who have gotten stronger as the tournament has gone will meet in tomorrow's final. LVSA 02 National League (NV) finished won in its group and beat a strong Santa Barbara (CA-S) team in the Semi-Final and seem to be peaking at the right time. Group A runner-up, SWAT Crush 02G CB (UT), needed kicks from the mark to get to the final and will need to shut down the LVSA attack, which features 3 of the top 5 goal-scorers in the age group, in order to bring home the trophy.
+READ: US Youth Soccer Far West Presidents Cup – Day 3 Recap
18U Girls
After an off day yesterday, the 18U Girls were back in action. CC Aztecs/Coast (CA-S) and Broomfield Blast SC Magista (CO) took advantage of the rest day and came to play winning their Semi-Finals and setting the stage for a CA-S vs CO final. The two teams played in group play in a tight match that ended in a 0-0 draw. Look for another close affair in the final as neither team wants to go home without the title.
13U Boys
In a rematch from the state event Boca Jrs LA B2006 Blue (CA-S) beat Oxnard United Soccer Club (CA-S) after losing them to previously. The game wasn't without drama as Freddy Lobato, 13U boys leading goal scorer, scored in the last minute of the game to send it to overtime. It wasn't enough though as Boca Jrs won when the game went to penalty kicks. They will face Las Vegas Pros Futbol (NV) who were 3-1 victors in their Semi-Final.
14U Boys
Downtown LA SC B05 (CA-S) rode the momentum of their penalty kick win in the Quarterfinals to a 3-0 Semi-Final victory today. Arizona's lone representative in the finals, RSL-AZ Yuma 05 Boys Cetina (AZ) beat one CA-S team in the Semi-Finals and now will look for a repeat in the Finals. The RSL attack is led by Jesus Ochoa who has scored 4 goals so far.
15U Boys
Heat FC 04 AS (NV) shut down the highest goal scoring team in the age group, P2ks Chelsea (CA-S), and will now play in the final against another high scoring Southern California team, Milan Academy Gold (CA-S). Milan reached the Finals without much difficulty with only a 0-0 draw back on match Day 1 to blemish their perfect record.
16U Boys
Heat FC 03 AS (NV) beat undefeated Utah club USA (UT) in the Semi-Finals and did it convincingly with goals coming from Jose Sixtos and Yovani Palomares. The opposition is AVSC Storm (CA-S) who has only allowed 1 goal all tournament and none to teams who didn't belong to CA-S. AVSC reached the final by shutting out Eastside FC (WA) and will hope its defense can come through once again in the Finals.
17U Boys
San Diego SC Academy Navy shook off a group stage loss to reach the finals after defeating Crossfire Select (WA) in the Semi-Finals. 2 goals in 10 minutes were enough to see San Diego SC reach the final. Players SC Elite Boys 02 (NV) struggled even more than San Diego in the group stage only picking up 4 points in 3 games. None of that mattered once the knockout stage started as Players SC has scored 5 goals in back to back games and enter the final on fire in front of net.
18U Boys
Washington Premier White (WA) cruised through group play without a loss or a goal scored against them, their run of clean sheets ended in the Quarterfinals but they still win. Things were even tighter today as they needed kicks from the mark to beat a scrappy Xolos (UT) team. Washington Premier will take on California Rush B01 Cinza (CA-S). California Rush played in the highest scoring Semi-Final with a 4-3 win.
Notes from 12U National Championships Series:
12U Boys
CA-S had 3 of the 4 semi-finalists meaning we had an all CA-S Semi-Final. In that game AC Brea PDA (CA-S) defeated Pumas USA Kickers (CA-S) 2-0. In the other Semi-Final Boca OC (CA-S) looked to win and set up an all CA-S final as well. However, Heat FC 07 ED (NV) had other ideas as the upset the party winning on kicks from the mark and will look to defeat CA-S in back to back matches.
12U Girls
In almost identical Semi-Finals, CA-S took on CO in both matches. In one semi-final, SD Surf Academy Girls Select 2007 (CA-S) cruised to victory 5-0. Led by Melanie Barcenas' 11 goals SD Surf has quite a potent offense to deal with it. The team tasked with stopping her and the SD Surf Academy is Legends FC G07 Pre-Academy (CA-S). In a game much closer than the other Semi-Final Legends needed kicks from the mark to see off Colorado and set the stage for the all CA-S final.
Schedule of tomorrow's finals:
| | | | | | | |
| --- | --- | --- | --- | --- | --- | --- |
| Age | Home  | | Away | | Time | Field |
| 12U Girls | SD Surf Academy Girls Select 2007 | CA-S | Legends FC G07 Pre-Academy | CA-S | 8:00AM | 6A |
| 12U Boys | Heat FC 07 ED | NV | AC Brea PDA | AZ | 10:00 AM | 6A |
| 13U Girls | So Cal Blues Sarabia | CA-S | Real Colorado Girl Olympico | CO | 8:15AM | 14 |
| 13U Boys | Boca Jrs LA B2006 Blue | CA-S | Las Vegas Pros Futbol LV Pros 06 | NV | 10:30 AM | 14 |
| 14U Girls | Simi Valley Eclipse | CA-S | AVSC Storm Academy | CA-S | 10:45 AM | 12 |
| 14U Boys | RSL-AZ Yuma 05 Boys Certina | AZ | Downtown LA SC B05 | CA-S | 8:45 AM | 12 |
| 15U Girls | Beach FC | CA-S | Pride SC Copa 04 Girls | CO | 8:00 AM | 17 |
| 15U Boys | Heat FC 04 AS | NV | Milan Academy Gold | CA-S | 10:30 AM | 17 |
| 16U Girls | Westminster Soccer 03 Orange | CO | Idaho Rush 03 Premier | ID | 11:30 AM | 11 |
| 16U Boys | Heat FC 03 AS | NV | AVSC Storm | CA-S | 9:00 AM | 11 |
| 17U Girls | LVSA 02 National League | NV | SWAT Crush 02G CB | UT | 10:45 AM | 13 |
| 17U Boys | Wolves FC 01 | CA-S | 7 Elite Academy 01 South | UT | 8:45 AM | 13 |
| 18U Girls | CC Aztecs/Coast | CA-S | Broomfield Blast SC Magista | CO | 8:30 AM | 16 |
| 18U Girls | Washington Premier White | WA | California Rush B01 Cinza | CA | 11:15 AM | 16 |