Champions crowned at US Youth Soccer Southern Presidents Cup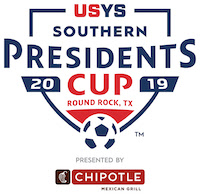 Schedules, Scores and Standings
Facebook | Twitter | Instagram | #USYSPCUP
Round Rock, Texas – Champions were crowned at the 2019 US Youth Soccer Southern Presidents Cup in Round Rock, Texas. The five-day event, which took place June 12-16, kicked off Wednesday with 13U through 18U Boys and Girls teams starting the action at the Round Rock Multipurpose Complex and Old Settlers Park.
North Texas led the way with four teams claiming regional titles, while South Texas and Florida each had a trio of teams win in the finals. Oklahoma and last year's leader North Carolina both had one team win a Southern Presidents Cup title. The event featured more than 130 US Youth Soccer boys and girls teams competing for a regional title and a chance to advance to the 2019 US Youth Soccer National Presidents Cup, July 10-14 in Murfreesboro, Tenn.
Finals Recaps:
13-Under Boys
Miners FC (TX-S) continued its impressive run at the Southern Presidents Cup with a 5-2 win over United Stars Miami (FL) in the finals. Bryan Salas, Diego Gamboa and Adrian Gallegos all found the back of the net for Miners FC, while Khaled Saavedra netted his age group-leading ninth and 10th goals for the Florida side.
13-Under Girls
Cape Coral Cyclones (FL) got off to a quick start in the first half with Sophia Kerns scoring her seventh and eighth goals of the tournament, and Brianna Sullivan finding the back of the net. However, the second half belonged to Impact FC 06 Bertelsen (TX-N), as Vivian Geesbreghtnetted a hat trick to put her at nine goals for the tournament and to knot the score at 3-3. Sadie Paul would score in the final minute to complete the comeback and ultimately claim the regional title.
14-Under Boys
After using a one-goal win to advance to the finals, OKC United FC Mejia (OK) claimed the Southern Presidents Cup title in a 4-3 thriller against PSG Homestead (FL). Brandon Garcia and Carter Knotts each netted a pair of goals for the Oklahoma side, while PSG received goals from William Assee, Alejandro Gonzales-Melendez and Christian Chavez.
14-Under Girls
Goals from Emma Leary and Sofia Tintle resulted in Florida Elite Soccer Academy (FL) claiming the 14-Under Girls Southern Presidents Cup title over FC Westlake 05 Red (TX-S). The win marked the fourth consecutive two-goal win for Florida Elite, which held FC Westlake goalless for the first time this tournament.
+READ: US Youth Soccer Southern Presidents Cup Semifinals Recap
15-Under Boys
R9 Ronaldo Academy (FL) earned a 3-1 win against FC Dallas ETX 04 Premier (TX-N) to claim the regional title. Robert Raponi scored off a rebound off the keeper, and Gabriel Saavedra finished off a set piece as Ronaldo Academy went up 2-0 in the first half. Nathan Eidam would score for FC Dallas, but Hector Serrano Aguilar would match with a goal of his own to complete the win.
15-Under Girls
04 CR Burgundy Rapids (NC) claimed the 15-Under Girls title in a 1-0 win against KEFC (TX-N). The match was a rematch of the first day of group play, where the two teams battled to a 2-2 draw. Some team had to win today, and Jenna Feduniec's goal was the difference for the North Carolina side.
16-Under Boys
Two late goals courtesy of Bryan Vallejo and Damian Castorenapropelled Sporting United 03 Videla (TX-N) over Nashville United Soccer Academy (TN) in the 17-Under Boys final. Jose Perez scored the first goal of the match for NUSA, while Caleb Overstreet would add a second for the Tennessee side.
16-Under Girls
Solar 03 Wells (TX-N) and MSC Lady Strikers 03 (TN) battled to a scoreless draw in group play, and it was only fitting that the rematch in the 16-Under Girls final went to extra time after Kaylee Fuller and Faith Adje scored for MSC and Solar respectively. Solar grabbed a 2-1 lead and ultimately its second Southern Presidents Cup title when Georgia Guenther converted a penalty kick to give her side the win.
17-Under Boys
A Quinton Cardona hat trick combined with goals from Giovanni Aguilar and Eric Martinez gave Dallas Kicks 02 Selecao (TX-N) a 5-0 win against CFA Correcaminos (GA) in the 17-Under Boys finals. While the Dallas Kicks offense exploded in the finals, a solid defense only conceded one goal in the tournament.
17-Under Girls
Destiny Deese scored the only goal in the match as Plant City FC Lancers (FL) earned a 1-0 win over 02 NCFC Gold North (NC) in the 17-Under Girls finals. The win was fifth consecutive shutout for Plant City Lancers, which failed to concede a goal for the entire tournament.
18-Under Boys
Marcos Astorga, Andree Molina, Emiliano Ruiz Valenzuela and Quinton Brown all found the back of the net as West Texas Rush Sharks White (TX-S) claimed a 4-2 win over AUSA (GA). Landon Doughertyscored the goals for the Georgia side.
18-Under Girls
Rage FC (TX-S) claimed the 18-Under Girls Southern Presidents Cup title with a 2-0 win over CRFC Sky 01 (SC). Bianca Chaco and Valeria Hawkins scored for Rage FC, and the South Texas side became only the second team in the entire tournament to fail to concede a goal.
For complete event results for the Southern Presidents Cup, click here. For more information on all US Youth Soccer Regional and National Presidents Cup events, visit the US Youth Soccer Presidents Cup Homepage at www.usyouthsoccer.org/presidents-cup.
Note:  The US Youth Soccer Presidents Cup is a separate series of events from the US Youth Soccer National Championship Series.