Semifinalists decided at US Youth Soccer Far West Presidents Cup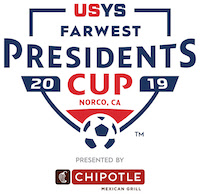 Facebook | Twitter | Instagram | #USYSPCUP
NORCO, Calif. – Two days of play remain at the 2019 US Youth Soccer Far West Presidents Cup after quarterfinals took place Friday at the Silverlakes Sports Complex in Norco, Calif. Of the 108 teams who started in the tournament, the dreams of 56 remain alive entering the weekend's semifinals and finals.
Notes from a few of today's games:
14U Boys
In one of the best comebacks of the tournament Downtown LA SC B05 (CA-S) beat Federal Way FC (WA). Federal Way scored goals to bookend halftime with Yayah Sheriff and Nicolas Valdez getting on the board. Up 2 goals Federal Way looked to be a lock to advance to the Semi-Finals. Downtown LA had lots of possession and chances but just couldn't find a way to beat a resolute Federal Way defense. With 5 minutes left in the game and down 2 goals, Raul Mora took over. He scored Downtown's first goal of the game in the 67th minute and then in the last minute of regulation scored again to send the game to overtime. The momentum fully on their side Downtown scored twice in overtime through Aaron Rojas Narvaez and Daniel Cruz to win the match 4-2 and move on to the semi-finals.
16U Boys
USA Premier 03B RM (UT) entered its quarterfinal match undefeated after winning all 3 group games. Its winning record continued after they beat NSFC Barcelona (AZ) 1-0. NSFC Barcelona did not go down without a fight as the team pushed for an equalizer late in the game throwing everyone forward and using its goalkeeper as a sweeper. The strategy nearly paid off with a goal however in the end it just was not meant to be for the Arizona club.
18U Boys
Central Coast Condors FC (CA-S) kept its winning ways alive with a 2-0 win over Tucson Aztecs 01B Molina (AZ). Christian Angulo got the scoring started early in the first half and finished the scoring late in the second. His two goals were enough to push Central Coast Condors FC into the Semi-Finals where a familiar foe awaits, fellow California South team California Rush B01 Cinza (CA). California Rush won its quarterfinal 5-0 to set up the all California South Semi-Final.
13U Girls
LVSA 06 Girls Silver (NV) and Real Colorado Girls 06 Olympico (CO) needed overtime to determine a winner. Colorado started off with most of the possession as LVSA looked to hit on a counter attack just missing on a breakaway in the 30th minute. A couple minutes later LVSA got its goal on a free kick from 25 yards by Madisyn Marchesi. The lead lasted until the 50th minute when Colorado's Addison Buehler scored after a deflected cross fell to her. The game remained tied through regulation. In overtime Colorado was able to secure the victory and a spot in the Semi-Finals afterElla Remy scored.
15U Girls
Utah Storm 04 Girls (UT) struggled a bit in group bit only making the quarterfinals as wild card after finishing 3rd in group A. Arsenal Colorado Academy (CO) had yet to lose a game after picking up 5 points of its own in the group. None of that mattered to Sheridan Liggett who got a hat trick for Utah Storm. Utah Storm got a 4th and final goal from Nixan Jacksonto cap off a stretch during which it scored 3 goals in 5 minutes. The win moves Utah Storm into the Semi-Finals against Pride SC Copa 04 Girls (CO).
17U Girls
Cook Inlet SC 02G (AK) moved to 4-0 in the tournament after dispatching SC Del Sol 2002 Girls White (AZ). The match was a good one as SC Del Sol challenged a dominant Alaskan team. Del Sol came to play but just could not beat the Cook Inlet goalkeeper, something only 2 teams have managed all tournament. Reyna Moore's goal in the 42nd loomed large and the finisher from Sunny Bowlin-Stacy in the 84th was enough to push them onto the next round.
Notes from 12U National Championships Series:
12U Boys
Three California South teams advanced to the semi-final round. The three teams have combined to win 10 of a possible 12 games. Joining them in the Semi-Finals is Heat FC 07 ED (NV) Heat is no slouch having won every match including a group play match against one of its fellow semi-finalist AC Brea PDA (CA-S). Clearly the class of the 12U Boys group, all 4 teams won in convincing fashion in the quarterfinals only allowing 1 goal between them.
12U Girls
Two Colorado teams and two California South teams enter the semi-finals. All 4 teams won their group convincingly and have set up two California South vs Colorado semi-finals. SD Surf Academy Girls Select 2007 (CA-S) will take on Real Colorado 08 National Girls (CO). While Legends FC G07 Pre-Academy (CA-S) will play Real Colorado 07G National.
For complete event results for the Far West Presidents Cup, click here. For more information on all US Youth Soccer Regional and National Presidents Cup events, visit the US Youth Soccer Presidents Cup Homepage at www.usyouthsoccer.org/presidents-cup.
Note:  The US Youth Soccer Presidents Cup is a separate series of events from the US Youth Soccer National Championship Series.