US Youth Soccer Southern Presidents Cup: Day 2 Recap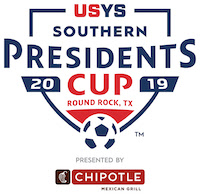 Schedules, Scores and Standings 
Facebook | Twitter | Instagram | #USYSPCUP
Round Rock, Texas (Via US Youth Soccer) – Day two of the preliminary matches has concluded at the 2019 US Youth Soccer Southern Presidents Cup. While some teams have already secured their spot in Saturday's Semifinals, the fate of most will be decided Friday for the chance to advance to the elimination rounds.
The event features more than 130 US Youth Soccer boys and girls teams competing for a regional title and a chance to advance to the 2019 US Youth Soccer National Presidents Cup presented by Chipotle, July 10-14 in Murfreesboro, Tenn.
Preliminary Round Recaps:
14-Under Girls
Florida Elite Soccer Academy (FL) took sole possession of first place in Group A after a 5-3 win against 05 MYSA Lady Eagles (NC). Goals from Ainsley Van Treeck and Chloe Anderson against St. Charles Dortmund (LA) led FC Westlake 05 Red (TX-S) to a second consecutive win, while Sparta FC 05 (TX-N) used the same score to achieve the same feat when Olivia Morrow and Madison Bourzikas found the back of the net against Texarkana SC 05/06 Girls (AR). CASA Pride 05 (SC) and Smyrna Soccer 05 Red (GA) battled to a 2-2 draw as Regan Hill andAvery Brechbiel scored for CASA, while the Georgia side received goals from Madison Baxter and Isabella Vargo. Goals from JuliaAnn Hamilton and Emma Baxter resulted in 2005 MFCY (TN) earning a 2-0 win over MUFC Girls (AL).
14-Under Boys
Edwin Romero and Jiovanni Munoz each netted two goals as F.C. Lil Warryors 05 (TX-N) defeated Katy Premier Diamond (TX-S) 4-0 for a second straight four-goal victory. In the other Group C match, LA Fire 05 Black (LA) notched its first win of the tournament over VHSC Steamers 05 Black II (AL) as Henry Cardenas and Jaylen Temple each scored.Endy Rosas, Christian Chavez and Brandon Destro all beat the keeper to give PSG Homestead (FL) a 3-0 win over MFC Rush 05 Premier (MS). Goals from Manuel Mejia, Aldo Hernandez and Carter Knottswere sandwiched between two goals courtesy of Francisco Perez as OKC United FC Mejia (OK) won 5-0 against CBSC Battery 05 Black (SC). 05 CSA Charlotte King (NC) earned its first points of the tournament as Spencer Makell and Kevin Woody III scored to give the North Carolina side a 2-0 win against Bentonville FC Prodigy (AR).
15-Under Girls
Jenna Woods scored four goals as MSC Lady Strikers Premier (TN) remained at the top of Group A after a 5-2 win against DISA Gators (SC). Gabriella Pohl and Megan McNaughton each netted consecutive goals as Town & Country 04 Emeralds (TX-S) defeated BUSA 04 Premier (AL) 5-0. After both OK Energy FC (OK) and KEFC (TX-N) earned draws on the first day of play, both responded with 1-0 wins as Energy's Macie Brannum scored the only goal in a 1-0 win over South Orlando SC (FL), while Evelyn Rodriguez struck just minutes into the match against Forza Sports Academies 04 Black (TX-S). 04 CR WG Burgundy Rapids (NC) won 7-2 against Covington YSA Tigers 04/05 (LA) courtesy of four goals from Lane Hathaway, who now joins CSEY Fusion's (FL) Sierra Spirk at the top of the goal leaderboard after Spirk's hat trick propelled Fusion to a 4-1 win against CFC 04 Redstar Premier (GA).
15-Under Boys
FC Dallas ETX 04 Premier (TX-N) secured a spot in the semifinals after a second straight 7-0 win, this time against UFA Forsyth 04 Red (GA). Connor Woulfe's goal was the difference in a 1-0 Murfreesboro Strikers (TN) win against DC Galaxy (MS). OEFC Central 04 Green (OK) sits alone at the top of Group C after Mason Tucker, Elijah Langford and Jarrod Hunteman scored en route to a 3-0 win over LA Fire 04 White (LA). Jamel Tyler's brace combined with goals from Trace Rogers andKeaton Lane gave 04 NCF GUSA Gold (NC) a 4-0 win over CRFC Sky 04 (SC). Gianfranco Militello scored a hat trick for HSC PSG Academy (FL), while Briarwood Ambassadors Gold 04 (AL) used a committee approach as Noah Turner, Michael Gonzalez and Caleb Suarez all scored in a 3-3 draw. Jeremy Velez and David Salgado each scored for R9 Ronaldo Academy (FL) and Miners FC 04 (TX-S) respectively as the two teams battled to a 1-1 draw.
16-Under Girls
Kennedy Corbin scored the lone goal in OEFC Green 03's (OK) win over Shreveport 03 Blue (LA), while Tennessee Soccer Club Premier (TN) won by the same score over Mays 03 Premier (GA) after Jennifer Douglasfound the back of the net. MSC Lady Strikers 03 (TN) and Solar 03 Wells (TX-N) each used shutout wins to remain at the top of Group B. Reagan Ellison and Hannah Opie scored for the Tennessee team in a 2-0 win over Alamo City CTX Flash (TX-S), while Faith Adje, Amaris Jasso, Averi Ferguson, Macie Robertson and Georgia Guenther all found the back of the net for Solar against FC Arkansas Gunners (AR). Americas FC (TX-N) matched its North Texas counterpart with a 5-0 win against JIYSC 2003 Black (SC) as Ashlyn Laughley scored four goals to give her seven on the tournament, and Maycee Cooper found the back of the net. Goals were hard to come by as the match between 03 CSA Mathews King (NC) and Cape Coral SA Cyclones Black (FL) resulted in a scoreless stalemate.
18-Under Boys
01 OCSA Coastal Crew (NC) used goals from Kaiya Bolden andBenjamin Johnson to win 2-0 against JFC 01 Wolves (TN). Justin Hicks recorded a pair of goals, and Fernando Bodie added an insurance goal in a 3-0 win for AUSA (GA) over Slidell YSC 01/02 Green (LA). After OU United (TX-N) and Klein Celtics 2001 (TX-S) drew on day one, both sides earned wins to move to the top of Group A. Baltazar Jiminezscored two goals to go with goals from Jose Carranza and Renzo Osaderuk for OU United to win a 4-3 thriller over OEFC East 01 Green (OK), despite goals from Jaden Bhinhar, Trent Lytle and Tyler Broughton. Celtic's win featured a little less drama as Collins Gitaufirst found the back of the net for the South Texas side before Luis Zamora added a second and third for a 3-0 win against CRFC Sky 01 (SC). Arthur Santana, Marco Astorga and Andree Molina all found the back of the net as West Texas Rush Sharks White (TX-S) won 3-0 against Margate United FC (FL).
For complete event results for the Southern Presidents Cup, click here. For more information on all US Youth Soccer Regional and National Presidents Cup events, visit the US Youth Soccer Presidents Cup Homepage at www.usyouthsoccer.org/presidents-cup.
Note:  The US Youth Soccer Presidents Cup is a separate series of events from the US Youth Soccer National Championship Series.