Final weekend of 2021 Jefferson Cup wraps up in Richmond, Va.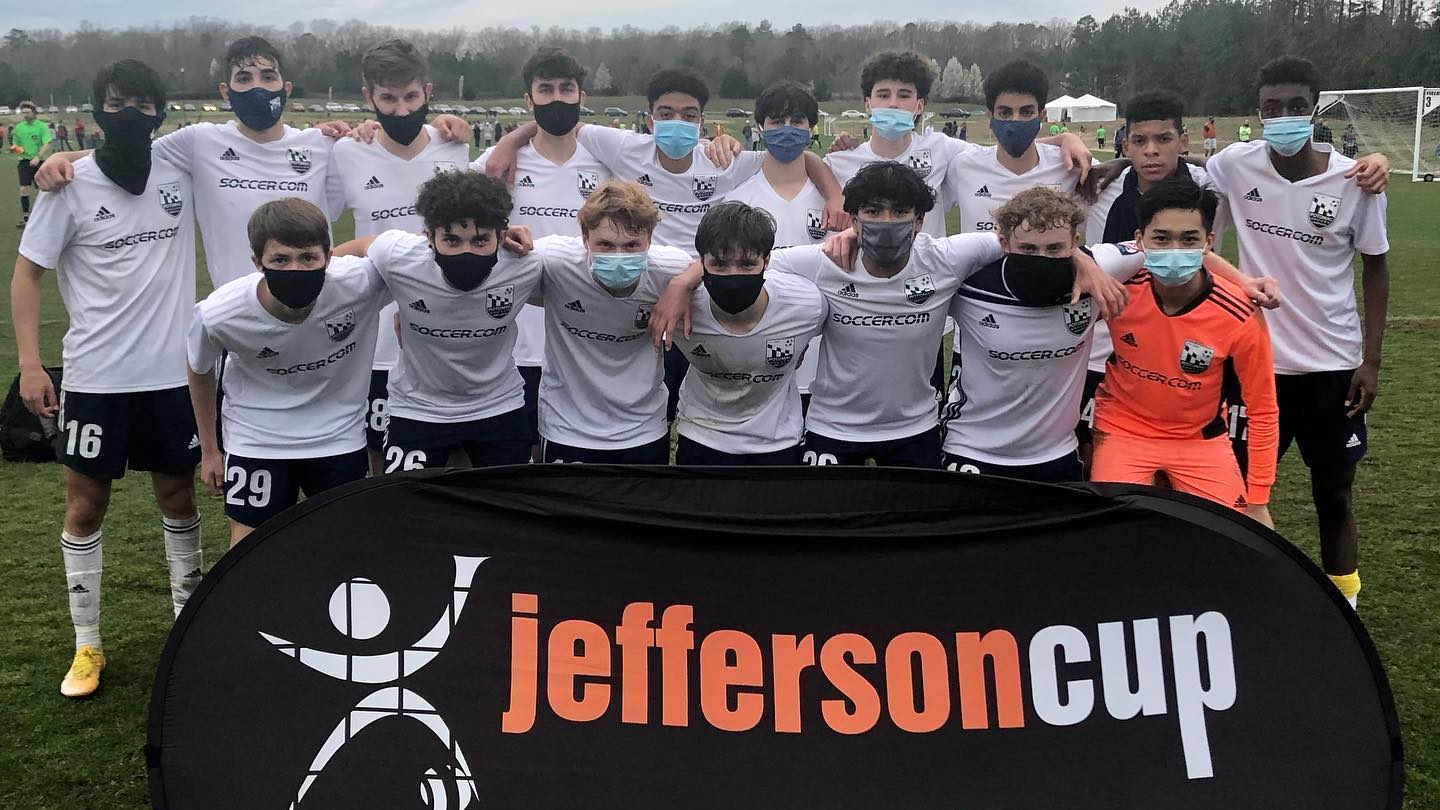 Follow the Jefferson Cup:
Twitter | Facebook | Instagram
Richmond, Va. – The 2021 Jefferson Cup officially came to a close with the completion of the Boys Showcase Weekend on Sunday.
A total of 332 teams representing 19 different states participated in the prestigious event's final weekend of play, across the U16-U19 age groups. Participating teams hailed from the nation's most elite leagues, including MLS NEXT, ECNL Boys, US Club Soccer National Premier Leagues (NPL) and US Youth Soccer National League, among others.
Three clubs came out of the Boys Showcase weekend with multiple division titles: Arlington Soccer (VA), Potomac Soccer Association (MD) and Riverhounds Development Academy (PA).
Arlington teams earned first place finishes in both the U-16 Championship Division and the U-16 Classic Black Division. Potomac SA sides won the U-16 Classic Orange Division along with the U-17 Superior Division. Meanwhile, Riverhounds Academy ECNL teams came out on top of the U-16 Superior Division and the U-19 Elite Division.
See below for a full listing of champions and finalists from the Jefferson Cup Boys Showcase Weekend.
Thank you to all teams that competed in #JeffCup21! Have a great spring season! pic.twitter.com/C0GqFK9gV8

— Jefferson Cup (@jeffersoncup) March 29, 2021
U16
Championship Division
Champion: Arlington 2005 Academy (VA)
Runner-up: Pipeline SC ECNL (MD)
Elite Division
Champion: Albertson SUSA 05 ECNL (NY)
Runner-up: Sporting Delaware 2005 (DE)
Superior Division
Champion: Pittsburgh Riverhounds ECNL (PA)
Runner-up: Long Island Premier FC (NY)
Platinum Orange Division
Champion: PDA Hibernian Kane (NJ)
Champion: Lower Merion SC Legacy (PA)
Platinum Black Division
Champion: Players PSA Elite 05 (VA)
Runner-up: SCS United Black (PA)
Classic Orange Division
Champion: Potomac Blue 05 (MD)
Runner-up: Hotspurs SC North Strikers (PA)
Classic Black Division
Champion: Arlington 2005 Red (VA)
Champion: Alliance 05 Warriors Premier (MD)
Premier Division
Champion: Carolina Velocity 05 Elite (NC)
Runners-up: Fredericksburg FC 2005 (VA), Elite Plainfield Elite Revolution (NJ)
U17
Championship Division
Champion: Pipeline SC ECNL (MD)
Runner-up: Charlotte SA National ECNL (NC)
Elite Division
Champion: Brausa United FC Blue 04 (MD)
Runner-up: North Carolina FC 04 ECNL (NC)
Superior Division
Champion: Potomac Blue 04 (MD)
Runner-up: Loudoun Soccer 04 ECNL (VA)
Platinum Orange Division
Champion: FC SESA Strikers 04 (NY)
Runner-up: SCS United Black (PA)
Platinum Black Division
Champion: SYA Cardinals 2004 Red (VA)
Runners-up: Charlotte SA Blue (NC), J Petrov Academy 2004/2005 (FL)
Classic Orange Division
Champion: Southeast SC 04 (CT)
Runner-up: Coppermine 2004 Premier (MD)
Classic Black Division
Champion: CTC Bandits 2004 South Florida FC (FL)
Runner-up: Loudoun Soccer 04 Red (VA)
Premier Division
Champion: Paragon Futbol Academy 2004 (MD)
Runner-up: NVSC 04 CCL Premiership (VA)
U18
Championship Division
Champion: West Florida Flames Elite Brandon (FL)
Champion: SYC 2003 Blue (VA)
Elite Division
Champion: Clemson Anderson SA Pride Premier 03 (SC)
Runner-up: Peninsula Premier Eagles (NJ)
Superior Division
Champion: VB City FC 03 Academy I (VA)
Runners-up: Soccerdome Real Barca 03 (MD), SAC/Baltimore Armour Pre-Academy 03 (MD)
Platinum Division
Champion: Soccer Vision Academy (OH)
Champion: Braden River SC 03 Premier (FL)
Classic Division
Champion: Sting PA 03 Brazuk (PA)
Runner-up: Baltimore Celtic North 03 (MD)
U19
Championship Division
Champion: Maryland United FC 02/03 ECNL (MD)
Runner-up: Baltimore Celtic SC 2002 (MD)
Elite Division
Champion: Pittsburgh Riverhounds ECNL (PA)
Runner-up: Herndon Argentinos Jrs Black (VA)
Superior Division
Champion: Beach FC 02/03 Red Copa (VA)
Runners-up: BRYC Elite Academy ECNL (VA), SAC/Baltimore Armour Pre-Academy (MD)
Platinum Division
Champion: Cherry Hill FC Premier Scorpions 02 (NJ)
Runner-up: Virginia Rush 02/03 CCL (VA)
Classic Division
Champion: Morris Elite USL Academy (NJ)
Runners-up: Skyline Elite 02/03 (VA), Rochester Lancers 2002 (NY)
Premier Division
Champion: Wake FC 03/02 NPL North (NC)
Runner-up: Space Coast United 02/03 Red (FL)