Fifteen teams capture US Club Soccer Iowa State Cup titles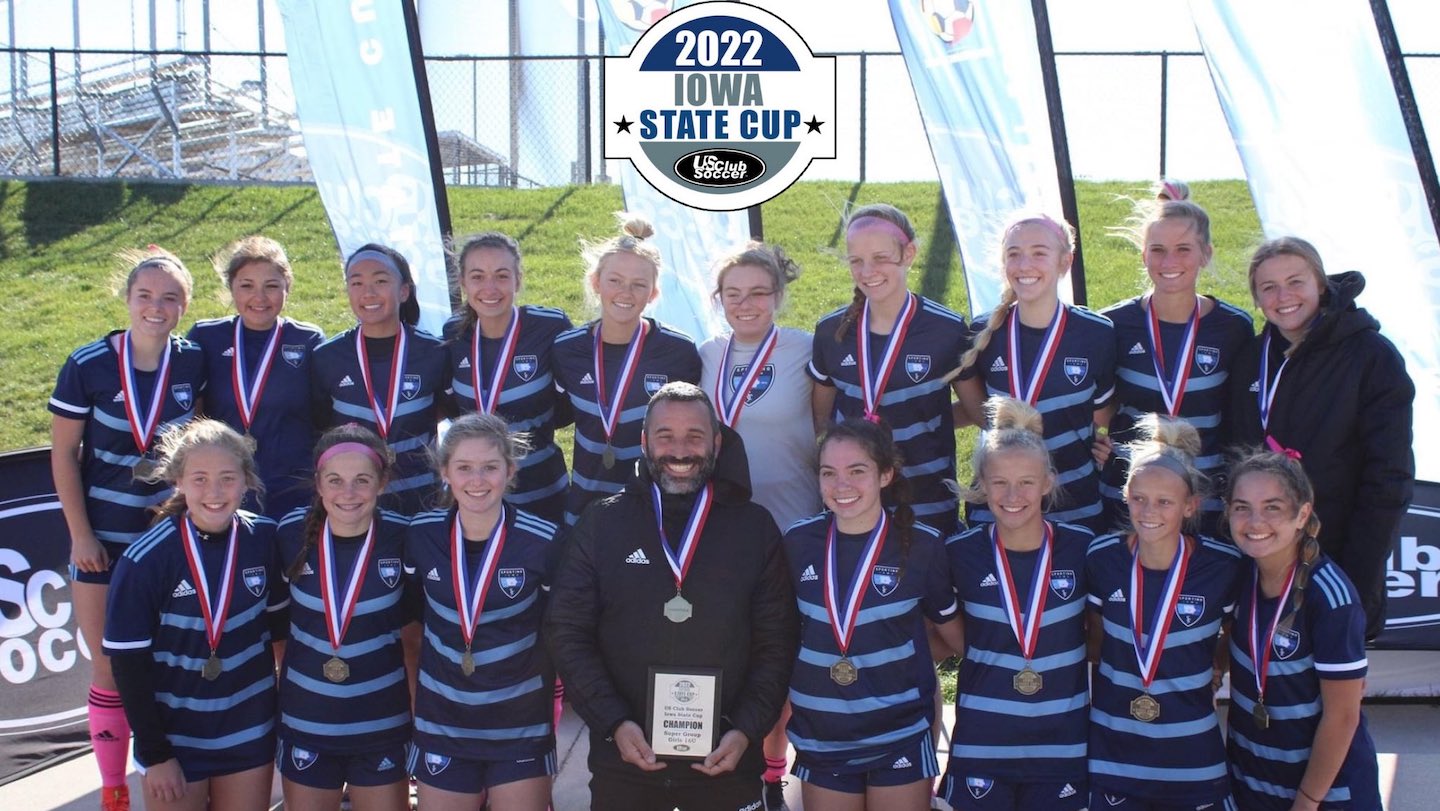 BETTENDORF, IA – After the conclusion of the of the first-annual US Club Soccer Iowa State Cup, hosted by Club Development League, a total of 15 champions were crowned and eight of those winners earned direct qualification for US Club Soccer's 2022 National Cup XXI Finals.
The Iowa State Cup featured two levels of competition, Super Group (most competitive) and Premier Group. Iowa State Cup directly qualified Super Group division champions from U-15 to U-18/U-19 girls and boys age groups to US Club Soccer's National Cup XXI Finals.
The two-stage tournament for the U-15 to U-18/U-19 girls and boys age groups started with the opening games Oct. 23-24, 2021, in Waverly, Iowa, and was followed by the final contests Oct. 30-31, 2021, in Bettendorf, Iowa. The competition for the U-13 and U-14 girls and boys will be played in the spring of 2022, which will be announced on a later date.
Sporting Iowa Central led the way with 10 total division winners. They claimed super group titles in the Girls and Boys U-15, Girls U-16, and Girls and Boys U-17 divisions, as well as premier group championships in the Boys U-15, Girls and Boys U-16, Boys U-17 and Girls U-17/19 divisions. Vision Soccer Academy (VSA) was the other club to claim multiple titles winning the Girls U-15 premier group and the Boys U-18/19 super group. Additionally, Cedar Valley Soccer Club (CVSC) won the U-18/19 Boys premier group, ISC Earthquakes on the U-16 Boys super group, and Sporting Iowa East claimed the U-18-19 Girls super group.
"Over the past two weekends, eighty of the top teams in Iowa competed in the inaugural US Club Soccer Iowa State Cup," said Club Development League Administrator Ian Bradley. "This is a turning point in Iowa for competitive soccer. The event ran smoothly, and the matches showcased the highest level of competition in our state. Our Iowa teams are now excited to compete at even higher levels of competition at the US Club Soccer regional and national events."
Below is a list of all 15 champions from the Iowa State Cup:
Iowa State Cup Page  |  Scores & Results
| | | |
| --- | --- | --- |
| | | |
| | Sporting Iowa Central ECNL 15UB | Sporting Iowa Central ECNL 15UG |
| | Sporting Iowa Central NPL 15UB^ | VSA 07 Girls Competitive^ |
| | ISC Earthquakes Blue-16U Boys | Sporting Iowa Central ECNL 16UG |
| | Sporting Iowa Central NPL 16UB^ | Sporting Iowa Central ECNL-RL 16UG^ |
| | Sporting Iowa Central ECNL 17UB | Sporting Iowa Central ECNL 17UG |
| | Sporting Iowa Central NPL 17UB^ | |
| | | Sporting Iowa East 04/03G |
| | | Sporting Iowa Central ECNL-RL 17UG^ |
| | | |
Note: ^ teams qualified for the National Cup XXI Midwest Regional