FC Tucson signs three teenagers to USL Academy contracts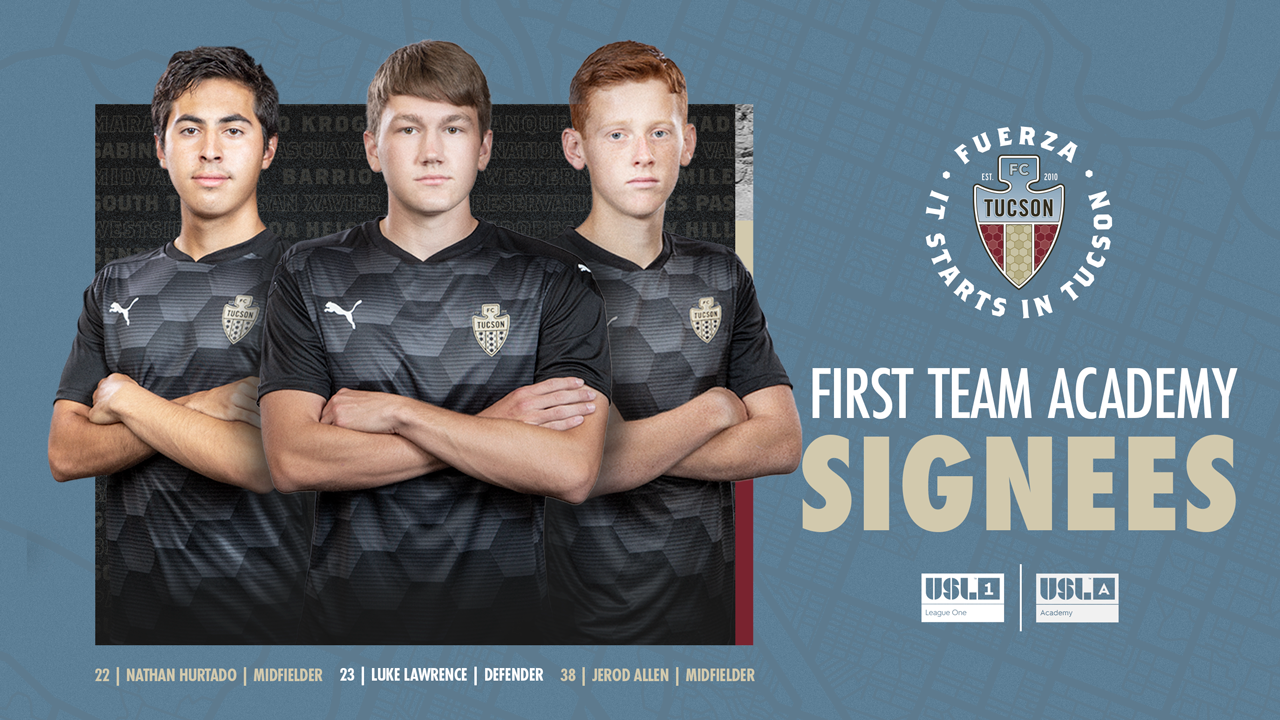 TUCSON, Ariz. — FC Tucson has signed three local youth players – Jerod Allen, Nathan Hurtado, and Luke Lawrence – to USL Academy contracts ahead of the club's inaugural USL Academy season, pending league and federation approval.
Allen, Hurtado, and Lawrence will compete with the senior team for USL League One play in conjunction with the FC Tucson Pro Academy in the United Soccer League's (USL) Academy League, set to begin June 2021. The FC Tucson Pro Academy will be made up of players from the 2002 to 2005 age groups in conjunction with Southern Arizona Youth Soccer Clubs and will operate and train within the first-team facilities. As USL Academy contract signees, the trio becomes eligible for senior team play, while maintaining college eligibility.
"Jerod, Nathan, and Luke have been great to work with so far with the first team and have shown the mentality of a true professional. Their commitment to their craft and dedication to the team on and off the field has been noticed," said Academy Head Coach and First-team Goalkeeper Coach, Vito Higgins. "I'm excited to welcome them as the inaugural signings with FC Tucson's Pro Academy. This offer will not only help the academy but will set the standard and pave the way for years to come."
Allen, 16, played with the U.S. Olympic Development Program from 2019-2020. He played varsity soccer with Buena High School and plays club soccer with Vail Soccer Club. This will be the young midfielder's first professional academy contract.
Hurtado, 17, played with the Barca Residency Academy U-15 and U-16/17 squads in the midfield from 2017-2020. He played in 60 games, starting in 46, and scored one goal.
"I am honored to get a chance to represent FC Tucson and the city I grew up in. I hope to contribute to the club on and off the field and I'm ready to fight for the colors and start this new chapter in my life," said Hurtado.
Lawrence, 19 joins the club after playing with Barca Residency Academy U-18/19 squad from 2019-2020. Lawrence made 18 appearances and started in 12 playing along the backline as a center back and fullback.
"I am excited to join the FC Tucson family. As an Arizona native, I am well aware of the tremendous organization that is FC Tucson.  I am looking forward to getting to work on the pitch to bring a championship to Tucson," said Lawrence.