FC Tulsa signs three teenagers to USL Academy Contracts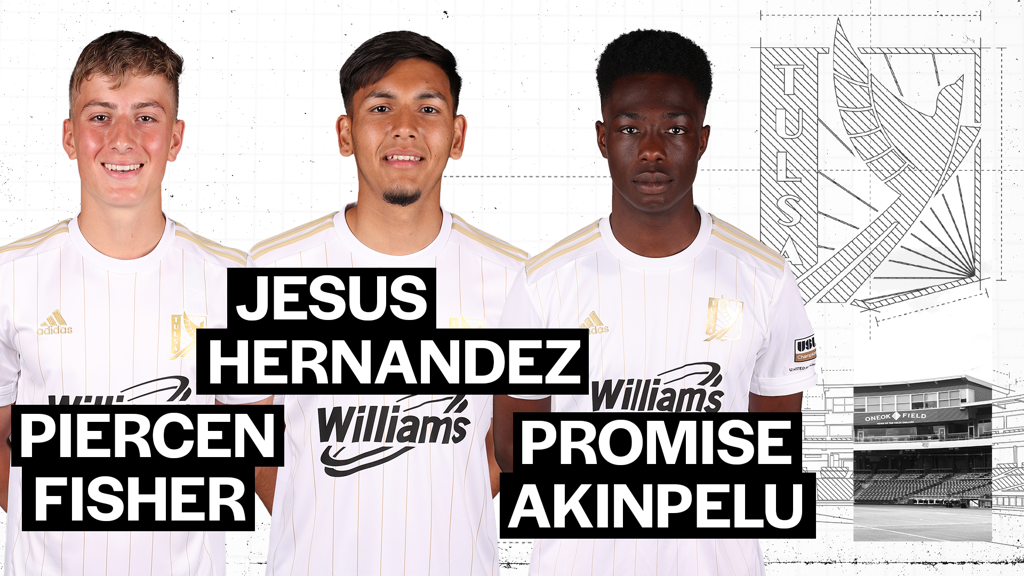 TULSA, Okla. – FC Tulsa is continuing to strengthen its pathway to pro with three USL Academy Contract signings to its 2021 roster.
Forward Promise Akinpelu and defenders Jesus Hernandez and Piercen Fisher have all signed with the club, pending league and federation approval. The three teenagers have been training with the club during the preseason as trialists.
"Jesus and Piercen have been with us since the beginning of preseason," said FC Tulsa Head Coach Michael Nsien. "They have shown the ability to compete, improve and adapt to a professional environment. Promise came in and really impressed us, at such a young age, he can physically compete at this level. This environment will be great for all of our academy players to develop rapidly."
Akinpelu, a 19-year-old Canadian, hails from Brampton, Ontario and was a member of Toronto FC's Academy from 2012 to 2015. Following his time in the Academy system for TFC, Akinpelu played for a local club, Vaughan Azzurri, that competes in League1 Ontario. While with Vaughan, Akinpelu was a part of two League1 Ontario Championship teams (2016, 2018) and two L1 Cup winners (2016, 2018). Prior to joining FC Tulsa, Akinpelu played in the Treća HNL, the Croatian third division, for NK Trnje.
Hernandez, an 18-year-old native of Tulsa, joins the squad from the local youth soccer scene in Tulsa. First playing for West Side Alliance where he won a State Championship and most recently for Tulsa Soccer Club, Hernandez is currently a member of the Tulsa Soccer Academy where he is enrolled in Epic Charter Schools. He will graduate with his high school diploma in 2022.
Fisher, a 16-year-old from South Tulsa, signs with FC Tulsa also from Tulsa Soccer Club. A former Blitz United youth player, Fisher moved to TSC in 2015 and has enjoyed significant success early in his club career. While with TSC, Fisher has won two ECNL National Championships, was a Dallas Cup finalist as a U-13 player and was a 2017 Regional Champion.
Akinpelu, Hernandez and Fisher join Martin Martinez-Leyva and Tony Mota as USL Academy Contract players on FC Tulsa's roster, and all but Akinpelu are native to Tulsa. Ciaran Winters, who was the club's first USL Academy player in 2020, made his professional debut last Saturday in FC Tulsa's 3-1 victory over OKC Energy FC.