Red Wolves Academy ECNL defender Cristian Zaragoza signs pro contract in USL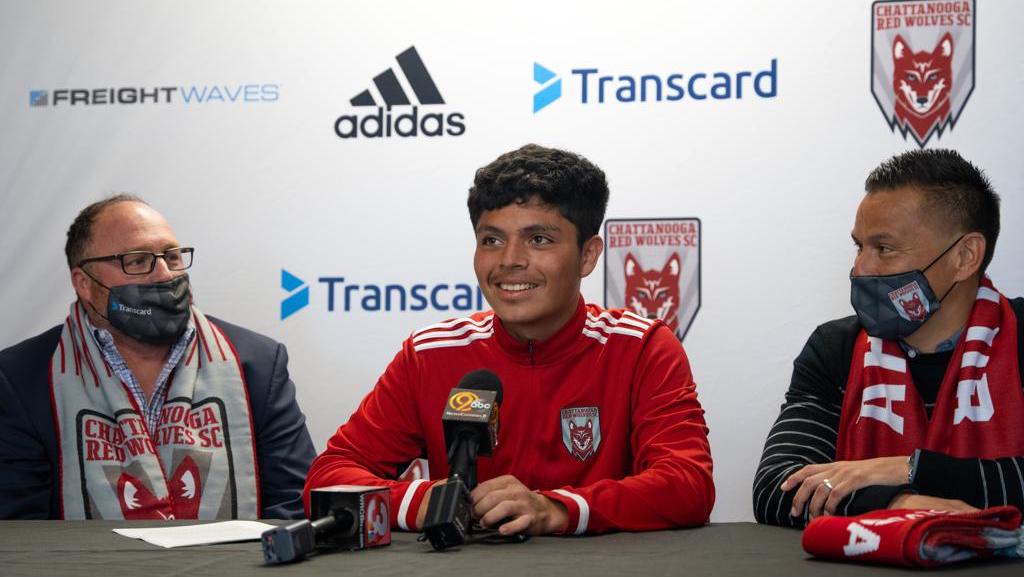 Chattanooga, TN – The Chattanooga Red Wolves announce the signing of Dalton Red Wolves Academy center back, Cristian Zaragoza.
In a milestone for the club, Cristian becomes the first Academy player to sign a professional contract with the first team.
"Getting this chance is crazy. This is something I've wanted to do since I was little," said Zaragoza. "Getting a chance to play with the Chattanooga Red Wolves means the world to me. Hardly anyone my age gets to do this."
As a Dalton, Georgia native, Cristian attends Dalton High School and has been playing soccer since he was four years old. The 17 year-old has played for the Dalton Red Wolves Academy for the last three year. After missing out on a starting position his freshman year, Zaragoza committed himself to only getting better to not miss out on the opportunity for high competition. After joining the Red Wolves Academy, Cristian credits his success much to his teammates, "It means a lot to me, playing with that group of boys and they helped improve my game a lot."
The love for soccer in his family stuck to him at a young age and couldn't imagine a life without the sport. "They are really excited for me," Zaragoza mentions when asked what this accomplishment meant for his family. "Once they heard the news they didn't know what to say, I didn't know what to say. They're happy for me and excited that I'm getting the chance to do that."
While Zaragoza will be a full member of the Red Wolves first team, he will not lose his NCAA eligibility. Committed to play soccer at North Carolina State University in the fall, Zaragoza hopes to gain more experience and continue to pursue his professional player pathway. Dedicated to his studies as well, Cristian plans on majoring in graphic design while attending college.
For Red Wolves General Manager and President Sean McDaniel, the signing of Zaragoza marks a significant milestone for the entire organization.
"I think it's the culmination of everything we've worked so hard to build at this point," said McDaniel. "To go from creating a brand and a team out of nothing and all of the platforms necessary to have a true path to pro, to now see it now come to fruition by bringing in our first academy player to the first team is a huge day for us. This is what we had always intended and wanted to do, that was to develop talent locally and launch them into their careers."
"It's a quite a testimony to see how far the academy has come in two short years with not only the signing of Cristian [Zaragoza] but also all the kids, boys and girls, who have come through the academy and our now seeing a path to the pro level and collegiate level," continues McDaniel. "It really is a great testimony to our coaching staff and to leadership on the academy side to put something really incredible together in our region."
For head coach Jimmy Obleda, Zaragoza could not be a better fit for the first team.
"We've waited to bring in the right kid, to make him the first one," said Obleda. "We've been following him for about a year and his demeanor, his humility, his effort, his work ethic all stood out to us. I want to commend his coach, Danny McBride and also Academy Executive Vice President Derek Greene who have developed him and moved him forward to be able to be here right now with us. This young man, again, what he does and what he brings, we couldn't be happier with him being the first signing."
After completely the required COVID protocols, Zaragoza entered his first full training with the team this morning.