Two teenagers sign USL Academy contracts with Tormenta FC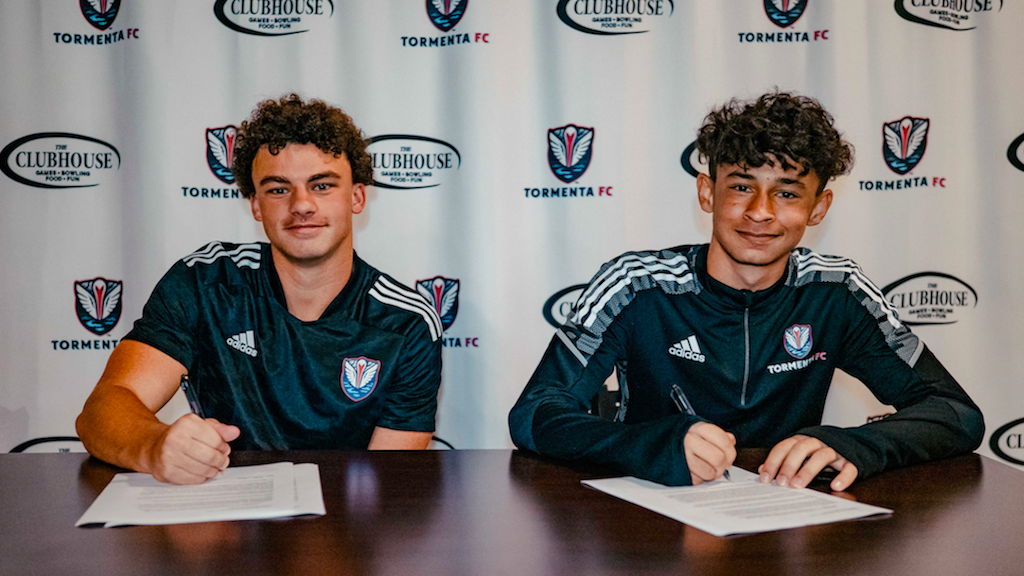 STATESBORO, Ga. – South Georgia Tormenta FC continues to develop local talent, and the club announced today that it has signed forward Tyler Bisseck and defender Brittain Gottlieb to its 2021 USL League One roster on USL Academy contracts, pending league and federation approval.
TFC Academy midfielder Grant Hampton and goalkeeper Stephen O'Hearn have re-signed for the 2021 season after having successful rookie years in 2020, while midfielder Tristan DeLoach returns for his third season with the professional side.
"Our staff are proud to work with our Academy to monitor which players are ready to join our first team environment," TFC Head Coach Ian Cameron said. "All of our staff have Academy roles, so we have a good grasp of which guys have consistently performed well in training and in matches. Our academy and USL League Two teams are the lifeblood of USL League One, and we will lean heavily on them into the future."
Bisseck becomes the first Statesboro native to sign with Tormenta FC's League One side, and Gottlieb brings experience as the captain of the Islands High School men's soccer team, as well as being a local tennis standout. Officially signing at 15 years, 11 months and five days, Bisseck also became the youngest player to sign an Academy contract with the professional team. DeLoach previously held the record, signing a contract with the club's pro side at 16 years, nine months and six days in May of 2019.
"Tyler Bisseck has performed really well for Coach Jordan Melia's 2005 squad, and he continues to balance high school with some experience training with USL League One," Cameron commented. "Tyler has a great mentality and hunger to score goals. Over the next two years, the USL League One experience will hopefully see Tyler elevate his game. One of his roles will be to take first team principles on and off the field and help filter that to his academy team when he joins them for matches."
"Brittain has been one of the most consistent performers for the academy over the last two seasons," Cameron said. "He has the physical tools for USL League One and will develop tactically and technically this year with our first team guys. He is an outstanding candidate to be the newest academy contract recipient and already in pre-season, Britt has shown he deserves to be here, earning strong minutes versus Atlanta United and Tampa Bay Rowdies. By training everyday with our pro defenders, we expect Britt to develop from a talent into a potential professional."
Hampton attends Islands High School and has been a member of Tormenta FC Academy for over ten years. The midfielder made four appearances for Tormenta FC 2 in 2019 and recently played minutes in a friendly against 2018 Major League Soccer champion Atlanta United FC on March 13. O'Hearn attends Savannah Arts Academy and is another longtime TFC Academy player. The goalkeeper recently committed to play for Georgia State University starting in 2021.
In 2019, midfielder DeLoach became the first Academy player to sign with the club's League One team and has made four regular season appearances since. DeLoach will return for his third season with the pro side before heading to Clemson University in the fall to play collegiately.
"Tristan, Grant and Stephen all developed very well last season," Cameron said. "Tristan earned League One minutes by the end of the season, and by the last game, he was in contention to start. Grant and Stephen earned game roster spots and will look to further develop this year and both have opportunities ahead of them for more."
"Providing opportunities for our ultra-talented Academy players to continue developing side by side with professional soccer players makes the Tormenta FC franchise a unique experience in the United States," Vice President of Tormenta FC Academy Brad Nein said. "I am so excited for the boys being placed on Academy contracts and know the opportunities they are getting now will allow them to reach their future goals."