Louisville City FC signs seven youth players to USL Academy contracts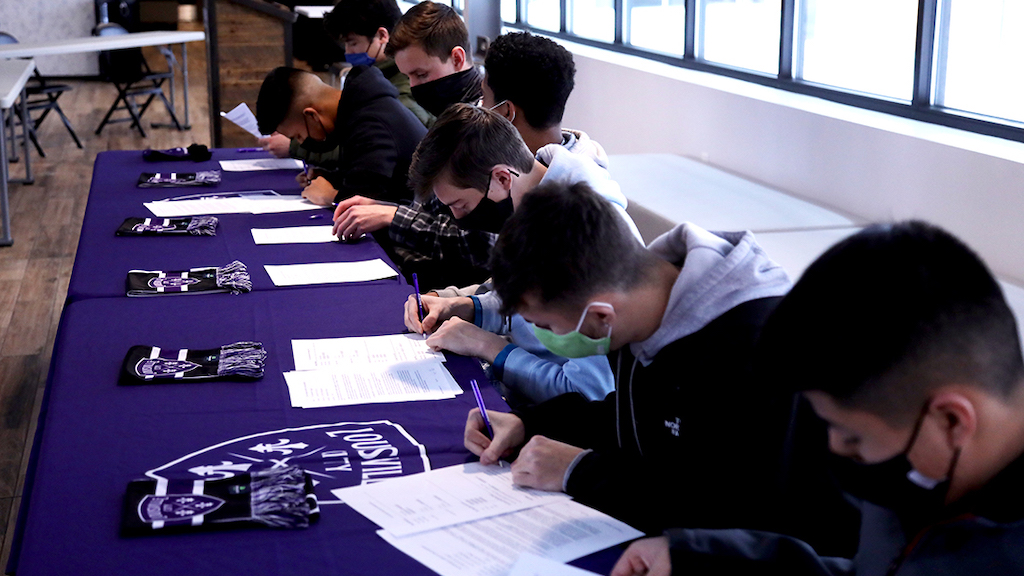 In advance of the 2021 season, Louisville City FC has signed seven players to USL Academy contracts that permit representing the first team while preserving amateur status and NCAA eligibility.
Joining the boys in purple for the upcoming USL Championship season on deals pending league and federation approval are forwards Dino Hodzic and Hunter Sekelsky; midfielder Carlos Moguel Jr.; as well as defenders Anthony Cano, Owen Damm, Sebastian Sanchez and Joshua Wynder.
"These academy signings are another step for our club in creating a true pathway for our elite youth players to reach their full potential," said LouCity's head coach and sporting director, John Hackworth. "We have already had several of them training with us during this preseason. We will continue to integrate them with the first team and look forward to seeing them develop as players and people."
In addition to any first team duties, all seven players are expected to see time for LouCity's USL Academy League side launching this year. The USL Academy League bridges clubs' youth programs and their professional clubs, creating a clearer trajectory to pro careers.
The academy league schedule is still to be released. LouCity will compete within an East-Central Division against, among others, familiar regional USL rivals Indy Eleven and Pittsburgh Riverhounds SC.
"This is an exciting time for our academy and in particular these players," said Mario Sanchez, the academy's director. "Each of these young men have consistently performed at a high level in training and in games, which has earned them the opportunity to continue along our pathway toward one day hopefully playing and earning a first team contract with LouCity."
LouCity's youth academy, along with the Racing Louisville FC program for girls, ranges in age up to the U-19 level. The academies started play last year and reached a landmark moment when Oldham County native Elijah Wynder signed a LouCity pro contract in December.
Here's more on those hoping to follow Wynder's path…
Anthony Cano is a defender from Bowling Green, Ky. The South Warren High School senior has twice been recognized as a first-team All-State selection. Cano was also awarded as KHSSCA player of the year in 2020. He is the son of Diana and Jose Cano.
Owen Damm, from Versailles, Ky., is a first team All-State selection out of Woodford County High School. The senior, son of mom Heechung Ko and dad John, plays outside back.
Dino Hodzic is a senior at Ballard High School. The forward has been recognized as a first-team All-State selection. He is the son of Medija and Suljo Hodzic.
Carlos Moguel Jr. is a senior at Martha Layne Collins High School. The midfielder from Shelbyville, Ky., has been recognized as a Courier Journal All-Area, All-Louisville first team and All-State selection. He is the son of Carmen Gonzalez and Carlos Moguel Sr.
Sebastian Sanchez, a defender, is also the son of the academy director Mario Sanchez and his wife, Shana. Sebastian was born in Akron, Ohio, and now attends Ballard High School. The junior has been recognized as a first team All-State selection.
Hunter Sekelsky, the son of Brian and Rebecca Sekelsky, is a senior forward at the Louisville Collegiate School, where this past season he was recognized as a 2020 High School All-American and first team All-State, among other honors.
Joshua Wynder, a central defender, is the younger brother of Elijah Wynder, the aforementioned pro. Joshua, born in 2005, has honed his skills against older teammates, earning his way on to a USL Academy deal as a standout for the LouCity Academy's U-19 team. His parents are Ranae and Mike.