FC DELCO Girls Fall Showcase 2022 Recap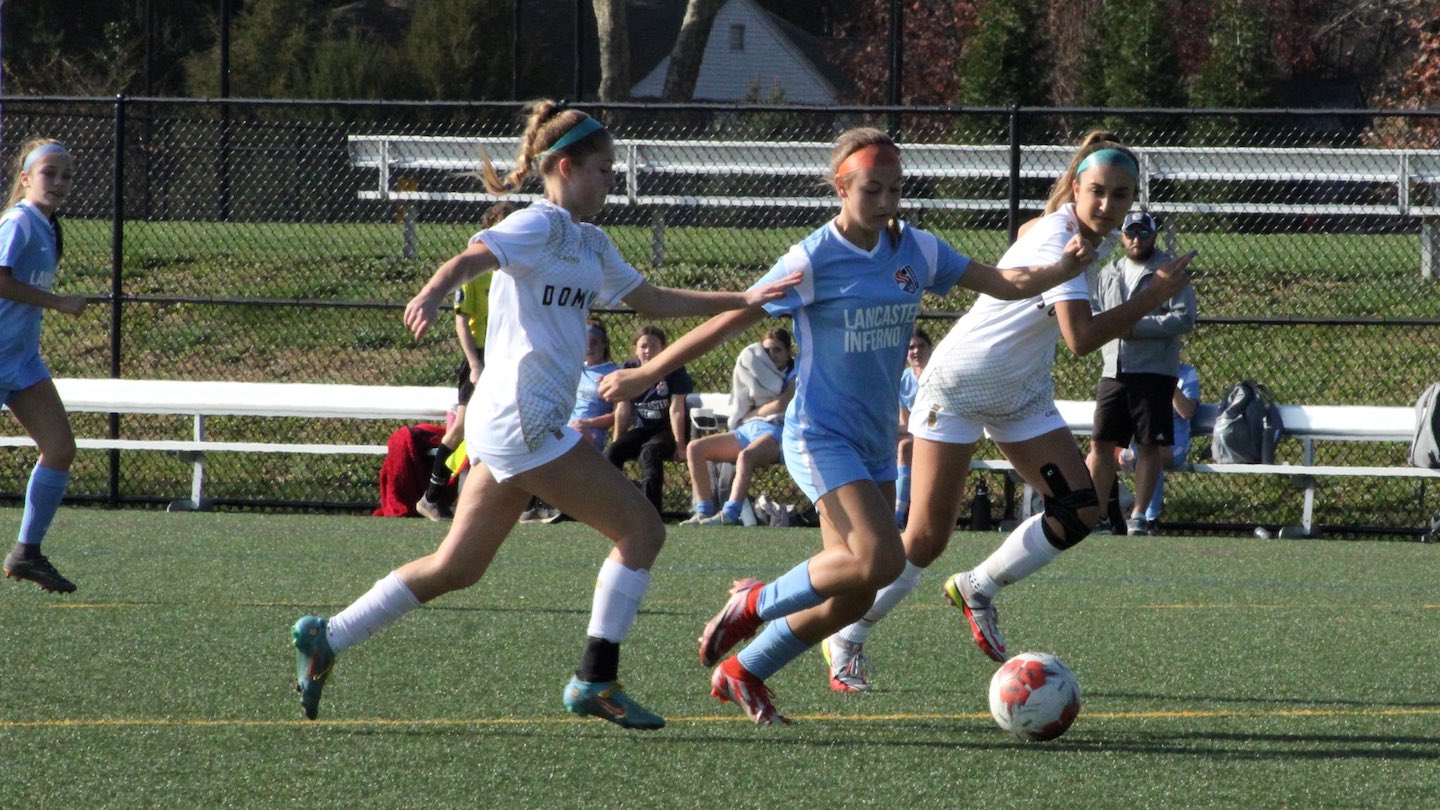 (Photo Credit: Devon Olesen)
Champions were crowned on Sunday at the 4th Annual FC DELCO Girls Fall Showcase, which featured 88 teams across the U13-U19 age groups competing in the Philadelphia area.
Attending teams represented several of the nation's most competitive leagues, including the ECNL, Girls Academy and US Youth Soccer National League, among others. The tournament is quickly growing as a platform college recruiting in the Mid-Atlantic region, drawing dozens of college coaches to the 2022 event.
The FC DELCO Fall Showcase is a product of the longstanding partnership between FC DELCO and Sideline Soccer Solutions (formerly APL Tournaments). The fall event is a recent addition to the tournament series which also features the prestigious FC DELCO Players Cup, a longtime Memorial Day weekend staple on the East Coast.
Following the completion of the Girls Showcase, the tournament will conclude over the weekend of November 18- 20 as 177 teams will be playing in the FC DELCO Boys Fall Showcase. In total, more than 250 teams are competing in the 2022 event.
See below for a listing of top finishers from the FC DELCO Girls Fall Showcase. For full results from the event, click here.
Champions and Finalists
U13
Championship Division
Champion: FC DELCO Pre-ECNL 2010 (PA)
Finalist: CNY Premier SC 2010 (NY)
Elite Division: 
Champion: FC DELCO ECNL Regional '10 (PA)
Finalist: Lower Merion SC Strikers (PA)
U14
Elite Division:
Champion: FC DELCO ECNL Regional '09 (PA)
Finalist: Penn Alliance Select Elite '09 (PA)
U15
Showcase Black Division:
Bracket A Champion: FC DELCO ECNL '08 (PA)
Bracket B Champion: FC DELCO ECNL '09 (PA)
Showcase White Division:
Bracket A Champion: PA Dominion FC 2008 (PA)
Bracket B Champion: Rancocas Valley SC Dragons 2008 (NJ)
Bracket C Champion: Keystone Athletic 2008 Black (PA)
U16
Showcase Black Division:
Bracket A Champion: FC DELCO ECNL '07 (PA)
Bracket B Champion: Toronto Blizzard U16 (CND)
Showcase White Division:
Bracket A Champion: Unity Football Club 2007 (PA)
Bracket B Champion: Next Level Soccer Academy 2007 Elite (NJ)
Bracket C Champion: PA Classics Elite Blue 07 (PA)
U17
Showcase Black Division:
Champion: FC DELCO ECNL '06 (PA)
Runner-Up: PA Classics Elite Blue 06 (PA)
Showcase White Division:
Champion: Lionville SC Lionhearts '06 (PA)
Runner-Up: Manhattan SC Devils 2006 (NY)
U19
Showcase Black Division:
Champion: FC DELCO ECNL '04/'05 (PA)
Runner-Up: Keystone FC Composite 04 (PA)
Showcase White Division:
Bracket A Champion: FC DELCO ECNL Regional '04/'05 (PA)
Bracket B Champion: Gotham Girls Arsenal (NY)