FC Dallas Academy director Luchi Gonzalez on USSDA supremacy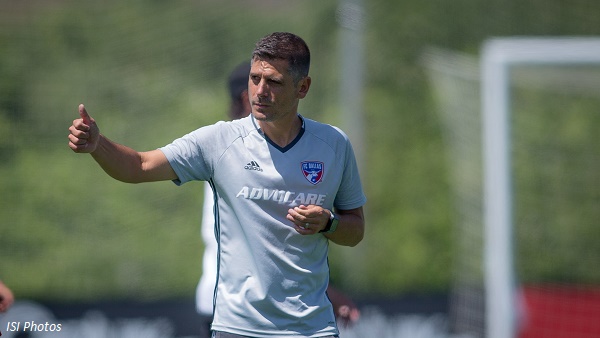 In the U.S. Soccer Development Academy, a league featuring 96 clubs from around the United States and Canada, FC Dallas stood above the rest during the 2015-2016 campaign.
The Frisco, Texas-based club swept the USSDA Under-16 and U-18 titles, while the U-14 squad, despite not having a national championship to chase, finished the season undefeated. Chris Hayden won Coach of the Year at the youngest age group, and a combined nine players from the U-16 and U-18 teams made the Central Conference's Starting XI.
Much credit for the club's success goes to U-16 coach Luchi Gonzalez, who FC Dallas promoted to Academy Director on Oct. 1, a little over a month into the USSDA season.
But as Gonzalez reflected on a historic season for FC Dallas last week, he cited other reasons for the club's dominance. It's been a combination of talented players with a tireless work ethic, international experiences and quality relationships with the first team that's propelled FC Dallas to the top of the Development Academy.
+READ: U.S. Soccer Development Academy end-of-season awards announced
"There's this amazing spirit and desire to represent the jersey with passion and pride and togetherness," Gonzalez told SoccerWire.com. "There's a great culture."
FC Dallas became the first Academy to win both the U-16 and U-18 championships, and the U-16s became the first group to defend their USSDA title with what Gonzalez said was a new crop of players. Those in the U-16 division last year moved up to compete under U-18 coach Francisco Molina, finishing the regular season 18-4-3 and rolling through the postseason unscathed.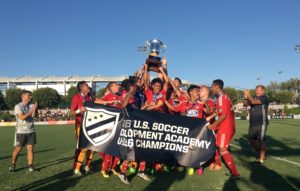 Gonzalez said each of those teams had a core group of players who competed together in the past, a situation that developed because of Dallas' commitment to splitting their teams into single age groups. It's a common practice across youth soccer in Europe and South America.
There's too much talent to combine age groups, Gonzalez said, especially early in player development.
"You can't just say, 'Oh, well I'm going to play this '01 over this '00 now early,'" Gonzalez said. "Maybe there's the '00s that are going to make it. They're late developers physically."
There are exceptions, and Gonzalez said the number of players who compete in a higher age group increases the older the division.
+READ: FC Dallas Academy U-17/18s win USSDA National Championship
For example, FC Dallas' U-15/16 roster, which lists 26 players, included just one player born in 2000.
That player was forward Jesus Ferreira, who warranted the program's decision by scoring 20 goals in the regular season, the eighth-best mark in the Academy. The son of former first-team FC Dallas star and MLS MVP David Ferreira then scored six more times in the postseason. Jesus' total number of goals was double the next second-highest scorer.
FC Dallas' oldest Academy team, which finished with a plus-42 goal differential, actually had more players born on the younger side.
It's the age groups starting with U-10, Gonzalez said, where it is important to keep players of the same age together. That way, they'll develop relationships with one another both on and off the field. They'll also be learning the program's philosophy with familiar teammates from a young age.
"Our dream is that the kids that played in the stadium with our pro team is not a kid who came at U-15 or U-16, although those are the case sometimes," Gonzalez said. "But hopefully that kid was with us since U-10, U-11, U-12. FCD has been in their DNA because they've been here for so long, and they get more exposure to the program."
And after these players have gone through the Academy, the professional team's technical staff has faith in their ability to play in the MLS.
Since the MLS introduced the Homegrown Player Rule in 2008, allowing clubs to sign players directly from their development academies, FC Dallas has signed 14 homegrown players an MLS record. Five of those players are currently on FC Dallas' first-team roster.
+READ: FC Dallas Academy tops LA Galaxy 2-0 to win USSDA U-15/16 title
"It's like a vacuum trying to suck kids out of the Academy because they believe in them," Gonzalez said. "That's not always the case with some other programs."
Creating that type of environment requires talented players and knowledgeable coaches, both of which Gonzalez believes FC Dallas has.
He views Dallas as a "melting pot" of talent and believes the metropolis is one of the top five areas in tthe country in terms of producing top-notch players. Gonzalez said because of its combination of technical and physical players, Dallas deserves to be grouped with places such as Northern and Southern California, Houston and Florida as hotbeds for youth soccer.
And to help maximize these players' maturation on the pitch, the club decided two seasons ago to shuffle around the Development Academy coaches.
It sent Hayden, who won a USSDA title with the U-18s in 2012, down to coach the U-14 team based on his ability to educate his players. Without the pressure of staying on top of the standings or competing for a national championship, Hayden, who Gonzalez refers to as a teacher, could focus solely on "really dissecting the game and solving problems."
Gonzalez views himself as a hybrid, capable of both instructing his players and motivating them to make winning plays, such as defending a dead ball.
Molina, meanwhile, will teach the older players what it takes, both in training and in matches, to successfully compete at the professional ranks.
"Soccer is soccer, whether it's U-7 or U-18," Gonzalez said. "It's just the way things are communicated and how players are managed and the set-up of the training sessions."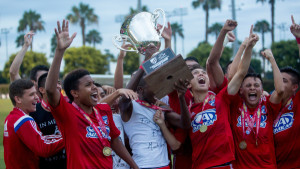 All of these variables have led FC Dallas to the top of the USSDA, but the club has gone even further to put their players in challenging situations.
Last March, FC Dallas' U-16s placed third in the Generation Adidas Cup, MLS's annual youth international tournament for teams at the U-17 level.
Gonzalez's bunch smoked Villarreal (Spain) 4-0, but lost to Universidad de Chile in the semifinals. River Plate, an Argentine club, went on to win the event.
FC Dallas' disappointment in not reaching the final, Gonzalez said, was a driving force behind rolling to a Development Academy title with just two blemishes on their resume.
Now that FC Dallas has become one of the premier squad in the United States, the club has its sights set on becoming one of the best in the world.
"International competition is huge. You get paid for mistakes, and that's how you grow," Gonzalez said. "You don't grow when you don't get punished, because you don't have to suffer through a game."