Santa Barbara SC U-18 Boys begin Nationals with win over San Jose PAC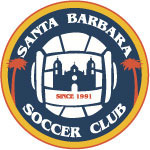 FRISCO, Texas (Via US Youth Soccer) – In a rematch of the 2015 Region IV Championship final, Under-18 Boys Santa Barbara SC White (CA-S) began the 2016 National Championships with a 4-1 win over South San Jose PAC Indios (CA-N).
Santa Barbara defeated South San Jose, 2-1, in the final match of the 2015 Region IV Championship, and they have faced off in a few other instances as well.
"Every game that we've played [South San Jose], it's been a battle," Santa Barbara head coach Raul Ybarra said. "When you get to know each other, you get to know their movements as a team, their strengths and weaknesses. I felt today, when it really came down to it, we were able to at least dictate more of the pace and play the game the way we want to play. At the same time, give them credit. They never stopped working, and they kept making us work for everything we got."
+Read: Broadcast schedule released for US Youth Soccer National Championships
Santa Barbara earned the victory on Tuesday with three penalty kicks and a well-placed goal, while South San Jose snuck in a late goal to get on the board.
Six minutes into the match, Santa Barbara received a penalty kick, and Juan Pablo Alvarez stepped up to bury the goal with a left-footed shot.
"I thought we came out strong," Ybarra said. "We did lack a little bit at the beginning of the game with our connecting. I thought that we were rushing, pressuring too fast and trying to get forward too quickly. Taking another touch and another combination in the midfield would have helped us, and eventually we settled in a little bit and then we had the first goal that came early."
Boys Previews: U-13 | U-14 | U-15 | U-16 | U-17 | U-18
Girls Previews: U-13 | U-14 | U-15 | U-16 | U-17 | U-18 | U-19
South San Jose continued to search for their first chance at goal, while the play remained mostly in Santa Barbara's offensive end. South San Jose began to gain a rhythm as they placed two shots into the back of the net, but both plays were called offside. Thus, the first half ended with a 1-0 lead in Santa Barbara's favor.
Going into the second half, Rodney Michael from Santa Barbara obtained their second goal in the 53rd minute as he received a pass and slipped the ball into the goal with the outside of his right foot.
South San Jose came near to closing the gap when Gustavo Vargas took a free kick and kept it low on the ground, but the ball traveled just wide of the left goal post. South San Jose also had an opportunity with a penalty kick, but Santa Barabara's goalkeeper came up with the big save to hold the lead.
Less than ten minutes later, Benjamin Garcia made it a 3-0 game as he took a penalty kick and put the ball in the bottom left corner of the goal.
The last ten minutes of the match consisted of a physical battle, which resulted in a free kick for South San Jose. After the kick was sent into the 18-yard box, Albert Munante snuck in behind the Santa Barbara defense to score for South San Jose. In return, Santa Barbara finished off the game with their third penalty kick, which was taken by Sahid Conteh.
"The officials did a great job on controlling both sides," Ybarra said. "Our team lost a little bit of its composure tactically, and then we were probably a little tired because of the weather, but taking that into consideration, we scored four goals. I was really happy with the way we took control of the game in the second half."
Santa Barbara, who are two-time National Champions and five-time Region IV Champions, are looking to add onto their list of titles after falling short in the National Championship semifinals in the past two years.
"We've been looking forward to coming to Nationals," Conteh said. "We've been preparing really well for the weather and the teams. We know every team out here is just as good as us. We're very lucky to be here. I think the key in today's performance was that the guys never gave up. Coming out today, we wanted it more."