ECNL National Event: Phoenix offers first taste of season's challenges, lessons
By Charles Boehm
They came, they saw, and merely by outlasting the hot weather and relentlessly demanding competition, they conquered.
Around 2,000 of the nation's top girls soccer players ranging from the Under-14 to U-18 age groups gathered in Phoenix over the weekend for the Elite Clubs National League's first National Event of the 2012-13 season, with more than 150 of the league's teams playing three games each from Saturday through Monday.
Sunny, dry conditions with temperatures in the 90- to 100-degree range tested the fitness and focus of all involved, and offered a first taste of the high level of play that characterizes the league's feature events. Even in the midst of the NCAA season, National Event: Phoenix offered valuable exposure to college scouts who scrambled to fit a trip to Arizona into their schedules.
"ECNL puts on great events, but any sort of event like this where you have a lot of very good teams, a lot of very good talent together at the same place, is really beneficial for a college coach," said Lisa "Money" Molinaro, assistant coach at Texas A&M-Galveston, a new NCAA Division I program which begins play in 2013.
"I think I've seen, just today, bits and pieces of 12 games already," she noted on Saturday. "You get to see a lot of the top talent and a lot of really good soccer."
Composed primarily of Midwest-, California- and Southwest-based clubs, the Phoenix showcase is one of five such events staged by the ECNL over the course of the season.
And with this year's move to a regional conference system for regular-season play, many coaches see these gatherings as more important than ever, offering crucial opportunities to test their teams against talented opposition from different areas of the country.
"I think that's what the ECNL national showcase events are supposed to be about this year: pitting top teams against top teams from different conferences," said Eclipse Select FC (Ill.) coach Trae Manny on Saturday, "so that we can get this level of competition and these types of experiences. So [it's] a great opportunity for our kids, a great opportunity for their kids."
While most of the league's established powers lived up to expectations and began to build their credentials for national championship contention come June, there were some upsets and other eyebrow-raising results, especially on Sunday.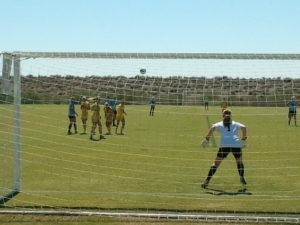 ECNL offers a more measured framework for U-14 play, with the league's youngest players easing into national competition by taking part in one of eight regional events, starting with those from 10 Southwest clubs who took part in the Phoenix weekend. For them, as well as the U-15s who begin to take part in a wider schedule a year up, this past weekend represented a thrilling, but challenging, introduction to the speed and intensity of ECNL play.
Under the league's "club pass" system, a select few even gained those lessons against older players, as coaches are allowed to bring exceptional talents up to older age-group team within their club to enhance their development.
"This is their first big ECNL event, so we brought up five of our 14s, and actually once of our 14s is really a 13," said Monica White, coach of new club FC Wisconsin Eclipse's U-15 squad. "So it was the first time that all of these kids are at an event like this and experiencing playing the best teams in the country. It doesn't get any better than that."
"Playing three games in three days, the nerves got to them a little bit in being on such a big stage," she added. "But the experience that they have will be huge as we continue to play in our conference and participate in further events, because now they're into it."
The ECNL National Event Series resumes in Sanford, Fla. in December, then continues in Frisco, Tx. in February, to San Diego in April and concludes at the Players Development Academy's showcase tournament in Zarephath, N.J. in May. The ECNL postseason begins with the National Playoff in Aurora, Colo. in June.
[ +Find more information about the Phoenix event, as well as links to full scores and standings, here ]