ECNL National Event: Phoenix closes with gutsy performances, lessons learned
By Charles Boehm
PHOENIX – Perhaps TSC Hurricane (Okla.) Under-16s coach Kevin King said it best on Sunday afternoon: "The third game is not so much about soccer as it is who's got it in them."
After two days of high-intensity play in hot weather at the Elite Clubs National League's National Event: Phoenix, Monday morning brought a final round of matches which tested the physical and mental fortitude of the participating players, and the depth of their teams' rosters.
"We were very shorthanded: injuries, small teams, and we come over here and it's 100 degrees," SoCal Blues U-15s coach Larry Draluck told Soccer Wire after his team's taut 2-2 draw with Dallas Texans. "Everybody put a lot of energy into the games, so I was really happy and proud of my teams. They killed themselves, regardless of results."
One widely echoed rule of thumb for these particular circumstances: don't give up the first goal.
"It's not good to go down on day three, because then you've got to run and chase," said Rory Dames, coach and executive director at Eclipse Select SC (Ill.) "You don't want to do it at any point, but on the third day in 100-degree heat, it's the worst thing you can do. Then you've got to find it in yourself to get up, press, chase, put people under pressure. It's difficult to do."
Dames was pleased to see his club's U-15 squad do exactly that, clawing back from an early deficit to draw Real Colorado 1-1 and run their weekend record to 2-0-1.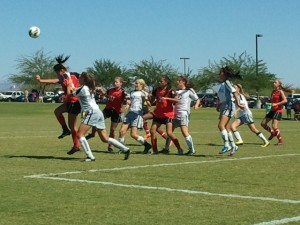 "What you'll find in this heat is that as the games progress, the quality in terms of good, passing, technical soccer is less prominent just because of fatigue," said Real Colorado technical director and U-15s coach Neil Payne, whose players responded well to a devastating injury to star attacker Mallory Pugh on Sunday. "But we've had great competition – that was an even game today and it was a pretty even game yesterday [a 3-2 setback to Slammers FC]. The level is really, really high."
Day three also brought a shift in perspective. Many coaches, having navigated their squads through the season's first National Event, began to focus on the bigger picture in terms of results, standings and the pursuit of a spot in the ECNL National Play-off at season's end.
FC Wisconsin Eclipse is a brand-new club staffed by former members of FC Milwaukee, and many of their U-15s traveled to Phoenix with little to no familiarity with ECNL play's pace and intensity. Coach Monica White's side – which included four U-14s and even one U-13 playing up due to short numbers – went 0-2-1 in Arizona, but she's confident that her players are taking home many useful lessons from their trip.
"The speed of the game is definitely more than kids that age are used to, so that was tough," White said after Monday's 2-0 loss to San Juan SC (Calif.). "And I just think playing three games in three days, the nerves got to them a little bit, being on such a big stage.
"But the experience that they have will be huge as we continue to play in our conference and participate in further events, because now they're into it. I think they've gotten the experience and now they can put some of that nervousness, that 'What is it going to be like?' and the unknown behind them, and really play."
Those further along in the development process have their own post-Phoenix agenda, and will look to display an improved product at the National Events still to come.
"We're going to learn a lot from this weekend," said Payne. "We've got a lot to work on, we got some good results but we didn't play our best. Hopefully over the course of the year, if we meet these teams again we'll be a better team."
Some of these teams will take part in the next stop on the ECNL National Event Series, in Sanford, Fla. at the end of December, while others will wait until the new year, when Frisco, Tx., San Diego and Zarephath, N.J. host events. U-15 and U-18 teams participate in two national events per season, and U-16s and U-17s take part in three of these events.
[ +Visit the Phoenix National Event's home page for further details ]