Arizona heat challenges players at ECNL National Event: Phoenix
By Charles Boehm
PHOENIX – As turning leaves, cooling temperatures and Halloween candy on the grocery shelves would indicate, much of the United States is already well into the autumn season.
Summer conditions still reign here at the Elite Clubs National League National Event this week, however, where clear skies and a hot desert sun have pushed the mercury towards triple digits as hundreds of the nation's top girls soccer players take part in three high-quality games in three days.
The locals are quick to tell you that this is mild for the Valley of the Sun.
"This isn't bad!" chuckled Paul Lester, a coach at local club and ECNL member SC del Sol, at the Reach 11 Sports Complex on Sunday. "This is easy. Wait until it's 120 in the middle of July. This is actually nice and cool."
With each team here playing three important games in three days – many in front of college scouts – conditions have required intelligent decision-making from players and coaches, both on and off the field.
"They've got to manage games as well," noted Sporting Blue Valley coach Huw Williams. "Gone are the days of just working harder than somebody else. You've got to be smarter, tactically sound. That's a good side [to the weather]."
Several coaches echoed this point, noting that the nation's tradition of unlimited substitutions in youth play has allowed endless running to take the place of tactical savvy. ECNL rules have addressed this with a "no re-entry" policy that limits substitutions: seven per half with no re-entry in the same half that a player leaves the game in Under-14 through U-17 age group matches, and for U-18 level, seven per match with no re-entry once a player leaves the game.
"There are times in the game where you have to manage the game, where you can't go all out 100 percent of the time," said Lester, an Englishman with more than two decades of playing and coaching experience in the U.S.
"To be honest, that's what it's like in the rest of the world. As far as I understand it, this is the only country in the world that allows players to go back into the game [after being substituted]. Most of these countries, they're playing 80-, 90-minute games, so they have to manage it. Our kids need to understand how to do the same thing."
ECNL players are also educated about recovery and regeneration practices based on sports physiotherapy principles. All weekend club coaches have been reminding their players to hydrate constantly before and after their games, make healthy eating choices and reduce postgame soreness by spending time in ice baths and/or swimming pools.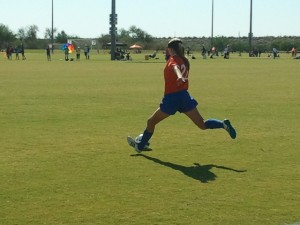 Similarly, leading ECNL partner Gatorade is out in force at every league event, providing players with their "G Series" products, including energy chews, electrolyte thirst quenchers and protein-rich recovery drinks. Referees are also mandating water breaks for both teams midway through each half.
"We're used to 90 degrees with 95 percent humidity, not 105 with 60 percent," joked Atlanta Fire United coach Mark MacKain. "But [the players] jump in the pool to get the lactic acid out of them. They'll get themselves together. It's another thing these guys have got to do to bond. The more they do together, the closer they get on the field, and it's everything – eating, sleeping, traveling, pool."
Soccer has become a year-round sport in the U.S. and warm, dry conditions are a constant reality for teams from certain parts of the country. Many of them have even embraced the Phoenix heat. And to the credit of its organizers and hosts, field quality at the ECNL National Event: Phoenix has been impeccable, with nearly all games taking place on lush, manicured natural-grass fields.
"We don't mind it at all," said Tulsa SC Hurricanes (Okla.) coach Kevin King said of the heat after his U-16 team upset national power Slammers FC (Calif.) 2-1 on Sunday. "We like to play these teams that are coming from milder climates."
[ +Visit the ECNL National Event: Phoenix home page for more information ]