ECNL Girls Phoenix Spring 2023 National Event: Day 2 Recap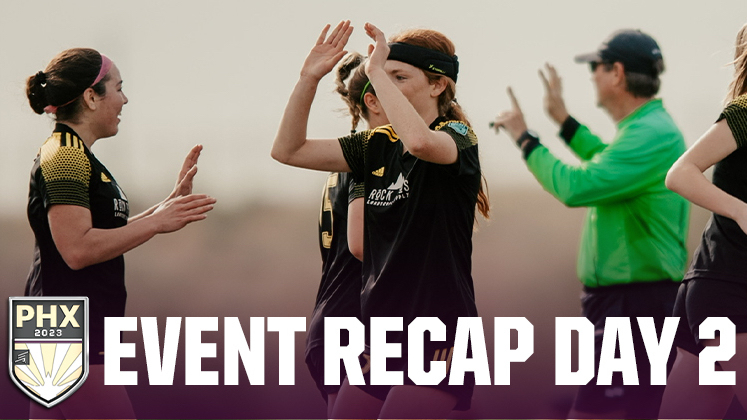 The ECNL Girls Phoenix National Event continued on Saturday with the second day of competition for over 250 teams across the U12-U17 age groups.
See below for recaps from two of the day's top matchups. For a look back on Friday's ECNL National Selection Game, click here.
MVLA vs Slammers FC HB Køge 3-2
(2010 age group)
At the 2010 age group, Saturday's action featured a thrilling battle between two of the elite teams in California as MVLA took on Slammers HB Køge. Both sides came into the game looking to follow up a pair of shutout victories from Friday's games.
Slammers got off to a quick start, scoring two goals in the first half and taking that 2-0 lead into halftime. MVLA responded with a brilliant second half rally though.
McKenna Whitham got the rally started from the penalty spot to cut the Slammers lead in half, before adding on an assist to help MVLA draw level. MVLA then grabbed the lead when a dazzling cross into the box found the back of the net to put them on top 3-2 and complete the impressive come from behind win.
"Somehow we just always fight back. MVLA is special like that. We don't stop and we just keep grinding," said Whitham.
Not only was MVLA resilient, but despite falling behind early, Whitham thought MVLA was solid throughout the course of the game. The defense continued to play well even when they were behind and the opportunities they created offensively helped spur the comeback.
"Our defense was really good," Whitham said. "We played strong, physical, and had lots of opportunities."
MVLA has had a strong year in the NorCal Conference and currently has a 12-0 record in conference play. Whitham believes the opportunity to come to Phoenix and play against some of the other elite teams from around the country is a great opportunity, and will only help her team as they move forward in the season.
"It's really cool that we play all these amazing teams," Whitham said. "We come out here and play these strong SoCal teams and all these other teams from out of the state. I just think it's a great opportunity to play against those teams and it makes us stronger."
As they go into the last day of games, Whitham expects another strong challenge, but believes her and her teammates will be ready to try to finish the weekend undefeated.
"They're going to come at us hard and we're going to be ready," Whitham said.
LAFC So Cal vs Pleasanton Rage 2-0
(2008 age group)
In the 08 age group, LAFC So Cal fired home two second half goals in a hard fought win over Pleasanton Rage.
The scoring opened up in the second half after both sides battled back and forth through a defensive first half. In the second half though, LAFC fired home a penalty to take a 1-0 lead. Later in the half, Gianna Sandoval doubled the LAFC lead after receiving an excellent pass to set her up for the finish.
LAFC held onto that 2-0 lead the rest of the way to come away with the victory.
"I thought our team's performance was very brave and courageous to cover a lot of ground against a team that plays diagonal, direct, and across channels," said Head Coach Mario Merino.
While Merino praised the effort of his whole team throughout the game, he noted how strong Sandoval's performance was and how she was one of the difference makers in the game.
"She was in there, she made a few plays and she was able to look for the goal," Merino said.
"We did a good job playing as a team and getting offensive attacks," Sandoval said.
While the offensive success in the second half was great for LAFC, Merino really emphasized how proud he was of the way his team found a way to grind out a win over a tough opponent.
"For our team, I'm very proud of just digging down deep and grinding it out, listening to one another, playing for one another, and covering one another, so great teamwork."