ECNL Girls holding Spring 2023 Phoenix National Event with 254 teams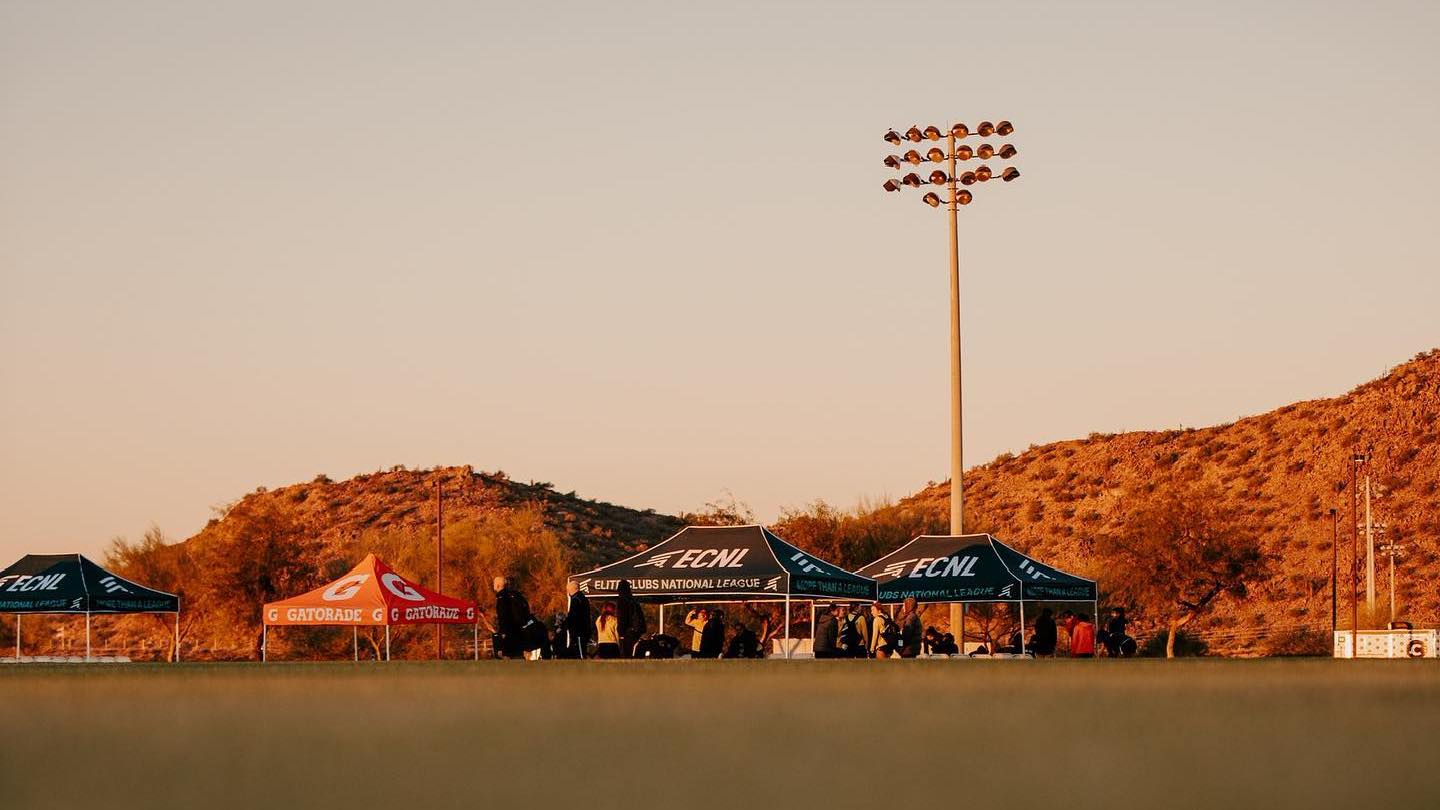 The ECNL Girls is headed to the Valley of the Sun this weekend for ECNL Phoenix (Mar. 31-Apr. 2) at Reach 11 Sports Complex and Scottsdale Sports Complex. Over three days, some of the best clubs and elite talent from the ECNL Girls will be in action.
This weekend's event will feature 254 teams from the U12-U17 age groups.
Friday night will also feature the Continental Tire Girls National Selection Game (View Rosters) at 6:00 PM on Field 1 at Reach 11 Sports Complex. The game will feature players from the U15-U17 age groups and can be live streamed here.
Check out all the information below to learn everything you need to know about this event.
Date: Mar. 31-Apr. 2, 2023

Location: Reach 11 Sports Complex | Phoenix, AZ
Scottsdale Sports Complex | Scottsdale, AZ
Schedule: Every team is guaranteed three games in three days, playing competition of similar levels outside of their league. Check out the revamped ECNL app for the complete schedule, or view the full schedule of games here
Full Team List: 65 clubs from all 10 different ECNL Girls conferences. See every team that will be competing at ECNL Phoenix here
NorCal vs Southwest: At the U16 age group, MVLA is currently at the top of the NorCal Conference with a 9-2 overall record. This weekend they take on a stacked slate of games against the Southwest Conference as they face off with Slammers FC (6-3-3), Slammers FC HB Køge (13-0), and Legends FC (10-1-2).
Best of the Northwest: At the U17 age group, La Roca FC enters the weekend with a 7-1 record in the Northwest Conference, good enough for second in the conference. This weekend they take on some of the other top teams from around the country as they face off against San Diego Surf (12-0), Internationals SC (7-0), and So Cal Blues (10-2-1).
More Information: To view the address for the complex, parking, and more ECNL Phoenix information, click here
ECNL GIRLS PHOENIX (SPRING)
March 31-April 2, 2023 | TEAM LIST
U12
U13
U14
U15
U16
U17
AZ Arsenal
Albion Hurricanes FC
Albion Hurricanes FC
AZ Arsenal
AZ Arsenal
Arlington Soccer
Eastside FC
AZ Arsenal
AZ Arsenal
Bay Area Surf
Bay Area Surf
AZ Arsenal
Heat FC
Bay Area Surf
Bay Area Surf
Boise Thorns FC
Beach FC (CA)
Bay Area Surf
LA Breakers FC
Boise Thorns FC
Boise Thorns FC
Crossfire Premier
Boise Thorns FC
Beach FC (CA)
MVLA
Challenge SC
Challenge SC
Dallas Texans
Crossfire Premier
Boise Thorns FC
Northwest Elite FC
Crossfire Premier
Dallas Texans
Davis Legacy
Davis Legacy
Crossfire Premier
Pateadores
Dallas Texans
De Anza Force
DeAnza Force
DeAnza Force
Davis Legacy
Phoenix Rising FC
De Anza Force
Del Mar Sharks
Del Mar Sharks
Del Mar Sharks
DeAnza Force
San Diego Surf
Del Mar Sharks
Eagles Soccer Club
Eagles Soccer Club
Eagles Soccer Club
Del Mar Sharks
San Juan SC
Eagles Soccer Club
Eastside FC
Eastside FC
Eastside FC
Eagles Soccer Club
Seattle United
FC Dallas
FC Dallas
FC Bucks
FC Alliance
Eastside FC
So Cal Blues SC
FC Wisconsin
FC Wisconsin
FC Pride
FC Pride
FC Alliance
So Cal Blues SC RL
Heat FC
Gretna Elite Academy
FC Stars Blue
FC Stars Blue
FC Pride
Sting Dallas Royal
Kansas City Athletics
Heat FC
Heat FC
FC Stars White
FC Stars Blue
SUSA FC
LA Breakers FC
Kansas City Athletics
Internationals SC
Heat FC
FC Stars White
Utah Royals FC AZ Blue
La Roca
LA Breakers FC
LA Breakers
Internationals SC
Heat FC
Utah Royals FC AZ Red
LAFC So Cal
La Roca
La Roca
LA Breakers
Internationals SC
Legends FC
LAFC So Cal
LAFC So Cal
La Roca
LA Breakers
Marin FC
Legends FC
Legends FC
LAFC So Cal
La Roca
Mustang SC
Marin FC
Marin FC
Legends FC
LAFC So Cal
MVLA
Minnesota Thunder Academy
Minnesota Thunder Academy
Marin FC
Legends FC
Oklahoma Energy
MVLA
Mustang SC
Minnesota Thunder Academy
Marin FC
Pacific Northwest SC
Oklahoma Energy
MVLA
Mustang SC
Minnesota Thunder Academy
Phoenix Rising FC
Pacific Northwest SC
Ohio Elite SA
MVLA
Mustang SC
Placer United
Pateadores
Ohio Premier
Northwest Elite FC
MVLA
Pleasanton Rage
Penn Fusion SA
Oklahoma Energy
Ohio Elite SA
Northwest Elite FC
Pride SC
Phoenix Rising FC
Pacific Northwest SC
Ohio Premier
Ohio Elite SA
Real Colorado Athletico
Placer United
Pateadores
Orlando City Youth Soccer
Ohio Premier
Real Colorado National
Pleasanton Rage
Penn Fusion SA
Pacific Northwest SC
Pacific Northwest SC
San Diego Surf
Pride SC
Phoenix Rising FC
Pateadores
Pateadores
San Juan SC
Real Colorado Athletico
Placer United
Phoenix Rising FC
Phoenix Rising FC
Seattle United
Real Colorado National
Pleasanton Rage
Placer United
Placer United
Slammers FC
Rebels SC
Portland Thorns Academy
Pleasanton Rage
Pleasanton Rage
Slammers FC HB KØGE
San Diego Surf
Rebels SC
Portland Thorns Academy
Portland Thorns Academy
SLSG Green
San Juan SC
Richmond United
Rebels SC
Rebels SC
SLSG Navy
Slammers FC
San Diego Surf
San Diego Surf
San Diego Surf
So Cal Blues SC
Slammers FC HB KØGE
San Juan SC
San Juan SC
San Juan SC
Sporting Blue Valley
SLSG Green
Santa Rosa United
Santa Rosa United
Santa Rosa United
Sporting CA Arsenal FC
SLSG Navy
Seattle United
Seattle United
Seattle United
Sting Austin
So Cal Blues SC
Slammers FC
Slammers FC
Slammers FC
Sting Dallas Black
Sporting Blue Valley
Slammers FC HB KØGE
Slammers FC HB KØGE
Slammers FC HB KØGE
Sting Dallas Royal
Sporting CA Arsenal FC
So Cal Blues SC
So Cal Blues SC
So Cal Blues SC
SUSA FC
Sting Austin
Sporting CA Arsenal FC
Sporting CA Arsenal FC
Sporting CA Arsenal FC
Tulsa Soccer Club
Sting Dallas Black
Sting Austin
SUSA FC
SUSA FC
Utah Royals FC AZ
Sting Dallas Royal
Sting Dallas Black
Tulsa SC
Tulsa SC
Utah Royals FC AZ RL
SUSA FC
Sting Dallas Royal
Utah Avalanche
Utah Avalanche
Tulsa SC
SUSA FC
Utah Royals FC AZ
Utah Royals FC AZ
Utah Royals FC AZ
Tulsa SC
Washington Premier
Washington Premier
Utah Avalanche
Utah Royals FC AZ