ECNL Boys Virginia National Event 2022 Recap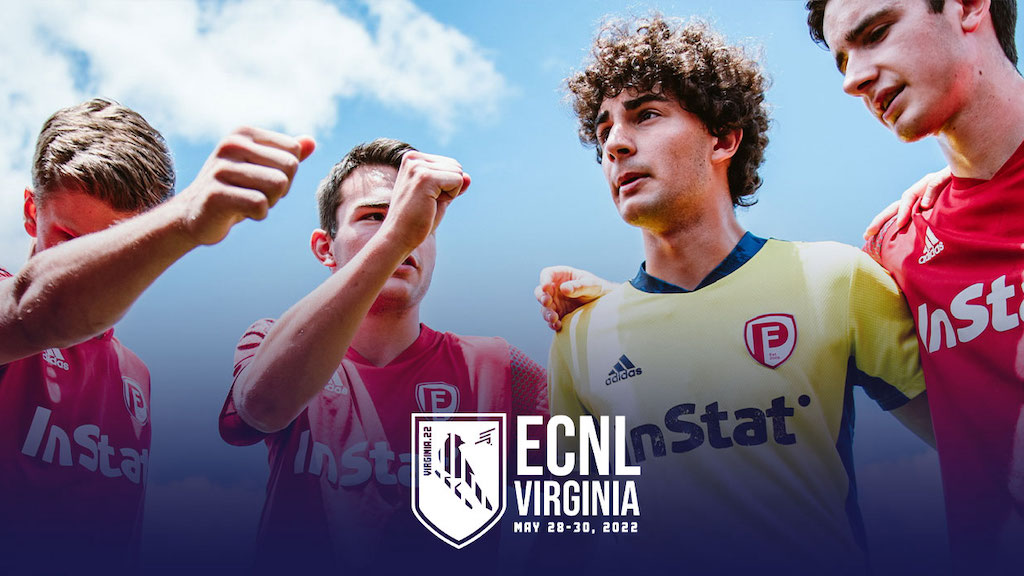 ECNL Virginia wrapped up Monday afternoon, closing out the ECNL Boys event season. The three-day showcase featured more than 140 teams from more than 50 clubs competing against teams outside their conference. The event was also the final National Selection Game of the season, which saw Team West score three goals in the first half en route to a 4-1 victory.
Along with the fantastic NSG and three consecutive days of strong competition from every team, ECNL Virginia marked the last chance for teams to face teams from outside their conference and measure themselves up before the ECNL Boys National Playoffs in San Diego.
Richmond United's U16 team has had a strong season so far, currently in second place in the Mid-Atlantic Conference and ranked No. 7 in the ECNL Champions League standings for the ECNL Boys National Playoffs. With the team's conference schedule already wrapped up, ECNL Virginia was the last opportunity for the team to tinker and prepare for a championship run in the Mid-Atlantic Cup and ECNL National Playoffs.
The Richmond squad turned out an impressive weekend, drawing Crossfire United 1-1 in the weekend's first game. Richmond United then shut out Penn Fusion 3-0 before closing out ECNL Virginia by handing Pittsburgh Riverhounds a defeat. Earning a win Monday was especially important for the club, as that win was the last game with Head Coach Ivan Militar as the boss.
"We had an unbeaten weekend, which I was really proud of," Militar said. "This was probably the best team I've ever coached. One of the major things about the team is that we never steered away from how we should be playing. From the beginning of the season to the end, I'm really proud of how we played throughout the year and how we competed. It was great to see the player's development and their commitment to trying to win a championship."
The ECNL is not just at the forefront of player development, but coaching development is also vitally important. Militar is an example of this, as after leading a very talented Richmond United team to one of the club's best finishes, he will join USL Championship's El Paso Locomotive as the club's Academy Director. Earning a win with the U16 Richmond United team, paired with a come-from-behind victory with his U15 team as well, gave Militar an emotional and proud send-off.
"I'm really glad with how the whole showcase went," Militar said. "Both of my teams said goodbye to me with wins with tremendous play and character. And then we got together and hugged each other. It was a beautiful day and a special day. I am very, very proud to be a part of this organization."
But Richmond United prides itself on having a strong club culture, one that embodies "next person up" on and off the field. Despite it being Militar's final game, he and the rest of the team are confident that the U16 side will be able to see their vision and goals through to the end and lift a national trophy.
"Richmond United is a special club, and I got to work with very special people," Militar said. "But the club has done great preparation for the playoffs coming up. The staff knows what it takes to be successful, as do the players. The leadership is doing a fantastic job from top to bottom, and the friendliness and togetherness of the staff, it permeates down to the players as well. I want to thank them for everything they've done to help me and I know they are going to do a fantastic job getting this team across the finish line."
Also using ECNL Virginia as a springboard to San Diego was Penn Fusion's U17 team, playing in a very tough Northeast Conference to hone their skills for the national competition. Penn Fusion turned out a third-place finish in the Northeast, which will be sending seven teams to San Diego for the ECNL Boys National Playoffs.
Penn Fusion started out the event with back-to-back wins, defeating NTH-NASA and CESA Saturday and Sunday, scoring 10 goals combined between the two games. However, the team stumbled Monday, suffering a defeat at the hands of Pipeline SC. Despite the loss, Penn Fusion Academy Director Jamie Scott felt it was a good weekend heading into the final weeks of the season.
"There's a lot of good lessons to take from this weekend," Scott said. "The best part about these showcases is being able to play teams from different parts of the country, because their style is different, how they prepare is different. It's a good metric for us to use to ask, 'How good are we really? Where do we stand?' It's a fun challenge and really good questions for us to ask at this time of year."
Tor Penn Fusion and every other U17 team, the showcases also serve as an opportunity to highlight players for scouts in attendance. With hundreds of scouts in attendance at ECNL Virginia, playing highly-competitive games was a big opportunity for the players.
"The exposure to college coaches is a huge positive for our club and our team," Scott said. "These guys are trying to get more traction and potential options to play at the next level, and this weekend was really positive in that regard."
The team still has two conference games remaining, which may help move them even higher up the table and earn a better ECNL Champions League draw. But what these two weeks of competition for Penn Fusion will do is allow the club to reset itself and get in the right frame of mind to chase down a championship at the ECNL National Playoffs.
"Right now it's a lot of refining," Scott said. "Trying to make sure we're all on the same page as we prepare for what will be a very difficult challenge in San Diego. We had a strong start to the season at ECNL Florida, but then had a blip of sorts the last six or seven weeks. So getting two good wins here at ECNL Virginia and then some time off between the event and playoffs, it will be a good reset for us. We can learn what our weaknesses are, correct those things, and then head to San Diego stronger as a group."
ECNL Virginia allows for clubs such as Richmond United and Penn Fusion to gear up for a long playoff run. It tests them, making sure fitness levels are where they need to be and when the team faces challenges, they are able to adapt and overcome and still find a way to victory.
It's been a long season, with every game and every club marching toward the same goal: the ECNL Boys National Playoffs. San Diego is just over the horizon, and it can't come soon enough.