Day 2 Recap from the 2023 ECNL Girls Houston National Event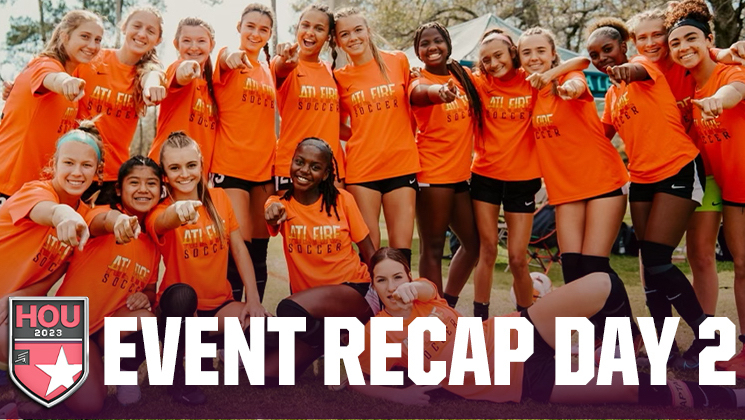 The second day of the ECNL Girls Houston National Event had competitive games all over both Meyer Park and Burroughs Park. Here are recaps of some of the top battles throughout the day.
Gretna Elite Academy vs Florida Premier FC 2-1
At the 08 level, Gretna Elite fought back from a 1-0 deficit and rallied to seize a 2-1 win over Florida Premier.
Florida Premier opened the scoring in the first half after Avery Latini gained possession of a loose ball in the box and was able to slide it home to give Florida Premier a 1-0 edge. The scoring chances continued for Florida Premier as they saw a shot hit off the post about 10 minutes after their opening goal.
Gretna Elite rallied in the second half though and began creating more scoring opportunities of their own. In the 65th minute, Katharine Horstman leveled things up at 1-1 and then Abigail Gibbs headed home the game winner off a corner kick in the 83rd minute to give Gretna Elite the 2-1 victory.
"I challenged them after yesterday's game to come out and compete and battle today and we certainly did that and battled in the second half to come back and pull out a really good result for us against a really good team," said Head Coach Greg Jordan. "I was really proud of the girls."
Jordan noted the confidence his team will gain from the game will not only help them tomorrow, but also moving forward in conference play for the remainder of the season.
"This was just a massive confidence booster for our girls," Jordan said. "We play in a very good conference in the Midwest and have some tough games. So, to come here and play against a good team and be able to come out, claw back, and get a result just gives us a massive confidence boost going into tomorrow and finishing off the season for us on a good note."
Oklahoma Energy FC vs Sporting Blue Valley 1-0
At the 07 level, Oklahoma Energy FC pulled out a tightly contested 1-0 victory over Sporting Blue Valley.
Olivia Wright scored the lone goal of the match on an Olimpico in the 21st minute. She nearly added in a second incredible goal when she took a long range free kick in the second half and rang one just off the crossbar.
Sporting Blue Valley held strong defensively throughout the second half to keep themselves in the game and created some chances down the stretch, but Oklahoma Energy managed to preserve their clean sheet and come away with the 1-0 win.
"Olivia Wright has passing range that's unbelievable," said Head Coach Michael Moritz, when asked about her goal. "That's her strength, not just smacking balls, but her passing range is unbelievable."
"Overall, with two subs on a weekend like this, playing against top talent it's a grind, but overall I'm very pleased, especially with the second half," Moritz said.
Going into the final day Moritz expects his team to finish on a high note.
"We're a very complete team, attacking and defensively, and so if I were to guess I think we'll finish more tomorrow."
Atlanta Fire United vs Northwest Elite FC 1-0
Also at the 07 level, Atlanta Fire United earned a hard fought 1-0 win over Northwest Elite FC.
Margaret Pritchard put Atlanta Fire on top 12 minutes into the game with a goal to open up the scoring. Although the goal would be the lone goal of the match, both teams continued to battle to create chances throughout the game.
Atlanta Fire held strong defensively throughout the match, including clearing away a corner right before the final whistle to preserve their 1-0 clean sheet.
"We increased the speed of play and our positioning was better in today's game compared to yesterday," said Head Coach Mirza Mustafic. "Overall, the chemistry on the field was better which ultimately led us to win this game."
Mustafic also noted the defense play of his team improved greatly today and credited their communication with one another as a major factor in helping them get the win.
"Compared to yesterday, I thought we definitely played better defensively," Mustafic said. "More communication on the field which allowed us to control the game and the environment."
While Mustafic said it will be important for his team to be ready physically going into tomorrow's third game in as many days, he also believes the mental approach his team has will be extremely important as they look to continue to develop and improve as a team.
"The focus is going to be on recovering physically, but I think also for me, it is very important mentally to be hungry going into the next game and put a good performance in and continue to develop the team and develop the players."