Cornell signs 2023 recruits representing eight different ECNL and GA clubs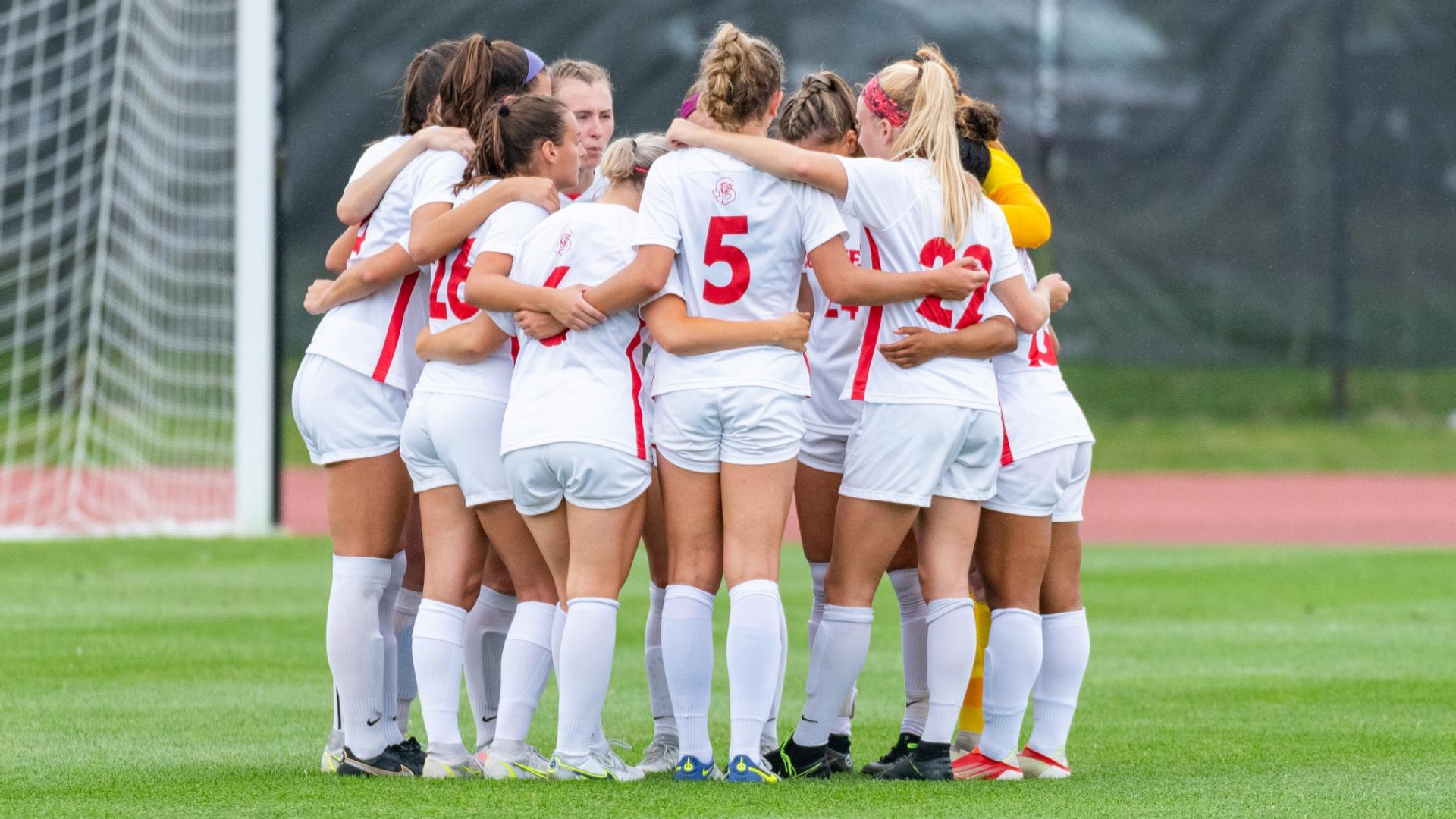 ITHACA, N.Y. — Cornell women's soccer head coach Rob Ferguson announced that eight players — all of which will be freshman — are slated to join the program for the 2023 campaign.
"I am very excited for the incoming class," Ferguson stated. "We have a good balance of players across all positions. We are excited to see who can step up in year one and be an impact player for us while being confident they can all do this over the course of the next four years and fit in with our team-first culture every step of the way."
Those that will join the Big Red this fall include forwards Sydney Allen and Alanna Colbert, forward/midfielder Emily Gibbons, midfielder Brooke Brown, defenders Isabel Chapman and Kayla Ristianto, and goalkeeper Naomi Glassberg.
Incoming Player Bios
Sydney Allen
Forward • 5-9 • Rockville, Md. • Maryland United ECNL
• Claimed North American National Championship in 2022 with Maryland United ECNL.
• Leading scorer with 11 goals and five assists at Bethesda-Chevy Chase HS.
• Received All-Met Honorable Mention during freshman year, lone freshman to earn honor.
• Won state championship in swimming and diving in 2020.
Ferguson on Allen: "Sydney joins us from Maryland United ECNL, as did current Big Red MVP Cecily Pokigo. Sydney was the last player to join this class and is a very exciting player who is impactful on the attacking end of the field. She brings a balance of athleticism and technical quality playing as a wide forward and we think she can become a threat quickly in the Ivy League."
Brooke Brown
Midfielder • 5-7 • Barrington, Ill. • Eclipse Select ECNL
• Four-year letterwinner at Barrington HS.
• Earned All-State and All-Conference honors from IHSA, and was named to Cook County All-Area team in 2022.
• Named Mid-Suburban Player of the Year in 2022.
• Ranked as the No. 25 recruit in the Midwest, according to Top Drawer Soccer.
Ferguson on Brown: "Brooke is an attacking center midfield player who also has plenty of fight defensively. Brooke joins us from Eclipse ECNL where she is a constant threat in both creating and scoring goals every time we see her play. She joins a midfield group full of quality already and adds to the depth in this department from the get-go."
Isabel Chapman
Defender • 5-8 • Ann Arbor, Mich. • Michigan Hawks ECNL
• Won 2019 Michigan MYSYA Fall State Cup championship with the Michigan Hawks.
• Appeared in Elite Eight of 2021 ECNL National Championship before playing in 2022 ECNL National Championship.
Ferguson on Chapman: "Isabel comes from another top team at a top club in Michigan Hawks ECNL. She adds to our depth in the center of defense immediately. Isabel is smart tactically and can contribute on both sides of the ball."
Alanna Colbert
Forward • 5-4 • Lexington, S.C. • South Carolina United FC ECNL
• Four-year letterwinner at River Bluff HS where she was a three-time captain, and concluded as the program's all-time leader in goals and assists.
• Named to the All-Region team in 2021 before.
• Received Region V 5A Player of the Year and The State's All-Area Player of the Year in 2022.
• Two-time SCHSSCA All-State team selection (2021 and 2022).
• Honored by United Soccer Coaches with All-Atlantic Region team honors.
Ferguson on Colbert: "Alanna is a player who we had at two ESI ID Camps and did incredibly well at both. She did so well that we jumped at the chance to have her join immediately after the second camp. Alanna brings attacking creativity and power to the center forward position."
Emily Gibbons
Midfielder/Forward • 5-9 • Hingham, Mass. • South Shore Select GA
• Earned three letters in soccer at Hingham HS, where she won a state championship in 2022.
• Also helped guide Hingham to three Patriot League Championships (2020, 2021, 2022).
• Named two-time Patriot League All-Star (2021, 2022) and was named Patriot League Scholar-Athlete in 2022.
• Selected to Second Team All-EMass in 2021.
Ferguson on Gibbons: "Emily joins us from South Shore Select and is a player we watched many times during the recruiting process. We see a lot of exciting attacking potential in her. She has good attacking tendencies, moves very well on the ball, and can score goals from the 10 or 7/11 position."
Naomi Glassberg
Goalkeeper • 5-6 • New Tripoli, Pa. • FC Bucks ECNL
• Spent time playing club soccer with FC Bucks ECNL.
• Played four years at Northwestern Lehigh HS, aiding Tigers to three Colonial League championships (2019, 2020, 2021).
• Earned four PIAA District XI championships (2019-22) and was a state quarterfinalist in all four seasons.
• Named two-time captain for 2021 and 2022 campaigns.
• Four-time Lehigh Valley All-Area First Team honoree (2019, 2020, 2021, 2022) and three-time Morning Call All-Area Girls Soccer First Team (2020, 2021, 2022).
• Also lettered in track and field, earning Colonial League championship in 1600-meter relay in 2021.
Ferguson on Glassberg: "Naomi joins us from FC Bucks ECNL where she has been a superb goalkeeper on a very good soccer team for a number of years now. Naomi has excellent hands and distribution — both short and long — and we expect her to come in and immediately apply pressure to our returning goalkeepers."
Ava Jung
Midfielder • 5-9 • Richmond, Va. • Richmond United ECNL
• Aided Richmond United ECNL to 2021 ECNL Mid-Atlantic championship.
• Appeared in Elite Eight of National Championships in 2021 and 2022, while making Final Four appearance in 2021 and finishing third.
• Four-year letterwinner in soccer at Douglas S. Freeman HS, where she guided team to 2021 VHSL regional championship.
• Named to VHSL Soccer All-Region C team in 2022, while being named Team MVP.
• Served as team captain during 2022 season.
Ferguson on Jung: "Ava was the first committed player in this incoming class and I knew from the first time I saw her play she had bags of quality and the athleticism to compete and impact in the Ivy League. We watched Ava for about a year and were left in no doubt as she controlled the tempo in possession and was a rock defensively for her Richmond United ECNL team as they challenged for national titles year after year."
Kayla Ristianto
Defender • 5-4 • Dallas, Texas • FC Dallas ECNL
• Aided FC Dallas ECNL to a third-place finish at the 2022 ECNL National qualifiers.
• Named to U17 ECNL Second Team Texas All-Conference in 2022.
• Played as an attacking midfielder on the Lakehill Preparatory School boys team for three seasons, aiding team to 2022 TAPPS Bi-District championship
• Earned TAPPS Boys First Team All-District and was TAPPS Boys All-State Honorable Mention in 2022.
• Named to TAPPS Second Team All-District in 2021.
• Concluded final two years finishing as TAPPS Boys area finalists.
• Three-time TAPPS Academic All-State.
• Spent four years as a sprinter in 100- and 400-meter events, finishing as a state champion in 400-meter (2021) and 4×100-meter relay (2022).
Ferguson on Ristianto: "Kayla is an exciting player, and continues the trend in recent years of signing technical, quick wide defenders who are very adept at getting in to the attack in wide areas and inside. Kayla has incredible experience from her FC Dallas ECNL team, who have consistently been one of the best teams in the country for many years."
Looking Ahead
The eight freshmen will join a Cornell squad that finished last season with a 4-7-5 record, which was the program's best finish to a year since 2015. Cornell also won two Ivy League games, marking the most by the program since 2016.
Cornell returns over 75 percent of its offensive production from last year, including 12 of its 14 goals scored. They also bring back nearly 75 percent of its games played from last season.