Conference champion UCLA dominates Pac-12 Season Awards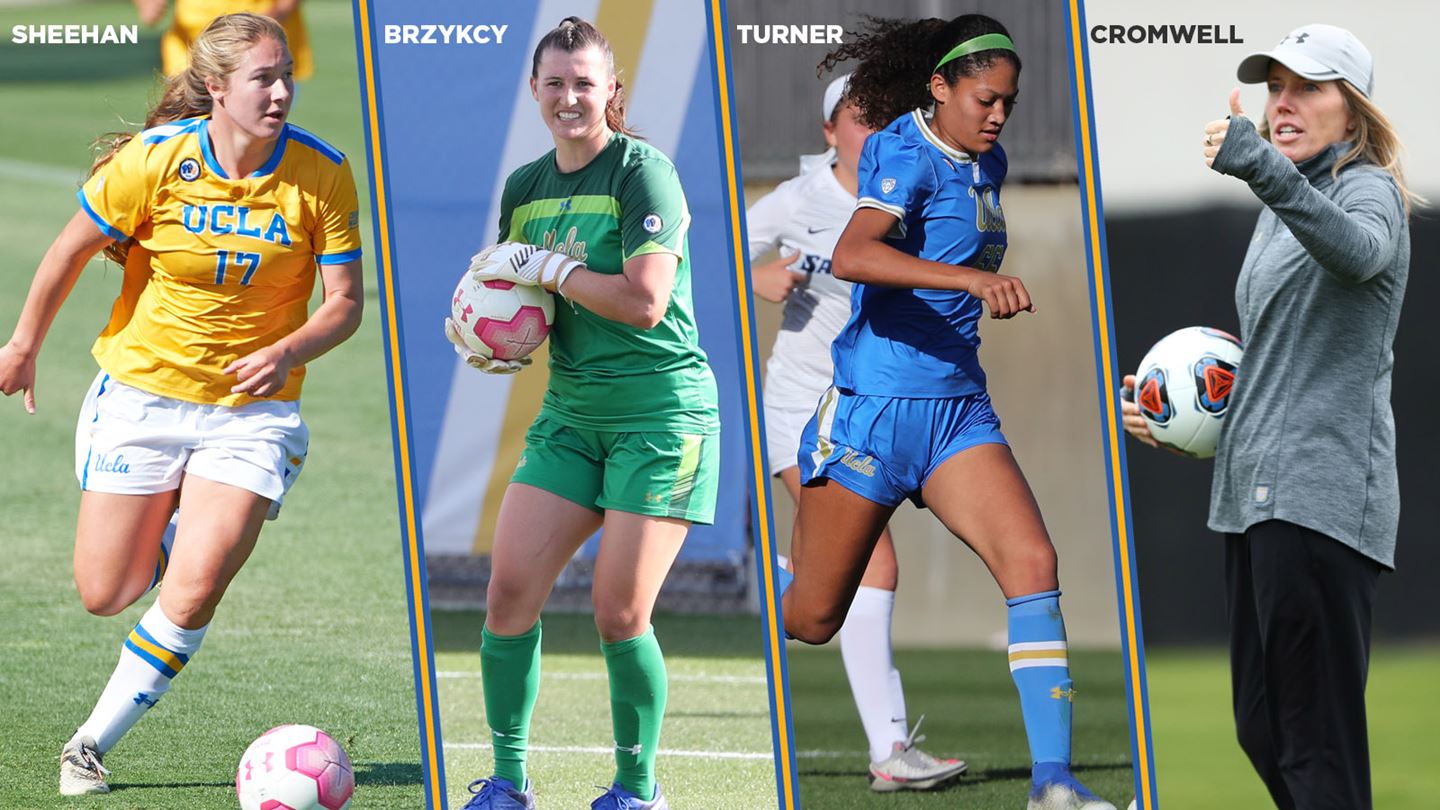 The Pac-12 champion UCLA Bruins flexed their muscles in the year-end women's soccer conference awards, as head coach Amanda Cromwell was voted the Coach of the Year, Delanie Sheehan received Midfielder of the Year acclaim, Lauren Brzykcy was tabbed the Goalkeeper of the Year, and Reilyn Turner earned Freshman of the Year honors.
UCLA also had six players on the all-conference teams and a league-high three on the all-freshman team.
Cromwell led UCLA to its 12th conference title and first since 2014, which is also the first year she earned conference coaching honors. The Bruins went 9-1-1 in Pac-12 play in 2020-21 and enter the NCAA Tournament as the No. 3 overall seed with a 12-1-2 record. Cromwell's Bruins led the conference from start to finish and clinched the Pac-12 title with two matches to play. In her eighth season as head coach at UCLA, Cromwell has guided UCLA to three College Cups, five quarterfinals and six Round of 16 appearances, along with three Pac-12 titles and the 2013 NCAA title.
[+READ: NCAA Women's Soccer Tournament bracket unveiled]
Sheehan becomes UCLA's first Pac-12 Midfielder of the Year in the award's four-year history. The senior has recorded four goals with five assists this year, including two goals and an assist in the Bruins' last two games. Sheehan is a finalist for the Senior CLASS Award, which honors student-athletes who excel both on and off the field. Additionally, Sheehan earned first-team All-Pac-12 honors after earning third-team acclaim in 2018.
Brzykcy is the second Bruin to earn Goalkeeper of the Year honors, joining Katelyn Rowland, who won the inaugural award in 2014. In her first year as the full-time starter, Brzykcy led the Pac-12 in wins with 12 and tied for the conference lead with seven solo shutouts. Additionally, she ranked second in the Pac-12 in goals against average (0.70) and save percentage (.855). A two-time Pac-12 Goalkeeper of the Week winner, Brzykcy had six games in which she totaled five or more saves this season, including a nine-save effort against USC on Mar. 18 and an eight-save game on Apr. 16, also against the Trojans. The San Clemente, Calif. native also earned first-team All-Pac-12 honors.
Turner, a forward from Aliso Viejo, Calif., is also a first-team All-Pac-12 honoree and UCLA's fifth Freshman of the Year winner and first since Darian Jenkins in 2013. Turner leads UCLA in scoring this season with nine goals and 22 points. She has two multi-goal games, scoring both goals in UCLA's 2-0 win at Utah and two goals in a 4-0 win over Washington State. Turner has recorded a goal or assist in UCLA's last five games.
Sheehan, Brzykcy and Turner were joined on the all-conference first-team by sophomore forward Mia Fishel and senior defender Karina Rodriguez. The five first-team honorees are the most by a Bruin team since the 2013 squad placed six players on the first team. Fishel ranks second on the UCLA team in scoring with six goals, five assists and 17 points and is tied for the Pac-12 lead with four game-winning goals. Fishel was a third-team all-conference selection a year ago. Rodriguez, a member of Mexico's full national team, is a stalwart of UCLA's defense, which has shut out seven opponents and allowed a 0.70 goals against average this season. Rodriguez was a third-team All-Pac-12 honoree in 2018.
Additionally, senior midfielder Marley Canales received her first Pac-12 all-conference honor as a second-team selection. Canales leads UCLA in assists and ranks third in the Pac-12 with six. She ranks third on the Bruin squad in points scored with 14 and has tallied four goals.
Joining Turner on the All-Freshman Team are forwards Sunshine Fontes and Kaila Novak. Fontes, who sat out last season with a torn ACL, came back to produce five goals, including two game-winners, and three assists, mostly in a reserve role. Novak has contributed one goal and three assists and has started in UCLA's last seven games. The freshman trio of Turner, Fontes and Novak have scored a combined 40 points this season (15 goals and 10 assists), contributing 41.2% of UCLA's total points.
2020-21 Pac-12 Conference Awards
Forward of the Year: Penelope Hocking, USC
Midfielder of the Year: Delanie Sheehan, UCLA
Defender of the Year: Kiki Pickett, Stanford
Goalkeeper of the Year: Lauren Brzykcy, UCLA
Freshman of the Year: Reilyn Turner, UCLA
Coach of the Year: Amanda Cromwell, UCLA
All-Conference First-Team
Penelope Hocking, USC
Mia Fishel, UCLA
Tara McKeown, USC
Delanie Sheehan, UCLA
Summer Yates, Washington
Croix Bethune, USC
Kiki Pickett, Stanford
Karina Rodriguez, UCLA
Hannah Sharts, Colorado
Lauren Brzykcy, UCLA
Reilyn Turner, UCLA
Ameera Hussen, Washington
All-Conference Second-Team
Jada Talley, Arizona
Nicole Douglas, Arizona State
Jill Aguilera, Arizona
Maya Doms, Stanford
Savannah DeMelo, USC
Makamae Gomera-Stevens, Washington State
Sydney Studer, Oregon State
Samantha Bruder, USC
Kaylene Pang, Washington
Angelina Anderson, California
Lieske Carleer, Arizona State
Alexia Delgado, Arizona State
Marley Canales, UCLA
All-Conference Third-Team
Civana Kuhlmann, Stanford
Emma Westin, California
Elyse Bennett, Washington State
Belle Briede, Stanford
Zoe Hasenauer, Oregon
Shanade Hopcroft, Colorado
Emily Smith, California
Croix Soto, Oregon
Olivia Van der Jagt, Washington
Dani Hansen, Colorado
Mykiaa Minniss, Washington State
Kaylie Collins, USC
Leah Freeman, Oregon
All-Freshman Team
Reilyn Turner, UCLA
Croix Bethune, USC
Leah Freeman, Oregon
Samantha Williams, Stanford
Shyra James, Colorado
Sunshine Fontes, UCLA
Maya Evans, California
Jazmine Wilkinson, Arizona State
Amaya Gray, California
Amy Sayer, Stanford
Taliana Kaufusi, Utah
Kaila Novak, UCLA