Final Big 12 Players of the Week honored for 2020-21 season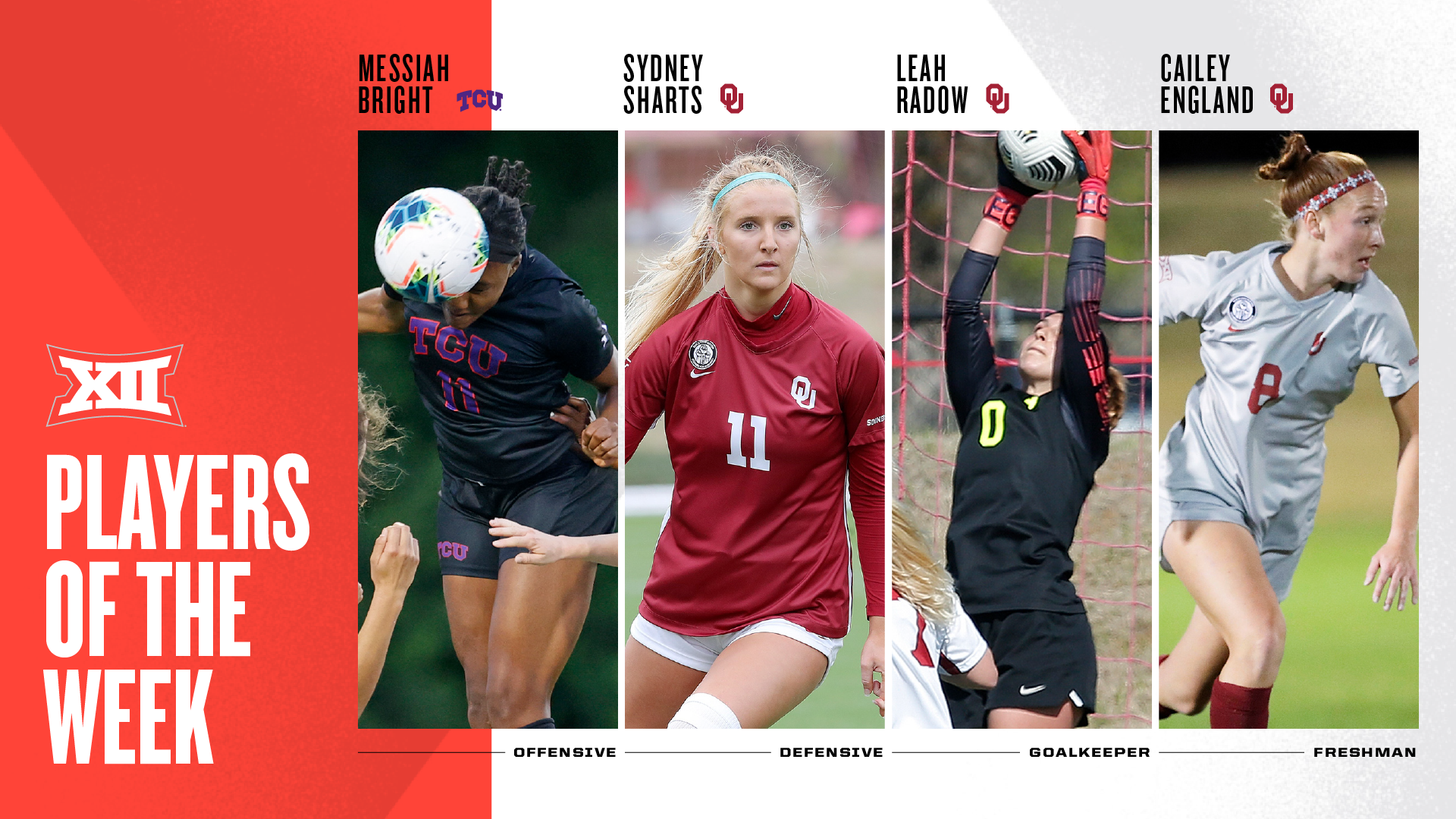 Oklahoma and TCU student-athletes collected weekly honors in the final Big 12 soccer awards of the 2020-21 season.
TCU's Messiah Bright was tabbed the Big 12 Offensive Player of the Week, while Sydney Sharts earned Defensive Player of the Week. Oklahoma's Leah Radow was tabbed the Goalkeeper of the Week, as Cailey England earned Freshman of the Week.
Bright scored the opening goal in the win over Notre Dame and assisted on what would be the eventual game-winner. It was the first time this season and the seventh time in her career she played a part in multiple goals in a contest. The junior matched her season high with four shots in the game.
Sharts anchored an OU defense that shutout K-State over 108 minutes of play. The freshman was responsible for the clearance of multiple Wildcat corners that kept the Sooners in the match, eventually leading to an Oklahoma win in double overtime.
Radow earned her first career victory in net and a clean sheet by holding K-State scoreless in the 1-0 double overtime win. The sophomore faced six shots and collected three saves in the victory.
England scored the golden goal in the 108th minute to power the Sooners to a season-ending win over K-State. It was the freshman's first collegiate goal.
All of this week's honorees are first-time recipients this season.
BIG 12 SOCCER PLAYERS OF THE WEEK – WEEK 17
Offensive Player of the Week
Messiah Bright, Forward, Jr., TCU
Defensive Player of the Week
Sydney Sharts, Defender, Fr., Oklahoma
Goalkeeper of the Week
Leah Radow, So., Oklahoma
Freshman of the Week
Cailey England, Midfielder, Oklahoma