Clemson captures ACC Men's Soccer Championship with 2-1 victory over Pitt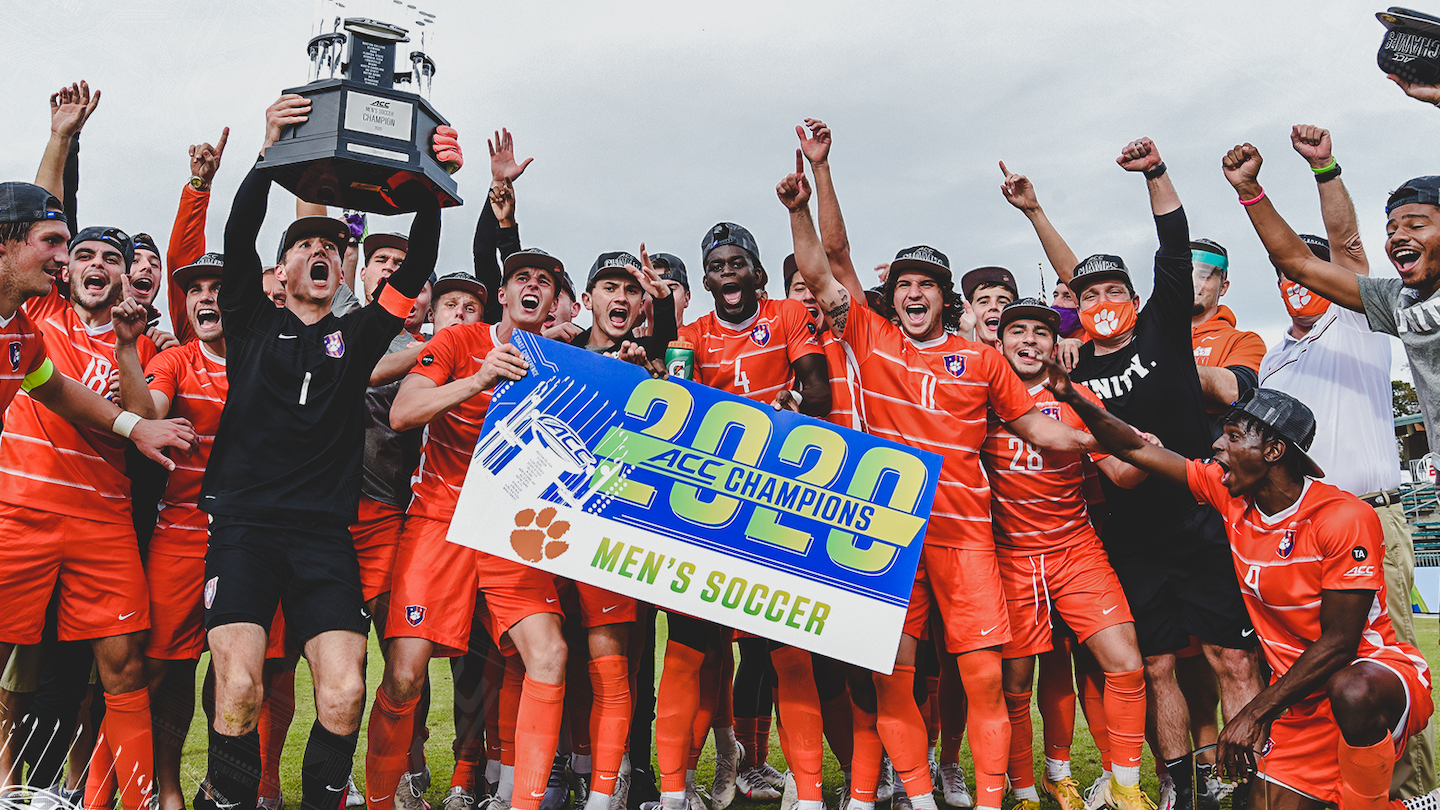 CARY, N.C. – Clemson captured the 2020 ACC Men's Soccer Championship on Sunday with a 2-1 triumph over Pitt in the title game featuring the nation's top two ranked teams at WakeMed Soccer Park in Cary, North Carolina.
Ranked second nationally, the Tigers (8-2-1) claimed their 15th ACC crown all-time, including their fourth tournament championship. Making its first ACC Championship game appearance and entering as the nation's top-ranked team, Pitt suffered its first loss of the season and fell to 7-1.
Clemson's Kimarni Smith was named the tournament's Most Valuable Player. He tied the championship scoring record with four goals in three games.
The moment we became champions 🧡💜#ClemsonUnited pic.twitter.com/bpCZYi99xD

— Clemson Men's Soccer (@ClemsonMSoccer) November 23, 2020
Also a member of the all-tournament team, Clemson's Grayson Barber matched the championship's assist record with four assists in the tournament. Pitt's Valentin Noel was one of three Panthers on the all-tournament team. He scored Pitt's goal Sunday and finished with four goals in the championship, matching Smith and four others for the tournament record.
Clemson out-shot Pitt, 14-7, Sunday and put nine shots on goal to five for the Panthers. A member of the all-tournament team, Pitt goalkeeper Nico Campuzano made seven saves. Clemson goalkeeper George Marks made four saves.
Clemson struck first in the 13th minute when Callum Johnson sent a cross just inside the six-yard box, where Mohamed Seye deftly used his left foot to direct it past Campuzano. It was Seye's third goal of the season and it handed the Panthers their first deficit at any point this season.
13' || MOHA STRIKES AND CLEMSON LEADS!

Take a look at the beautiful play that gave us a 1-0 lead!#ClemsonUnited
📺 – https://t.co/hvz3SubkJV
📊 – https://t.co/WpTDj7oYhS pic.twitter.com/hRCRpcB4RG

— Clemson Men's Soccer (@ClemsonMSoccer) November 22, 2020
Pitt came out quickly after the halftime break to level the score in the 47th minute as Jackson Walti sent a beautiful ball downfield to find Noel, who beat Marks with a low shot inside the far post. It was Noel's eighth goal of the season, tying for the ACC lead.
The Tigers forged back ahead and scored the eventual game winner in the 71st minute when Barber sent a ball in from the left flank to the far post, finding James Brighton, who one-timed it from short distance.
71' || CLEMSON PULLS AHEAD!

James Brighton slots home his second goal of the ACC Tournament to give us a 2-1 lead with less than 2️⃣0️⃣ to play!#ClemsonUnited
📺- https://t.co/hvz3SubkJV
📊- https://t.co/WpTDj7oYhS pic.twitter.com/fCoJFm6WYB

— Clemson Men's Soccer (@ClemsonMSoccer) November 22, 2020
2020 ACC Men's Soccer All-Tournament Team
Tournament MVP – Kimarni Smith, Clemson
Kimarni Smith, Clemson
Justin Malou, Clemson
Grayson Barber, Clemson
Philip Mayaka, Clemson
Nico Campuzano, Pitt
Valentin Noel, Pitt
Veljko Petkovic, Pitt
Mohamed Omar, Notre Dame
Jack Lynn, Notre Dame
Andreas Ueland, Virginia
Bret Halsey, Virginia