Champions crowned at 2019 US Club Soccer National Cup XVIII Finals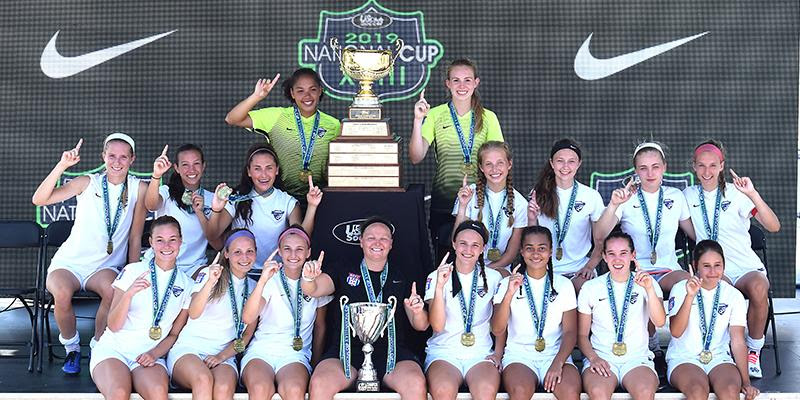 Results | Photos | Champions | Videos
COMMERCE CITY, Colo. (July 25, 2019) – Twenty-two champions were awarded National Cup XVIII Finals championships after Tuesday's title matches of the National Cup XVIII Finals, the culminating event of US Club Soccer's cup-based national competition.
A total of 216 teams from 124 clubs were represented across 32 states, stretching from Hawaii to Rhode Island. They competed at DICK'S Sporting Goods Park, July 19-23, all striving to end their 2018-19 seasons on the champions stage alongside the Doug Hamilton Memorial Trophy. This past weekend marked the pinnacle of a challenging journey for these participating teams, as all qualified through a National Cup XVIII Regional or qualifying state cup competition.
The 18th annual National Cup Finals featured the largest tournament field in the event's illustrious history, besting last year's mark of 206 total teams – a testament to the growth of the qualifying competitions and host organizations, as well as of the popularity of the exciting National Cup format.
The first three days saw group stage games progress to knockout rounds with the semifinals and finals. In total, 22 Super Group (most competitive) and Premier Group divisions among the 13-U through 19-U boys and girls age groups led to 26 semi-final matches, with nine divisions qualifying directly to championship matches, before the 22 champions received their hardware.
The championship matches lived up to their exciting expectations with a multitude of balanced results, including eight games decided by one goal, seven games separated by two goals, and eight draws that went into extra time, with five that progressed further into penalties to break the tie.
Here is the complete list of National Cup XVIII champions:
| | | |
| --- | --- | --- |
| 13-U Super: | Eclipse Select SC Black '06B | NEFC NPL '06G |
| 13-U Premier: | AC Connecticut '06B | Tulsa SC Sharp/Williams '06G |
| 14-U Super: | Downtown LA '05B | Fever United '05 Penn |
| 14-U Premier: | Doxa '05B | Sporting Arkansas Premier '05G |
| 15-U Super: | GPS Carolina Elite Charlotte '04 | Salvo SC Navy '04G |
| 15-U Premier: | FC Transylvania Barca '04 | NEFC South NPL '04G |
| 16-U Super: | STA '03B | NEFC West NPL '03G |
| 16-U Premier: | Oregon United '03B | United Futbol Academy Norcross Premier '03G |
| 17-U Super: | Eclipse Select SC ECNL '02B | NEFC North Shore NPL '02G |
| 17-U Premier: | Vestavia Steamers Black '02B | — |
| 19-U Super: | Atletico Santa Rosa Bayern '01/00B | Clovis Crossfire NPL Blue '00G |
| 19-U Premier: | One7 Academy '00B | — |
NEFC capped off a remarkable weekend by winning four National Cup championships, all within the girls divisions. Eclipse Select SC was the only other club to claim multiple titles – in the boys 13-U and 17-U Super divisions.
Fever United '05 Penn repeated after taking home the 13-U Girls Super Group in last year's National Cup XVII Finals. NEFC South NPL '04G clinched the 15-U Girls Premier Group to add to their resume on top of their 14-U division win last summer. The Eclipse Select SC ECNL '02B will also return home champions for the second straight summer after its 2018 triumph in the 16-U Super Group.
In another impressive achievement, the 14-U Girls Premier Group champions, Sporting Arkansas Premier '05 became the first team from Arkansas to win a National Cup title.
While these National Cup XVIII contenders came from various National Cup Regionals or US Club Soccer state championships around the country, those who qualified through NEP State Cups, in particular, found great success in AC Connecticut '06B and the four NEFC teams taking home championships to the New England Premiership.
Midwest Regional representatives also fared well in Commerce City, producing three Finals champions in the two Eclipse Select teams and the 15-U Super Division champion, Salvo SC Navy '04.