Action continues on Day 2 of US Youth Soccer National Championships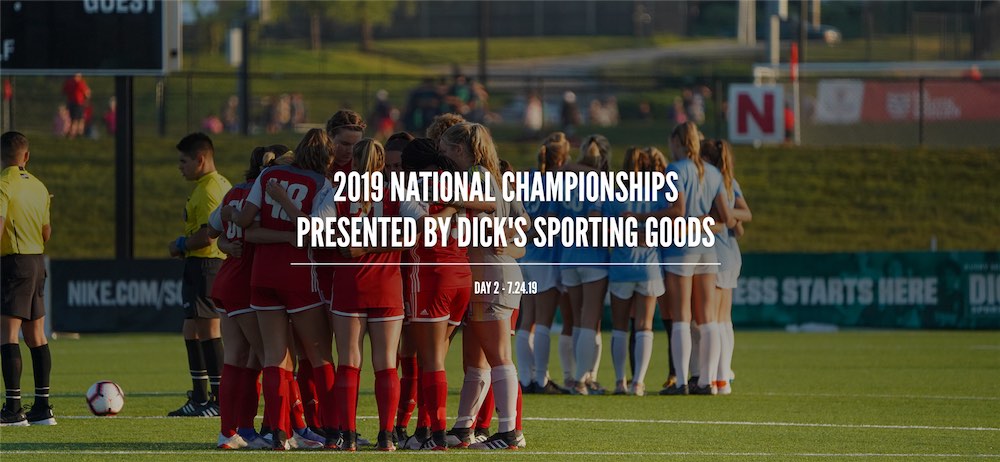 OVERLAND PARK, Kan. (July 24, 2019) — The 2019 US Youth Soccer National Championships continued Wednesday, as teams competed in their second of three group stage games at the Scheels Overland Park Soccer Complex in Overland Park, Kan. It was a must-win situation for many of the teams looking to advance to this weekend's games.
"Today, the boys knew that we needed the three points because anything can happen with the other results," said 17U Arlington SA 2002 Red (VA) coach Eduardo De Souza, whose team picked up a win on Wednesday in its effort to defend its 2018 National title. "We don't want to depend on anyone else. We want to depend on ourselves. It was a key game for us. In this tournament, you can't waste points."
With many teams having completed their second games, the stage is set for crucial games on Thursday, as the 104 sides play their final group stage games to solidify the group standings. The top two teams in the 13U age group will advance to the National Championship final on Friday, while the top two teams in each group in 14U through 19U play advance to their respective semifinals.
Some notes from a few of today's games
13U Boys
FEATURE STORY – Michigan Jaguars earn finals spot with a 1-0 victory
13U Girls
FEATURE STORY – Albion SC wins to clinch berth in 13U Girls final
14U Boys
FEATURE STORY – Nationals Union 05 Black remains undefeated
14U Girls
Pipeline Spirit Pre-Academy 05 (MD) secured a semifinal berth following a slim, 1-0, shutout against Snohomish United 05 Black (WA). The two teams battled for the lead in the first half but went to halftime scoreless. Just eight minutes into the second half, Brooke Hunter found the foot of Payton Schenning who fired a shot from the top of the 18-yard box past the goalkeeper to the upper-ninety for the eventual game winning goal for Pipeline. Snohomish continued to battle, but Pipeline held on to the narrow lead for the victory. The win puts Pipeline in first place in Group B with an undefeated group play record, while also earning it a spot in the semifinals.
15U Boys
After winning its first game, Downtown LVSC 04 Gold (NV) remained perfect on the week after a, 2-1, victory over Midwest Regional Champions Raiders FC 2004 (IL). After a scoreless first half, Downtown broke the deadlock when Richard Antonucci found the back of the net just five minutes after the second half whistle. Raiders FC battled back to earn an equalizer just six minutes later thanks to a goal from Marco Antonio Valencia. With less than 10 minutes to play, Tyler Moon notched his second goal of the event to push Downtown into the lead. The Downtown defense locked down and kept the Raiders from finding a second equalizer to gain a full three points from the game and clinch a spot in the semifinals. Downtown will meet with PA Dominion 04 (PA-E) to decide who will advance as the 15U Boys Group B winner.
15U Girls
FC Revolution Dynamo (PA-E) claimed an important three point on the second day following a, 2-1, win over Sporting St. Louis Red Devils 2004 (MO). The first half went scoreless until just under midway asTaylor Mentzer put FC Revolution on the scoreboard with a one goal lead. FC Revolution carried that one goal lead to halftime and followed with a goal from Emily Vishio just one minute into the second half. Sporting St. Louis came back within one goal in the 65th minute on a goal from Brooke Kittner. FC Revolution held on to the lead to earn its first win of the tournament and remain in contention for a spot in the semifinals.
16U Boys
Beadling 2003 South Red (PA-W) recorded a critical day two victory over Seattle United 03 Copa (WA), 3-1. Just 10 minutes off the first whistle of play, Beadling jumped out to a one goal lead behind a score from Joseph Fonagy. The lead was short lived when William Allmon scored the equalizer for Seattle United just seven minutes later. As the first half came to a close, Beadling grabbed a one goal lead when Ethan Sanders scored with a minute left in the half. Fonagy scored his second goal of the day in the 66th minute, giving Beadling an insurance goal. Beadling held on to the one goal lead to move to 1-1-0 in group play heading into its final preliminary play matchup against Milwaukee Bavarians 2003 (WI).
16U Girls
FEATURE STORY – PSA National 03 moves to first in its group
17U Boys
FEATURE STORY – Arlington earns key win in title defense effort
17U Girls
A couple of late goals led to HMMS Eagle FC Impact (PA-E) and Nationals Union 02 Black (MI) earning a point each, as they tied, 1-1, to keep each side alive in its pursuit of a semifinal berth out of 17U Girls Group A. With the game approaching its final minutes, neither side had managed to secure an opening goal. However, that changed in the 88th minute when Julia Raich ran down a bouncing ball in the box and nodded a header into the back of the net to put HMMS in front. The late drama continued in stoppage time, as Nationals Union netted a 93rd-minute equalizer. Kiera Kuzinski received a throw-in on the left wing and swung in a right-footed cross that Megan Sidaway rose up to meet and head inside the back post. With 1-1 draw, each team is now two points behind second-place Pipeline 02 Pre-Academy Spirit (MD) heading into the final day of group play, while Cleveland FC 02 (OH-N) sits on top of Group A with six points.
18U Boys
Future Player Academy (PA-E) topped Sparta 01 Premier JK (UT), 3-2, in thrilling fashion for a critical second day victory and three points. The game was at a scoreless stalemate until Future Player Academy earned a corner kick in the 26th minute that led to a header goal from Luke Greenberg. It was short lived lead as Ryen Jiba answered just four minutes later for Sparta off a breakaway. After the teams came into the second half knotted at 1-1, Dylan Rodriguez Ureche converted a penalty kick only five minutes into the second half to give Sparta a one goal lead. It was déjà vu for Future Player in the 63rd minute when Dane Harmaty headed the ball to the back of the net for the equalizer. For the third time of the game, Future Player scored off a header with a goal from Marco Mesoraca in stoppage time for the eventual game-winning goal. The win puts Future Player in first place in Group B with a perfect record.
18U Girls
TFA Elite 01 (OH-S) earned an important, 3-1, victory against Premier Navy 2001 (MD). Midway through a scoreless first half, Elizabeth Flowers gained control of the ball after it ricocheted off a defender and chipped it over the goalkeeper to put TFA ahead, 1-0, in the 20th minute. In the 33rd minute, TFA extended its lead to two goals as Julia Hoffmann scored off a cross from Flowers. Flowers recorded her second assist of the day after finding Sophie Pohlabel who put the ball in the back of the goal on the empty net to put TFA ahead, 3-0, in the 73rd minute. Premier Navy kept on the attack and cut the deficit to two goals just eight minutes later when Toni Fiocco-Mizer fired one past the goalkeeper. TFA held on to the two-goal lead to earn three points and stay in the hunt for a semifinal berth.
19U Boys
FEATURE STORY – LVU clinches spot in McGuire Cup semifinals with win
19U Girls
2019 Southern Regional Champions Cajun SC Rage 18/19 Academy (LA) bounced back after its day one loss to earn three points with a, 1-0, victory over Princeton SA (NJ). Cajun took the lead in the 35th minute as Madeleine Moreau picked up a deflected ball and found Cassie Bowers in the box with a pass. Bowers took a touch around her defender and smashed her chance under the cross bar from close range to give Cajun SC a 1-0 lead. The Cajun defense held strong through the remainder of regulation and the Louisiana side picked up an important three points heading into the final day of play. Cajun will face MapleBrook Fury (MN) in the final group play game. A win tomorrow will guarantee either side a spot in the semifinals along with Campton United Red (IL).
—–
All of the teams competing in Overland Park earned their place in the National Championships via success in the US Youth Soccer National Championship Series or the US Youth Soccer National League.
Live broadcasts of more than 90 games, daily highlight videos, photos, reports and complete results from the tournament are available on http://championships.usyouthsoccer.org/.
For complete statistics, including goal scorers, please visit the schedule, standings and scores website.