Play begins at the 2019 US Youth Soccer National Championships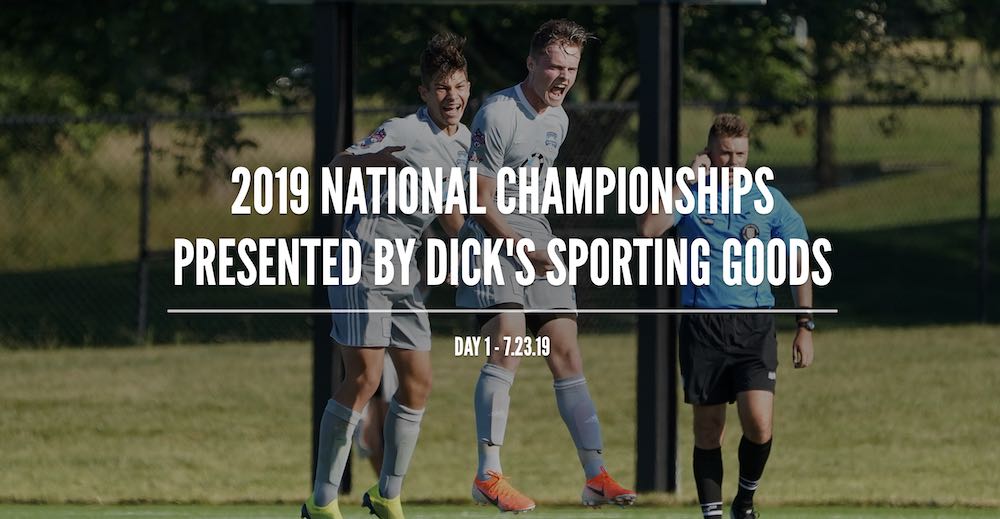 Follow the moments: Official Website | Scores and Standings | Video | LIVE GAMES | DAILY RECAPS
Twitter | Facebook | Instagram | #ROADtoKS
OVERLAND PARK, Kan. (July 23, 2019) — Games kicked off Tuesday at the 2019 US Youth Soccer National Championships at the Scheels Overland Park Soccer Complex in Overland Park, Kan.
The teams took the stage, making their first push to earn one of the 14 National titles that will be awarded this weekend. The field of 104 teams is comprised of the nation's top players in the 13U through 19U Boys and Girls age groups.
During morning games, returning champions ended with two wins, a draw and a loss. The remaining two defending champs will play during tonight's games.
"The first game is always important because it sets the tone for the rest of the week," said 16U Boys LVSA Silver 03 head coach Manleo Miranda, whose team captured the national title in 2018. "The team knows that every team is coming for us. Having that golden patch on your right thigh is a trophy and is nice to us, but at the same time we have to protect it and play twice as hard as we did last year with every team coming for us."
All the games are meaningful for youth development and there are no easy games­­ as teams vie for the US Youth Soccer National Championships crown.
"This Beadling team is a great team and they gave us a run for our money [in last year's National final]," continued Miranda. "It was a very difficult game and very tight up to the end. We knew we had a hard game ahead of us today, so I am glad we came up with the three points."
Group play takes place over the course of three days and will conclude on Thursday. Three points are awarded for a win, one point for a tie and zero points for a loss. The top two teams in the 13U age group will advance to the National Championship final on Friday, while the top two teams in each group in 14U through 19U play advance to their respective semifinals.
In addition to the impact locally, the championships provide college coaches from around the country with a premier stage to evaluate future collegiate players, offering a tremendous impact to players and their families. Many college coaches and U.S. Soccer scouts lined the sidelines on Tuesday to watch the players make their first push for the 2019 National Championship.
All of the teams competing in Frisco earned their place in the National Championships via success in the US Youth Soccer National Championship Series or the US Youth Soccer National League.
Live broadcasts of more than 90 games, daily highlight videos, photos, reports and complete results from the tournament are available on http://championships.usyouthsoccer.org/.
Some feature stories from today: 
FC Dallas fights back for a 3-2 win
Celtic FC 00 Premier earns big Day 1 win
SJEB Rush 02 Academy picks up where it left off
MI Jaguars hold off 1776 United for win