SJEB Rush 02 Girls begin quest for 2nd straight US Youth Soccer national title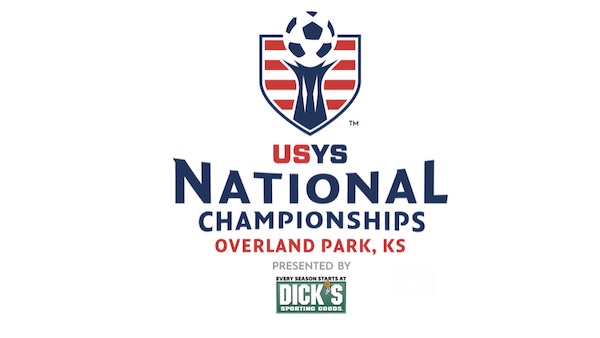 After winning the 2018 16U Girls National Championship, SJEB Rush 02 Academy Blue (NJ) is back to defend its title and started off with a strong-foot forward with a, 3-0, victory over the 2019 Southern Regional Champions, Team Boca 2002 (FL).
"For these girls it's an absolutely amazing experience to be here at Nationals," SJEB head coach Bill Shute said. "They are excited to fight to uphold their title and executed an excellent game of possession soccer."
Boca had its best opportunity early in the first half, but a great free-kick was pushed wide by a diving Alexandria Clark. Amanda Attanasi started the scoring as she broke the deadlock in the 21st minute scoring a goal after connecting on a well swung in corner kick.
SJEB controlled a majority of the possession, as Boca seemed content with looking for counter attacking opportunities while absorbing the pressure for the New Jersey side. Boca's Sofia Miliancano kept her team in the game while making a couple of key saves to keep the Florida side within one as the teams head into halftime.
Every time Boca looked dangerous, SJEB's center back, Adrianna Pepe, marshalled her lines well to help clear any pressure that came to its final third.
"It's definitely a great experience to have a chance to play against all these teams that are all so good, said Pepe. "Coming to Nationals makes you raise your level of play and makes you better."
SJEB leaned on its defensive stops to keep the pressure on Boca and, in the 71st minute, Attanasi scored her second of the game to increase the advantage. Miliancano continued to make some great stops, including a 1v1 sliding save, but the SJEB pressure continued to come as they leaned on each other to be tough across the entire field.
"This is the National Championships," continued Shute. "These are the best teams in the country. We are here to do our best and show we belong. The world family gets overused in soccer, but the camaraderie and love the players have for each other is a big part of its success."
Attanasi scored just before the final whistle, completing her hat trick and sealing SJEB's, 3-0, victory. The win gives SJEB three points and a strong start as it looks towards its goal of repeating as National Champions.
"It'd be amazing to win two years in a row," said SJEB's Adrianna Pepe. "I've played with this team since the very beginning and have seen our team evolve and our skills grow. The chance to win back-to-back titles with these girls by my side would be incredible."