Central Michigan University women's soccer signs three transfers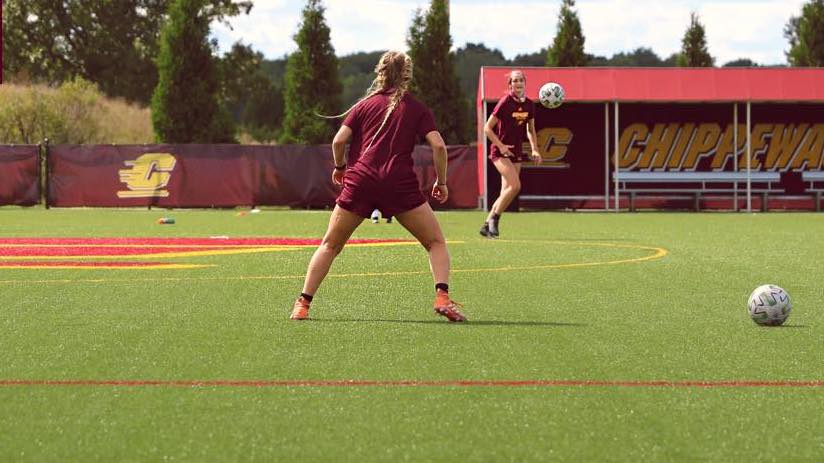 MOUNT PLEASANT, Mich. – Central Michigan University soccer head coach Jeremy Groves has announced the addition of three transfer student-athletes to the Chippewas' roster.
Alexia Cajilig, Megan Scholten and Gaelle Wells will join the team for the 2021 fall season. All three will hold redshirt freshmen status.
"I am really excited to add Lexi, Megan and Gaelle," Groves said. "They will be great additions to our program. They have a year of experience at strong Division I programs. Each one will add something different and make us better. They have all shown well in the first few days of preseason."
Cajilig, a defender from Pickering, Ont., Can., transferred to CMU from Mid-American Conference foe Buffalo. While attending St. Mary Catholic Secondary School, she was selected for participation in the Canadian REX program, which welcomes top women's soccer prospects from across the nation to attend school, train, and play together daily. Cajilig also excelled for the Pickering Soccer Club, receiving an invitation to attend the Team Ontario Trials.
Scholten, a midfielder from Charlevoix, comes to the Chippewas from Memphis. Starring at Charlevoix High School, she earned first team all-region and all-state honors as a junior and second team all-state recognition as a freshman and sophomore.
A forward from Bloomington, Ind., Wells was on Oregon State's roster last season. A standout at Bloomington South High School, she earned the Golden Boot and Gatorade Awards during her prep career. As a sophomore, Wells broke the school record for goals and was named player of the year. She was selected first team all-district and all-state as a freshman.