Akron women's soccer adds four recruits to 2021 signing class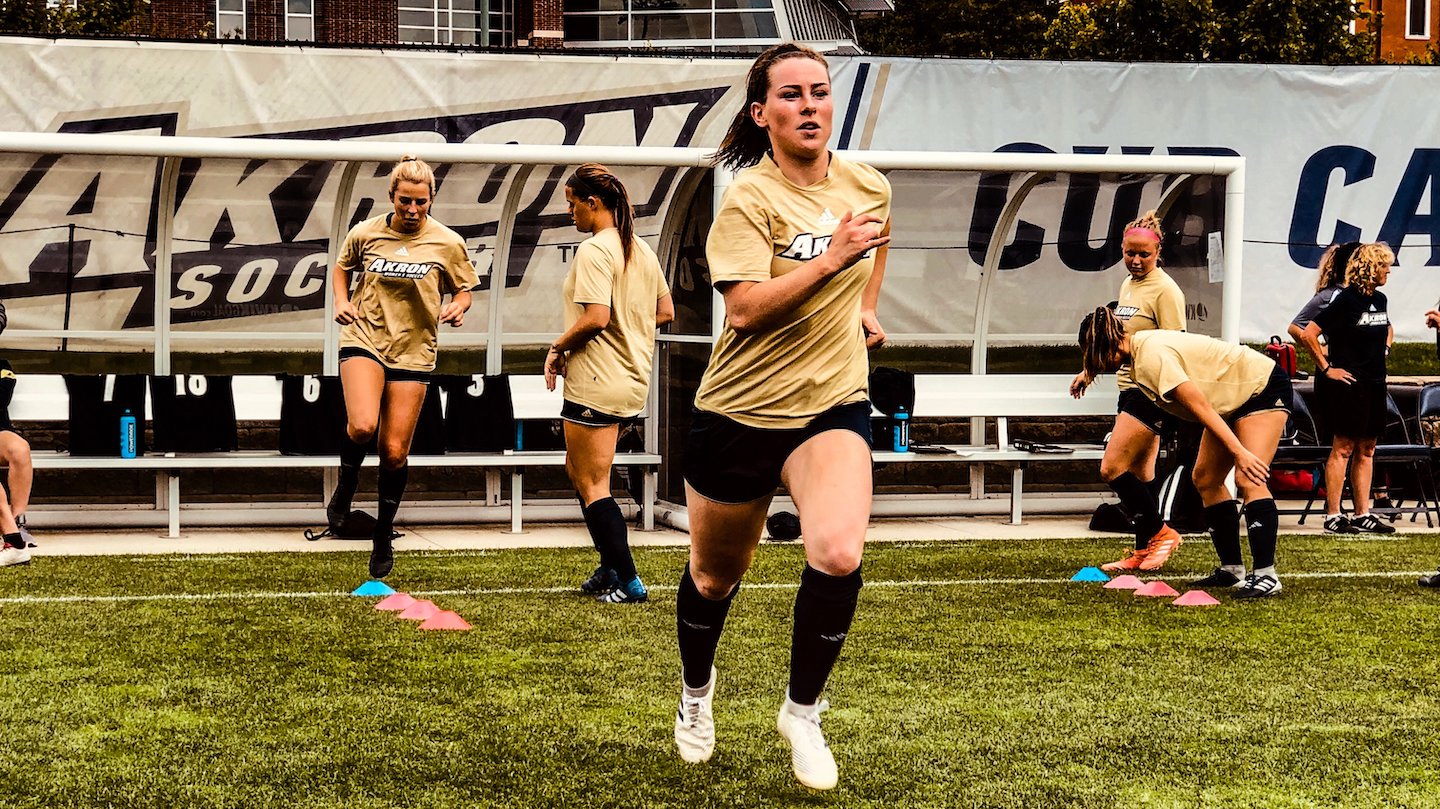 AKRON, Ohio – The University of Akron women's soccer program, under the leadership of seventh-year head coach Noreen Herlihy, has announced the addition of four players to the Zips' talented 12-member signing class.
The four newest signings include: Maxima Carlitz (Stolberg, Germany/Ritzefeld Gymnasium), Penelope Cuirinier (Mionnay, France/Insa Lyon), Morgan Pentz (Broadview Heights, Ohio/Walsh Jesuit) and Laurie-Anne Renaud (Québec City, Québec/Cardinal Roy).
Donning the Akron uniform for the 2021 fall campaign will be Caitlin Bruni (Canal Fulton, Ohio/Massillon Jackson), Carlitz, Quinn Casey (Powell, Ohio/Olentangy Liberty), Cuirinier, Ella Hadley (Concord, Ohio/Lake Catholic), Stefanie Karras (Galena, Ohio/St. Francis DeSales), Maci Lineman (Butler, Pa./Butler Area), Maya Oduyoye (Cincinnati, Ohio/Sycamore), Pentz, Renaud, Morgan Shansky (Oakdale, Pa./West Alleghany) and Calli Swisher (Alliance, Ohio/Marlington).
"We are excited for this group to join the other incoming freshmen this season," Herlihy commented. "They are wonderful young women with great character. We will have a lot of very young players, but that bodes well for the future. Most importantly, they will have good returning players leading them. We understand these players will be learning on the job this season, so to speak, but we welcome the challenge as they gain experience. Everyone is excited for the season to start, and although we are young, we will be fearless."
A goalkeeper from Stolberg, Germany, Carlitz gained valuable playing experience with Borussia Moenchengladbach in second women's Bundesliga (second division), helping her squad to a top-five finish in the league. Her team captured the Lower Rhine Cup in the U17 Bundesliga two seasons ago, while playing for the boy's squad three years ago and sparking the unit to a district title as well as the district cup.
A goalkeeper from Mionnay, France, Cuirinier gained valuable playing experience as a first-team player with the U-19 squad at Olympique Lyonnais this past season. She boasts added experience with the U-16 and U-15 teams at Olympique Lyonnais helping her squads to international tournament titles in San Sebastian, Spain and Plomelin, France, while also competing at the men's U15 championship in Fabrègue, France.
A midfielder from Broadview Heights, Ohio, Pentz is a four-year letterwinner from Walsh Jesuit High School. She comes to Akron after playing her freshman campaign at Xavier. She led Walsh Jesuit to a 62-4-6 overall ledger during her prep career en route to scoring 50 goals and adding 35 assists. Pentz was named the 2019 North Coast League Offensive Most Valuable Player, as well as garnering Greater Akron Scholastic Soccer Coaches Association first-team and TopDrawerSoccer.Com all-state accolades after earning team MVP honors in 2018. Additionally, she gained valuable playing experience with Cleveland FC, she was a six-year starter for a team that won seven consecutive State Cup Championships. In 2019 Pentz was named to the 2019 USYS GLC Best XI as the team went on to win the USYS National Championship, along with the 2018/19 National League Bracket.
A forward from Québec City, Québec, Renaud gained valuable playing experience with her Cardinal-Roy squad which she captained during the 2019-20 campaign. Her team advanced twice to the semifinals of the provincial championships during the 2018-19 and 2019-20 campaigns. She capped her prep career registering 15 goals over her four-year career, including scoring three goals in three contests during a senior season cut short due to COVID-19.
2021 Akron Women's Soccer Signing Class
Caitlin Bruni, Defender, 5-5, Canal Fulton, Ohio/Massillon Jackson
Maxima Carlitz, Goalkeeper, 5-10, Stolberg, Germany/Ritzefeld Gymnasium
Quinn Casey, Defender, 5-6, Powell, Ohio/Olentangy Liberty
Penelope Cuirinier, Goalkeeper, 5-6, Mionnay, France/Insa Lyon
Ella Hadley, Midfielder, 5-5, Concord, Ohio/Lake Catholic
Stefanie Karras, Forward, 5-9, Galena, Ohio/St. Francis DeSales
Maci Lineman, Defender, 5-8, Butler, Pa./Butler Area
Maya Oduyoye, Defender, 5-6, Cincinnati, Ohio/Sycamore
Morgan Pentz, Midfielder, 5-8, Broadview Heights, Ohio/Walsh Jesuit
Laurie-Anne Renaud, Forward, 5-4, Québec City, Québec/Cardinal Roy
Morgan Shansky, Midfielder, 5-6, Oakdale, Pa./West Alleghany
Calli Swisher, Forward, 5-4, Alliance, Ohio/Marlington