University of Houston soccer program signs seven newcomers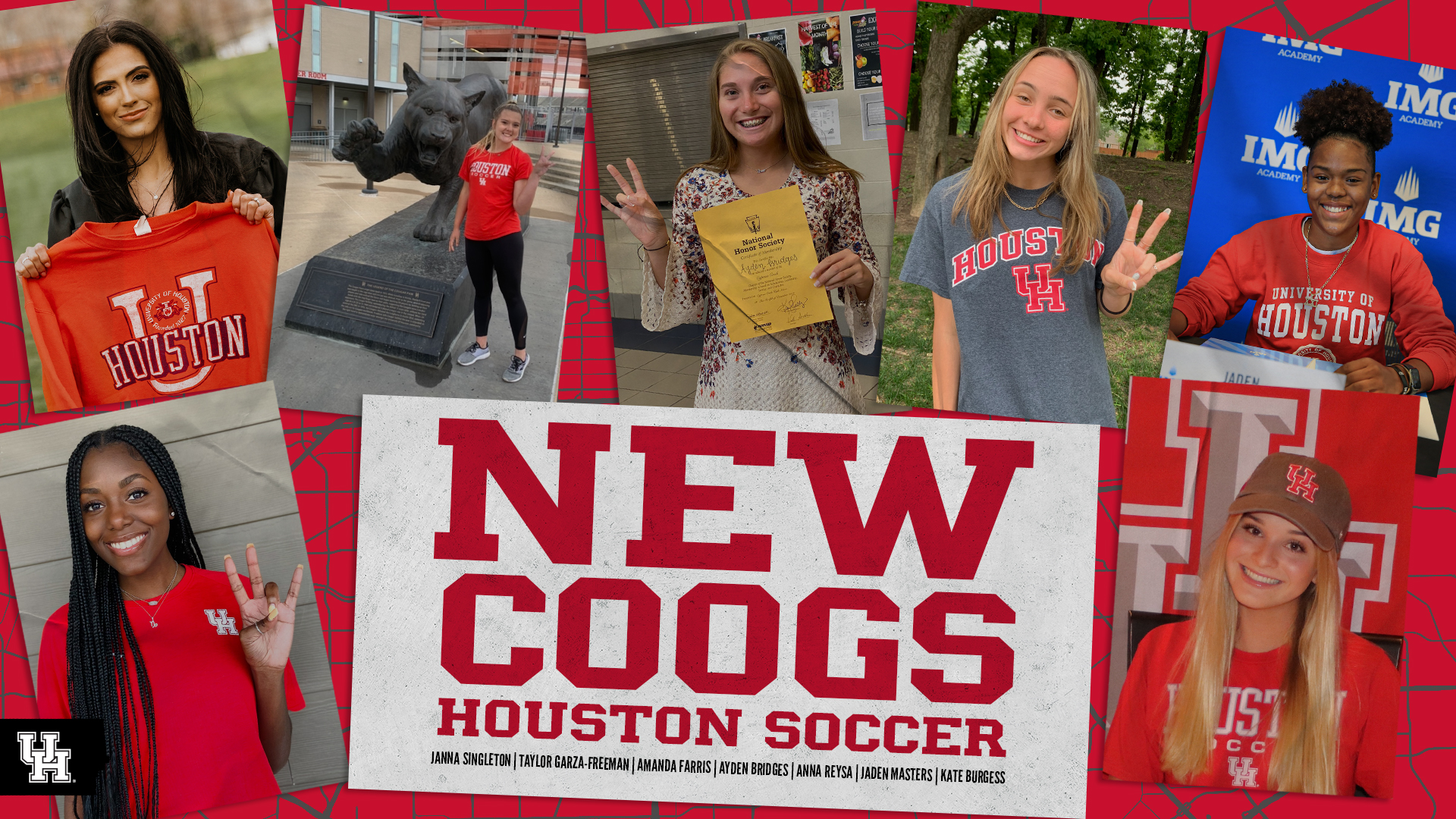 HOUSTON – The University of Houston soccer program has announced the addition of seven newcomers to the team, including five freshmen and two transfers.
Of the seven newest commitments, five come to Houston from within Texas while one is originally from Las Vegas and another from Bermuda. Whether for their club or high school programs, each player arrives to campus with a strong pedigree and a willingness to get better each day.
With this group of seven and the group of four announced in the fall, the Cougars will be adding 11 student-athletes to the 2021 roster after losing four seniors this past season. For information on the Cougars' previous four signees, check HERE.
See below for information on the seven newest Cougars, as well as how head coach Diego Bocanegra envisions their impact on the program.
Janna Singleton 
Forward 
DeSoto, TX 
University of Missouri (DeSoto High School) 
BOCANEGRA ON SINGLETON: "Janna has huge upside potential and should add depth to our attacking group. She has the physical and technical abilities to play as a wide midfielder or as a forward. I believe coming back to her home state of Texas will give her a level of comfort to thrive within our team."
HIGH SCHOOL/PREVIOUS COLLEGE: Team MVP for three-straight seasons at DeSoto High School…Three-time All-District team honoree…Region II Olympic Development Team participant…Totaled 18 games played, 380 minutes, one assist, and ten shots during three seasons at University of Missouri…SEC First-Year Academic Honor Roll (2019-20).
PERSONAL: Daughter of Natasha and Derrick Singleton…Has one sister, Jada…Plans to major in business…Dreams of becoming a Chief Marketing Officer for a professional sports team…Graduated 11th in her high school class as Senior Class Vice President…Enjoys shopping and spending time with friends or family.
Taylor Garza-Freeman 
DEF 
Las Vegas, NV 
Utah State University (Liberty High School) 
BOCANEGRA ON GARZA-FREEMAN: "As a three-year starter at Utah State, Taylor bring tons of college experience to enhance our back line. She is a tenacious, physical defender who also has the ability to get into the attack from outside back. She is a competitor and a leader who will transition seamlessly into our team. "
HIGH SCHOOL/PREVIOUS COLLEGE: Graduate of Liberty High School in Henderson, Nevada…Played seven seasons of club soccer with Heat FC in the ECNL…Played 46 games, with 42 starts, for a total of 2,771 minutes across her time in Logan, Utah…Two-time Academic All-Mountain West (2017, 2019) and two-time Mountain West Scholar-Athlete (2017, 2019).
PERSONAL: Daughter of Toni and Chris Garza, sister of Carley and Chloe, wife to Kyler…Graduate of Utah State University with a degree in social work…Valedictorian of high school class as well as yearbook editor…Also competed in track/field in high school…Community service experience with Project 150, Ronald McDonald House, and Shade Tree…Biggest influences are her parents and husband who "push me to work hard and chase my dreams" … Dreams of helping underserved populations better their situation…Enjoys spending time at the gym or cooking/baking.
Jaden Masters 
DEF 
Hamilton, Bermuda 
IMG Academy 
BOCANEGRA ON MASTERS: "Jaden is the epitome of resilience and mental toughness. After dealing with injuries and setbacks during her high school years we are excited to see Jaden back on the field. She is an amazingly versatile player who can play anywhere on the field. Between her skill, athleticism and soccer IQ, I expect her to make an immediate impact."
HIGH SCHOOL: IMG Academy product…IMG leading scorer…Member of the Bermuda Football Association…Capped Bermuda National Team (U15, U17, and U20)…Named "Most Strong Willed" on her team…2020/21 U19 DPL Team Captain.
PERSONAL: Daughter of Linnea and Roderick Masters…has one sibling, Jordan…Named "Most Strong Willed" competitor in high school…Participated in Adopt a Block charity in high school…Considers her parents to be her strongest influences…Hopes to pursue a career in psychology, special education, and motivational speaking…Enjoys going to the gym, making art, coaching, and photography…Plans to major in Psychology…Global activist.
Amanda Farris 
GK 
Bryan, TX 
Earl Rudder High School 
BOCANEGRA ON FARRIS: "Amanda is going to be a great addition to our Goalkeeper unit. She is a fearless shot stopper and it's afraid to come off her line. She has all of the physical qualities to be a collegiate level Goalkeeper and I look forward to getting her in our training environment."
HIGH SCHOOL: Four-year letterman at Earl Rudder Highschool…District 19-5A 2018 Newcomer of the Year…Team MVP…Also competed on varsity golf as an underclassman…Coached by Michael Neely her first two seasons, Madison Wood for her final two seasons.
PERSONAL: Daughter of Christine and William….Has one brother, Josh, who she considers her biggest influence…Senior Class President, member of the Student Council, Future Farmers Association, and Younglife in addition to soccer…Named to National Honor Society, an FFA State Competitor and FFA Lonestar Degree, and finished in the top-two percent of her graduating class…Plans to major in business…Enjoys traveling, hunting, and fishing.
Anna Reysa 
Forward 
Allen, TX 
Allen High School 
BOCANEGRA ON REYSA: "We first saw Anna at one of our camps where she was buzzing down the flanks. Since then, she has continued to develop and I look forward to her adding to our attack. She is a quick and skilled winger who can provide great service into the box."
HIGH SCHOOL: Scored 32 goals and 32 assists in high school career…Twice named First-Team All-District and once named Second-Team All-District….Also named First-Team All-Area Utility player, Team MVP, All-State Tournament, Offensive MVP and Team Heart Award in high school…Clinched program's first state tournament berth in 21 years with a late goal in 2019.
PERSONAL: Daughter of Kim and David…Has one sister, Emma…Plans to major in Education…Hopes to work in front office of a major sports team…Considers mom her biggest influence…Volunteered as Special Olympics gymnastics coach and Sunday School helper…Also participated in Church Youth Group…Enjoys puzzles, traveling, and spending time with friends or family.
Ayden Bridges 
Forward 
Houston, TX 
Cypress Creek High School 
BOCANEGRA ON BRIDGES: "We love to keep local talent home and Ayden is a great example of that. She is an explosive forward with a nose for the goal. I think Ayden will thrive in our environment. Once she makes the transition to this level, she can help our attacking core."
HIGH SCHOOL: Competed for four seasons under Laura Throckmorton…Never finished below seventh in district, finished career as Bi-District Champion…A four-year letter winner she was 2021 17-6A District MVP, First-Team All-District selection (2019-2021), Second-Team All-District (2018), Four-time Offensive MVP, Three-time Captain, and Academic All-District.
PERSONAL: Daughter of Tracy and Andrew Bridges…Has three siblings: Alex, Aaron, and Abbie…Plans to major in nutrition and pursue a career in nursing…Considers her mother as her biggest influence…A member of National Honors Society, the Student Council, and Health Occupations Students of America…Volunteered at March of Dimes, Kick Cancer Soccer Camp, and Girl Scouts of America…Enjoys visiting dog parks, swimming, and playing Just Dance…Graduated Magna Cum Laude as the Student Council Treasurer after making honor roll all four years.
Kate Burgess 
MID/DEF 
Houston, TX 
Clear Lake High School 
BOCANEGRA ON BURGESS: "Kate is a physically fit and hard working outside back who plays much bigger than her size. As a former midfielder, she is comfortable on the ball and willing to get into the attack. I'm excited to see Kate make the jump to college soccer."
HIGH SCHOOL: Reached 2014 Texas State Cup Final with Space City club and the 2020 Final 4 DA Playoffs with Houston Dash DA/GA…Houston Dash DA/GA Team Captain…Houston Dash GA Player Advisor.
PERSONAL: Daughter of Scott and Jessica…Has one sibling, Grace…Originally from Columbus, Ohio…Father played baseball at Ohio State University…Considers her parents as her biggest influences…Planning to major in nursing and enter that field after graduation…CCISD Super Intendent Scholar Award and National Honors Society Member…Volunteered at Assisteens of the Bay Area and Young Life.