Capital Fall Classic Girls Weekend Saturday Showcase Recap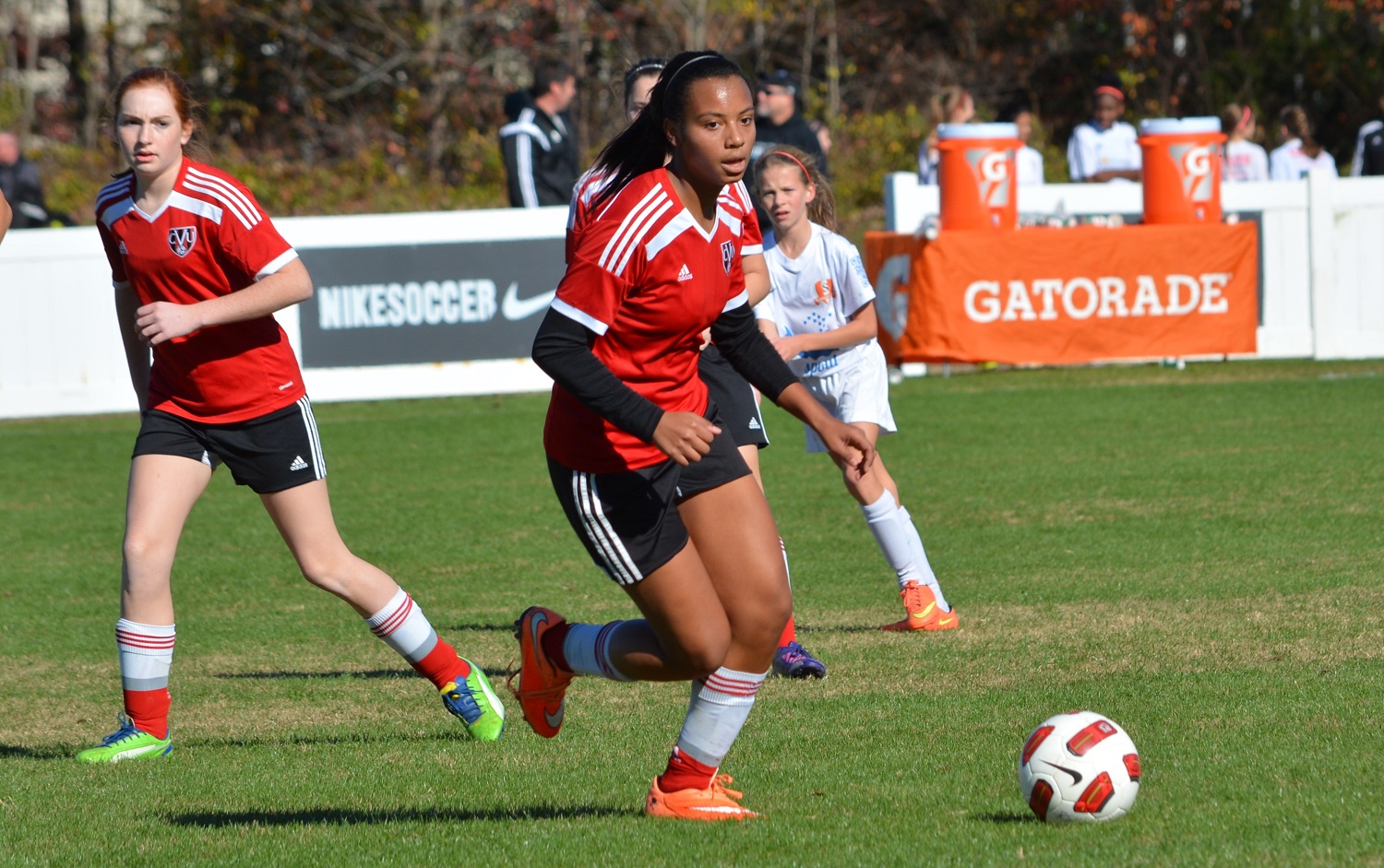 Published in partnership with the Richmond Strikers Tournament Series
Brackets & Schedule | Tournament Homepage | College Coaches | Live Updates
The 2015 Capital Fall Classic Girls Weekend began Saturday with two thrilling rounds of group matches throughout the day at field locations throughout the Richmond area.
Following two games on Saturday for the 200+ teams in attendance from the U-9 to U-18 levels, 31 division titles will be earned on Sunday along with nine automatic berths for the 2016 Jefferson Cup.
See below for a recap of the college showcase competition in the U-16 to U-18 Premier Divisions at River City Sportsplex, the central recruiting venue for the tournament.
+Capital Fall Classic Girls Weekend Photo Album
U-16 Premier Division
South Jersey Academy FC Azzurri took control of Group A and Stafford Revolution 99 Blue built a lead in Group B of the Premier Division, going 2-0-0 on the opening day of the Capital Fall Classic.
SJA FC outscored two quality opponents – Richmond Kickers Elite and Beach FC 99 Black – by a combined score of 9-1, tripling up the Kickers 3-1 before defeating Beach 6-0 in their afternoon match. Scott Kazanowsky's squad tries to conclude their unbeaten run through Group A on Sunday against VSA Elite 99, seeking to lock up a spot in the Premier Division title match.
Group B leader Stafford won a pair of one-goal games, starting in their morning match with a 2-1 victory over Virginia Rush Elite. Anna Fretwell and Mary Weinfeld each found the net for Stafford, with Weinfeld scoring the game-winner by beating the opposing goalkeeper to a through ball, getting possession and knocking in an empty net goal from 12 yards out.
In Stafford's afternoon match at River City, the Revolution earned a hard-fought 1-0 win over SYC Storm Orange to take sole possession of their group heading into Championship Sunday. The Revolution defense was fantastic throughout the game, with Angel Finch, Emma White, Beatrice Fretwell and Audra Curtin locking down the back line, along with significant contributions from the team's midfield in the defensive zone. Goalkeeper Laura Mason was rock solid in net, earning the clean sheet.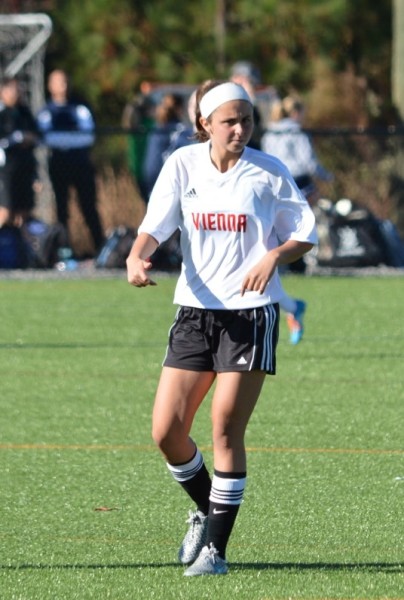 Stafford looks to close out group play with a third straight win on Sunday morning against McLean Real White. However, both McLean and Virginia Rush Elite remain in the hunt for a trip to the Premier Division Final out of Group B, sitting at 1-1-0 following Saturday's action.
Rush got the best of its head-to-head battle with McLean on Saturday, earning a 3-1 win. Genesis lara Palacios scored a brilliant one-timer for McLean in the loss, redirecting a low cross from the left side and timing her run perfectly, beating her defender and the goalkeeper simultaneously. From there, the Rush defense buckled down and their potent offense continued to roll, as the talented duo of Anna Michaud and Taylor Killian sparked the team's relentless attack throughout the game.
U-17 Premier Division
Four teams earned spots in the U-17 Premier Division Semifinals during group play on Saturday.
Soccer Vision Academy, the top seed from Group A, will face Group B's No. 2 seed Vienna Youth Soccer Thunder Gold on Sunday morning to determine which side gets a spot in the Final. Meanwhile, Group B's top seed NOVA Premier Sharks battles Group A's second seed Vincent United FC Crush on the other side of the bracket.
NOVA was the only team in either group to run the table on Day 1, scoring nine goals while shutting out both of their opponents. The Massachusetts side blanked Shenandoah Valley United 99 Blue 7-0 in the morning match and defeated Vienna 2-0 later in the day.
Vienna had a strong overall showing on Saturday as well, highlighted by the team's 5-0 win over Shenandoah. Molly Cripe was invaluable for the Thunder on both sides of the pitch from her holding midfield role, setting up runs for the attack with her passing and playmaking abilities while also making major defensive contributions.
Midfielder Sydney Kim also showcased her skills as a key facilitator for Vienna, working well with left winger Abby Alexa, Molly Cox, Dannielle Brennan and versatile left back Kaitlin DeMarco to create an influx of scoring opportunities.
In Group A, Soccer Vision Academy edged Vincent United one standings point to claim the top seed. SVA won the head-to-head match 4-3 early Saturday morning in a high scoring affair, and went on to play Virginia Rush to a scoreless draw later in the day. Vincent United, the Pennsylvania East State Cup Finalists, rebounded from the defeat with an impressive 5-1 win over Rush in their second match of the day.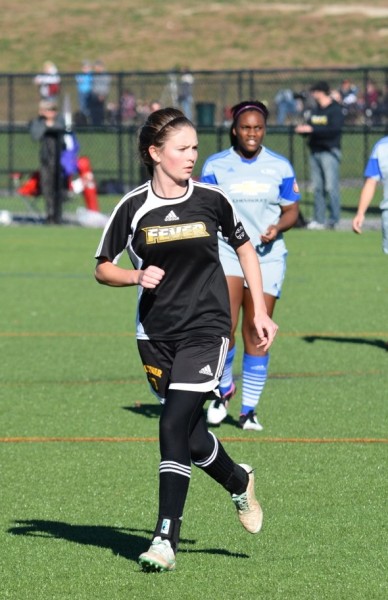 U-18 Premier Division
At the U-18 level, it was Fauquier County SC Fever and Richmond Mystx 97 taking early leads in the two Premier Division groups, entering Sunday as the favorites to meet in the Final with a Jefferson Cup bid on the line.
FCSC Fever played PWSI Courage 97 White to a scoreless draw in their first match before turning on the jets against Virginia Rush Elite in their afternoon contest to secure a 3-1 win. The Fever displayed a cohesive defensive effort throughout the day, led by Erin Jones, Claire Beaulieu, Jessica Fortunato and Alexandra Green on the back line, with Taylor Dodson playing strong in net. Midfielder Stefanie Hoerner was a key distributor for FCSC, playing well under pressure with effective touch passes and consistently advancing the ball in space.
Forwards Elizabeth Keefer and Emily Yergin were a dynamic tandem up top for FCSC against Rush, each finding the net and showing the ability to create open looks for themselves and for their teammates.
Beach FC 97-98 Black also went 1-1-0 on Saturday, rebounding from a tough 4-0 loss against Rush with a decisive 3-0 shutout of PWSI Courage White later in the day.
After a scoreless first half in which Beach FC controlled the tempo but never pushed one across, the floodgates opened in the second half as they netted three in a row while also preserving the shutout defensively.
Abigail Vandeventer and Ysabella Bettilyon were among the leaders of the dangerous Beach FC attack, while Elizabeth Cleveland, Autumn Allen, Elizabeth Alexander and Karesa Ruiz anchored the back line in front of Haley Golden who earned the clean sheet in net.
All the marbles in Group A will be on the table Sunday morning at 10:40 on River City Field 2, as FCSC faces Beach FC for a spot in the Premier Division Final.
In Group B, local side FC Richmond Mystx 97 emerged as the most dominant team in the U-18 Premier Division, going 2-0-0 and outscoring opponents 12-0. The Mystx defeated VSA Heat 97 Blue and Stafford Revolution 97 Blue both by wide margins, receiving nearly flawless performances on both sides of the ball.
FC Richmond faces Richmond Strikers Elite in a crosstown match-up on Sunday morning to close out group play, as the Mystx try to remain unbeaten and move on to the Premier Division Final.