California South, Utah lead Region IV sweep of ODP Championships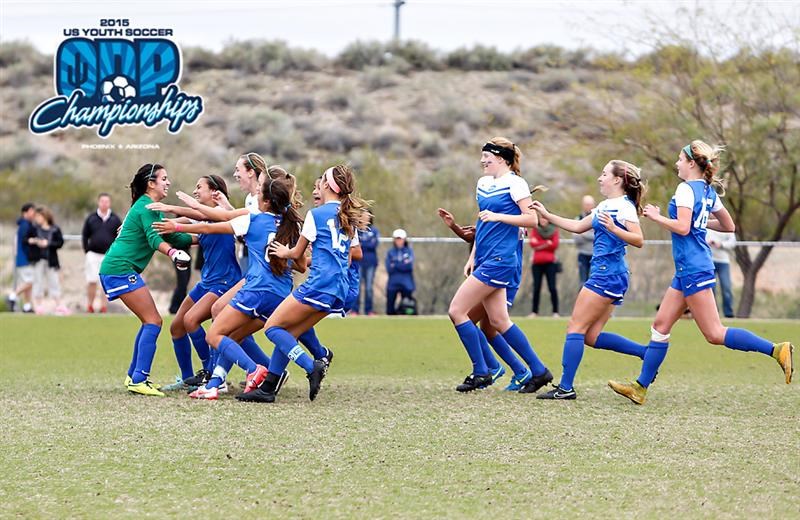 PHOENIX, Ariz. (Via US Youth Soccer) — Champion teams were crowned Sunday at the 2015 US Youth Soccer Olympic Development Program Championships at the Reach 11 Sports Complex in Phoenix, Ariz. Region IV teams swept all titles in the 1998 and 1999 Boys and Girls age groups, for a historical third consecutive year.
+Read: US Youth Soccer ODP Championships semifinals recap
2015 US Youth Soccer ODP Champions:
| | |
| --- | --- |
| 1998 Girls Champion – California South | 1999 Girls Champion – California South |
| 1998 Boys Champion – California South |  1999 Boys Champion – Utah |
The wins also earn the Cal South 1998 Girls and Boys teams their second consecutive US Youth Soccer ODP Championship.
Players try out for the high-level US Youth Soccer Olympic Development Program through a series of trials at their US Youth Soccer State Association. Those selected are exposed to some of the nation's best coaches, trainers and facilities.
US Youth Soccer ODP is the original Olympic development program. It is the only elite player development program that can claim members of Major League Soccer and the National Women's Soccer League, as well as a majority of current and past national and youth national team members, as alumni. With programs in all 55 State Associations, as well as regional, national and international tournaments, US Youth Soccer ODP continues to offer development and exposure opportunities to any player, regardless of hometown or club affiliation.
Match Highlights:
1998 Girls
A trio of second half goals allowed Cal South 98 to defeat Iowa 98 3-0 in the second finals match of the day between the two states, and claim a second straight ODP Championship. Kennedy Smith's pair of goals in the 48th and 54th minute gave Cal South control and Sunny Dunphy added a third goal minutes before the final whistle to complete the victory.
"This is my third national championships so winning this really means a lot," Cal South player Daria Petredes said. "We are going to be playing each other in college but you make great friendships, and it is something to talk about when we get older."
1998 Boys
The finals of the 1998 boys age group certainly didn't lack excitement as Cal South 98's Jorge Navarro opened up the scoring in the 11th minute, but Iowa's Elvir Ibisevic responded for Iowa six minutes later. Overtime seemed to be on the agenda until Cal South's George Sanchez was taken down in the penalty box and went on to convert the subsequent penalty kick to give Cal South the 2-1 lead, and ultimately a second consecutive ODP Championship.
"We've got districts in California bigger than Iowa. So for them to get here and give us the game that they did, you can't give them enough praise," Cal South head coach Steve Hoffman said. "This is a great group and they come here because this is as good as it gets."
1999 Girls
Regulation and extra time were not enough to break a scoreless stalemate between Cal South 99 and Illinois 99. Cal South put forth a myriad of shots only for Illinois keeper Kelsie Stone to be up to the task each time. However it was Cal South's keeper, Savannah Madden, who stole the show by saving all three penalty kicks while Brooke Redington, Emily Knous and Hannah Sharts all scored goals to secure the national title.
"Once it came down to penalty kicks I knew it was my time," Madden said. "Winning this is a once in a lifetime opportunity and no one can take this away from us."
1999 Boys
Utah 99 took home Utah's first ODP Championship with a 3-1 victory over Virginia 99. Aaron Nixon began the scoring in the 15th minute, only for Virginia's Giovanni Munoz-Vasquez to respond merely two minutes later. Jonathan Guadarramas scored the eventual game winner off a point blank shot thanks to a lovely feed from Luke Madsen. It was Guadarramas again in the 62nd minute with an insurance goal to give Utah a little breathing room after a strong Virginia push as the match ended 3-1.
"We wanted to get a goal early, and we were able to do that, but they responded. In the second half we were able to keep compact and stay disciplined," Utah caption Easton Embley said. "It was an awesome complex and a great place to play."